Middle infielder Starlin Castro has collected four All-Star appearances, 1,280 hits and a rich contract since he made his major league debut in 2010. It's fair to say Castro has lived pretty well during his big league tenure, then, though team success has been difficult to come by for the 27-year-old.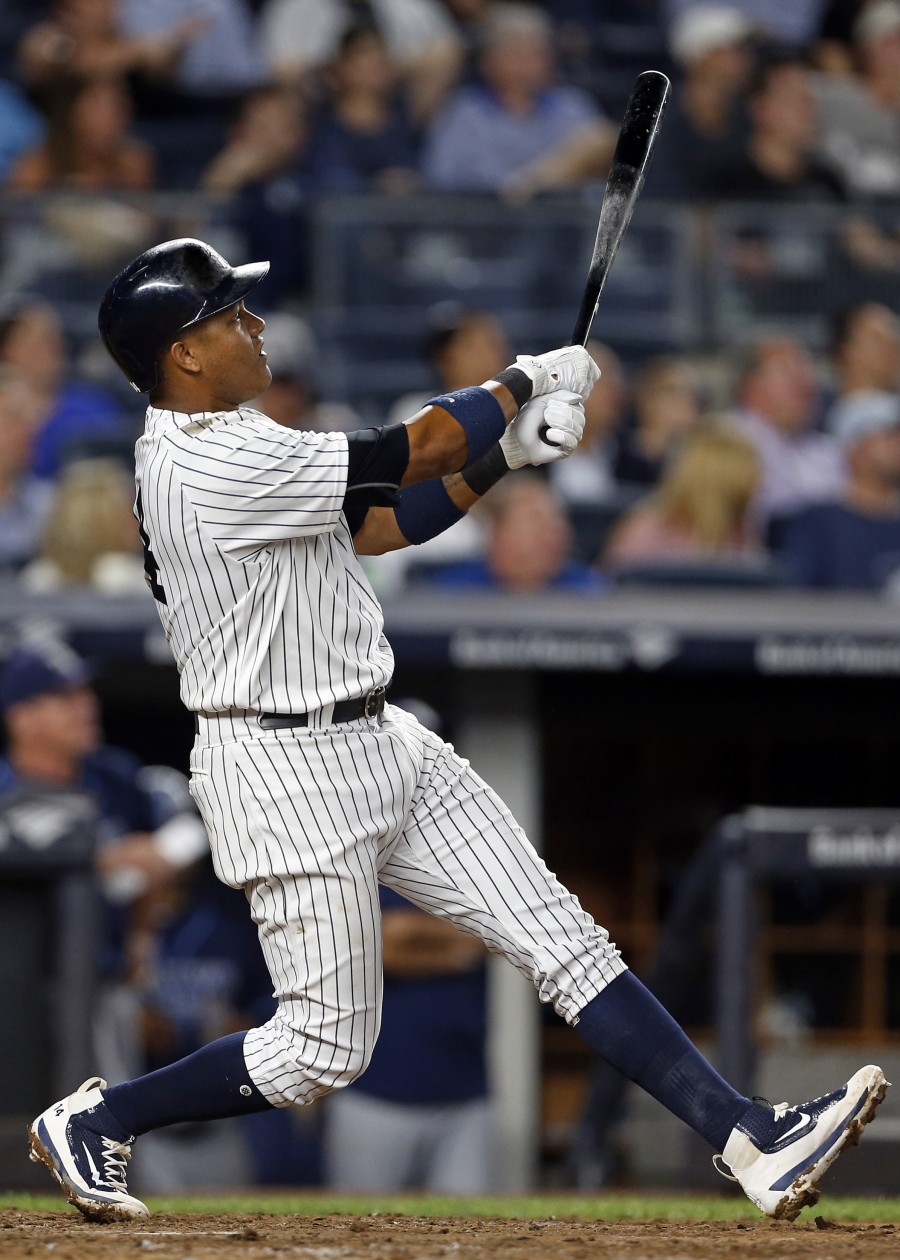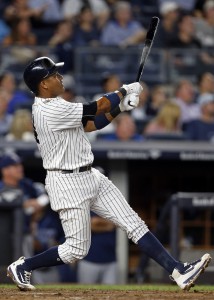 Castro spent the first six years of his career with the Cubs, who only went to the playoffs once during that span. That season, 2015, proved to be Castro's last in Chicago, which traded him to the Yankees during the ensuing winter. Less than a year later, Wrigleyville celebrated its first World Series title in 108 years.
The Yankees didn't qualify for the playoffs in Castro's first year in the Bronx, but they bounced back to play deep into October last season and take the eventual champion Astros to seven games in the ALCS. That looked like the beginning of what could be a long run of success for the talent-packed Yankees, but it was also the end of Castro's run with them.
Not only did the Yankees trade Castro after the season, dealing him and two prospects to the Marlins for 2017 NL MVP Giancarlo Stanton, but they sent him to a team that hasn't won in years and won't in the near future. The Stanton trade was primarily a payroll-cutting move by Miami, which later shipped fellow star outfielder Marcell Ozuna to the Cardinals. Now in the early stages of an extensive rebuild, the Marlins' already lengthy playoff drought (14 years) is likely to drag on for at least a few more seasons.
Castro, having had his fill of losing, would reportedly like to leave the Marlins before ever taking the field as a member of the franchise. With a guaranteed $22MM left on his contract through 2019, his only hope of escaping the Marlins in the near term is via trade. It's unclear whether the Marlins are interested in dealing him, but it stands to reason they're open to it, given that slashing costs seems to be the main motivation of neophyte owners Bruce Sherman and Derek Jeter right now.
The trouble is that obvious fits for Castro, a longtime shortstop who lined up exclusively at second base as a Yankee, are hard to find. His All-Star nods notwithstanding, Castro has been more of an average player than a high-impact one in the majors, having slashed .282/.320/.413 (97 wRC+, 98 OPS+) and totaled 14.2 fWAR/13.5 rWAR across 4,847 plate appearances. His contract offers little to no surplus value, then, and there simply isn't much league-wide demand right now at either short or second (where similarly valuable players in Eduardo Nunez and Neil Walker are still free agents).
Signs seem to point to Castro opening 2018 with the Marlins, but we'll run it down team by team and try to find an ideal club for him, beginning with last year's playoff qualifiers:
Astros – Five words: Jose Altuve and Carlos Correa.
Cubs – With Addison Reed, Javier Baez, Ian Happ and Ben Zobrist in the fold, a Castro-Cubs reunion isn't happening.
Diamondbacks – Castro would be the most proven middle infielder on the Diamondbacks' roster, but they still have enough acceptable options with potential breakout player Ketel Marte, Brandon Drury, Chris Owings and Daniel Descalso on hand. The D-backs have pushed to acquire shortstop Manny Machado from the Orioles this winter, though he's a transcendent player who'd greatly improve their chances of returning to the playoffs in 2018. Castro isn't in that class.
Dodgers – The great Corey Seager occupies short, but the Dodgers could do better than Logan Forsythe at second. Castro's hardly a slam-dunk upgrade over Forsythe, though, and his salary would be problematic for a Dodgers team trying to stay under the $197MM competitive balance tax figure.
Indians – The Tribe's not in position to pick up Castro's money, nor does it need to, with Jason Kipnis and Jose Ramirez as its primary second base options and Francisco Lindor at short.
Red Sox – Boston has also shown interest in acquiring Machado, but he's more of a luxury than a necessity for the back-to-back AL East champs. The Red Sox are fine at shortstop with Xander Bogaerts, after all. They could perhaps use a second baseman to fill in for Dustin Pedroia, whose offseason knee surgery will keep him on the shelf for some of 2018. Castro doesn't make sense for the BoSox, however, as a healthy Pedroia will relegate his replacement to the bench or a utility role.
Nationals – Few teams are in better shape up the middle than the Nationals, who boast Daniel Murphy at second and Trea Turner at short.
Rockies – There's nothing to suggest the Rox are dissatisfied with the cost-effective duo of second baseman D.J. LeMahieu and shortstop Trevor Story.
Twins – Minnesota has a much better second baseman than Castro in Brian Dozier. Elsewhere, the Twins aren't going to move 24-year-old Jorge Polanco off shortstop for Castro – who hasn't played the position since 2015.
Yankees – Over a month since acquiring Stanton, the Yankees still haven't replaced Castro with an established second baseman to complement shortstop Didi Gregorius. Whether they're all that interested in doing so is unclear, given the presence of elite prospect Gleyber Torres. Even if the Yankees don't think the 21-year-old Torres is quite ready, and even if they like Castro enough to attempt to re-acquire him, financial concerns could stand in the way. The Bombers parted with Castro to help balance out money in the Stanton trade and keep them under the $197MM tax number in 2018. Staying south of that figure continues to be one of the Yankees' driving forces, so the Marlins would likely have to swallow some of Castro's money in a trade to make a reunion possible.
As for non-playoff teams from 2017 that may hope to contend this year. . .
Angels – The Halos already traded for veteran second baseman Ian Kinsler this winter, and they have all-world shortstop Andrelton Simmons.
Athletics – The A's have been open to trading second baseman Jed Lowrie this offseason, though dealing him just to turn around and get Castro wouldn't seem to make sense. Rather, a Lowrie trade would likely open the door for a Franklin Barreto–Marcus Semien double-play tandem.
Blue Jays – On paper, Castro may have been a fit for Toronto at the outset of the offseason. However, the Jays have since addressed their middle infield by acquiring Aledmys Diaz and Yangervis Solarte – two players capable of holding the reins if injury issues once again beset Troy Tulowitzki and Devon Travis.
Braves – The presences of middle-infield building blocks Ozzie Albies and Dansby Swanson rule out a Castro acquisition.
Brewers – There might be a match here. The Brewers do have second base-capable veterans in Jonathan Villar, Eric Sogard and Hernan Perez, but only Sogard had a decent 2017 at the plate. Although, if the Brewers do pick up another vet for the keystone, they could opt to re-sign Walker – who thrived with them late last season after coming over in a trade – instead of swinging a trade for Castro.
Cardinals – If the Cards are going to trade for an infielder this winter, it's likely to be a corner player who provides an impact bat. That's not Castro, who wouldn't be a clear upgrade over second baseman Kolten Wong or shortstop Paul DeJong.
Giants – San Francisco's another team without a need in the middle infield, where it starts Joe Panik (second) and Brandon Crawford (short).
Mariners – Unless trade-happy GM Jerry Dipoto acquires Castro to play the corner outfield (you never know), he won't end up in Seattle. The Mariners are set all across the infield.
Mets – As with the Brewers, the Mets are prospective contenders who could stand to improve their situation at second. While New York has been in the market for aid at the position this offseason, multiple reports have suggested it has no interest in Castro.
Orioles – The O's are in enviable shape at second with Jonathan Schoop, and they'll go with Machado (if he's still on their roster) or Tim Beckham at short.
Phillies – Phillies second baseman Cesar Hernandez has been an oft-speculated trade candidate for a couple years. He's superior to Castro, though, and even if the Phillies do move Hernandez, they'd likely replace him with prospect Scott Kingery. At short, they've given the keys to J.P. Crawford.
Rangers – There won't be a Castro pickup for the Rangers, who have the well-compensated tandem of Rougned Odor (second) and Elvis Andrus (short) in starting roles.
Rays – Castro may well be better than all of the Rays' current middle infielders, Adeiny Hechavarria, Brad Miller, Matt Duffy and Joey Wendle. The problem is that Tampa Bay is aiming to reduce payroll, which makes a Castro acquisition look highly unlikely. They also have one of the premier middle infield prospects in baseball, shortstop Willy Adames, nearing the majors.
Beyond the aforementioned clubs, we're left with the Royals, Tigers, White Sox, Padres, Reds and Pirates. Like Miami, both Kansas City and Detroit look to be in the early stages of a rebuild, which should stamp out any potential of a Castro pickup. The AL Central rival White Sox don't figure to contend in 2018 either, and they're certainly not going to displace either of second baseman Yoan Moncada or shortstop Tim Anderson. The Padres also have no shortage of big league middle infielders, even after trading away Solarte, with Cory Spangenberg, Carlos Asuaje and the recently acquired Freddy Galvis in the mix. The same goes for the Reds (Scooter Gennett, Jose Peraza, Dilson Herrera and Nick Senzel). The Pirates, whose Gerrit Cole trade on Saturday may signal the start of a rebuild, have plenty of options themselves (Josh Harrison, Jordy Mercer, Adam Frazier and Sean Rodriguez). They could trade Harrison, but they wouldn't do so in order to make room for the similarly expensive Castro.
Unfortunately for Castro, this doesn't appear to be the right time for a roughly average second baseman who's not cheap to push for a trade to a contending club. Teams like the Yankees, Brewers and Mets could certainly improve their second base situations by Opening Day, though none are clean fits for Castro. As such, he may have to at least begin the season in Miami, where a strong few months could potentially boost his trade value and lead to a deal by the summertime.
Photo courtesy of USA Today Sports Images.