The Winter Meetings are now in full swing, so it's time to keep this ball rolling and move on to our 11th team. Here are links to the previous team payroll projections:
Philadelphia Phillies
Los Angeles Dodgers
Los Angeles Angels
Atlanta Braves
New York Yankees
Chicago White Sox
Boston Red Sox
Minnesota Twins
Milwaukee Brewers
San Francisco Giants
If you have questions about financial information made available to the public and the assumptions used in this series, please refer to the Phillies piece linked above.
Today, we look into a club who has missed the playoffs for three consecutive years for the first time since the 1990s and has already made (possibly) its biggest offseason splash: the St. Louis Cardinals.
Team Leadership
After over 40 years of Anheuser-Busch ownership, the Cardinals were sold to former St. Louis Browns bat boy and American businessman Bill DeWitt Jr. in 1995. DeWitt has maintained ownership of the club since that time, involving his family in the management thereof. DeWitt's son, Bill DeWitt III, is has been team president for the past decade. St. Louis missed the playoffs each year from 1988-95, a seven-year postseason drought (nobody made the playoffs in 1994), and they made the playoffs only once during the first five years of DeWitt ownership from 1995-99, reaching the National League Championship Series in 1996. Beginning with the 2000 season, however, St. Louis has made 12 postseason visits while missing out on the tournament only seven times, a remarkable run of success.
The front office is lead by President of Baseball Operations John Mozeliak. Mozeliak joined the Cardinals organization in 1996 as a scouting assistant and climbed the ladder, finally becoming General Manager in October 2007 before ascending to his current post in June 2017. In a move that coincided with Mozeliak's ascension, Mike Girsch was named General Manager.
Historical Payrolls
Before hitting the numbers, please recall that we use data from Cot's Baseball Contracts, we'll use average annual value ("AAV") on historical deals but actual cash for 2019 and beyond, and deferrals will be reflected where appropriate. And, of course, the value of examining historical payrolls is twofold: they show us either what type of payroll a team's market can support or how significantly a given ownership group is willing to spend. In the most useful cases, they show us both. We'll focus on a 15-year span for the Cardinals, covering 2005-18 for historical data as a means to understanding year 15: 2019. This period covers a time of tremendous success for the Cardinals. We'll also use Opening Day payrolls as those better approximate expected spending by ownership.

St. Louis spending was largely unchanged for the latter half of the past decade, sticking just south of $100 million each year from 2005-10 before finally crossing the threshold in 2011. Nevertheless, spending didn't take a big leap for the Cardinals until the rival Cubs emerged as a force in 2015, perhaps fueling a payroll surge in 2016 that hasn't subsided.
Despite this increased Major League spending, the Cardinals have never paid the luxury tax, nor have they been players for the most significant international free agents. Their laudable ability to develop talent internally has enabled them to eschew massive spending or risk taking in their pursuit of wins.
Future Liabilities
The Cardinals have something of an all-in approach for 2019. See below.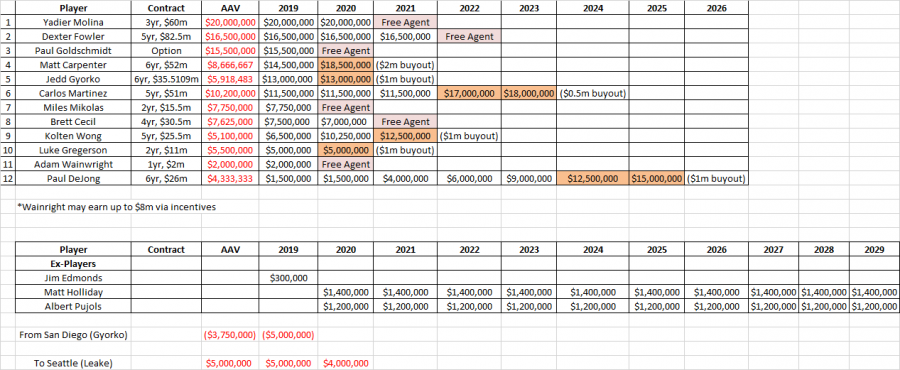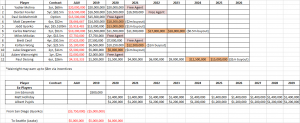 There are some big-money salaries on here, but most of the Cardinals' commitments are in the form of mid-market deals for relatively short periods of time, many of which expire or feature options for the 2020 season.
Nevertheless, the team's best hitter, the newly-acquired Paul Goldschmidt, and their best pitcher, the recently-acquired Miles Mikolas, both figure to get massive raises when they hit free agency in 11 months. If both players produce as stars, the club will either make a big play to keep one or both or they'll enjoy the compensation draft picks that come along with having a pair of free agents decline qualifying offers and sign elsewhere.
The multi-year commitment to franchise icons Molina and Martinez look like good investments. Molina figures to spend his entire career in St. Louis. His 2017 extension all but ensured that. His top-level defense renders this deal a fine use of cash, albeit not the most efficient one. Martinez struggled with injuries in 2018, but he has consistently pitched as an ace, comes at bargain prices thanks to his 2017 extension, and is still, incredibly, just 27 years old.
Contrarily, the multi-year commitment to Fowler looks like a bad one. The former Cub enjoyed a strong year with his bat in 2017, but 2018 was an unmitigated disaster as Fowler failed to get on bad or hit the ball with authority. For a player with a lengthy injury history, he also missed substantial time with a foot injury. He is rapidly nearing pumpkin territory.
The Cardinals feature a trio of players with club options for the 2020 season that are auditioning for that payday. Carpenter is overwhelmingly likely to have his option exercised as the offensive force with defensive versatility fits on every team. Gyorko has recovered nicely after arriving in St. Louis after bottoming out post-extension in San Diego, but his option is a coin flip at best. Gregerson washed out in 2018 with shoulder issues, but a strong 2019 that shows a return to his 2009-16 success could change the script.
Cecil largely provided the desired results after arriving in 2017, but he flopped in 2018, struggling with homers and especially walks. At 32 and having lost two miles per hour on his pitches across the board, he could be dead weight for the club absent a surprising rebound.
One more franchise icon, Wainwright returns for a last hurrah in 2019 on an incentive-laden deal that contemplates a starting or relieving role. Regardless of who he has left in the tank, he won't cost the club much.
Finally, there are a pair of extensions for athletic middle infielders. Wong came with a first-round pedigree, but his bat has never fully justified that history, save for a strong BABIP season in 2017. His glove and wheels, however, have rendered him a solid regular. DeJong, on the other hand, the 131st pick in the 2015 draft, positively exploded onto the scene in 2017 and showed that it was no fluke with a strong repeat performance in 2018, albeit one that was based more on his glove than his offensive prowess. Nevertheless, DeJong appears to be a league-average bat with legitimate defensive chops at shortstop.
Finally, we hit the dead money. Like so many clubs in the last decade, the Cardinals featured deferred money in big-money deals for Holliday and Pujols, owing the pair $2.6 million annually throughout the 2020s. That's not backbreaking money, but it's more than nothing.
As with the Giants before them, given this amount of guaranteed money, it is perhaps unsurprising that the Cardinals have very little in the way of arbitration eligible talent. Ozuna is the big fish with a seat at the arbitration table as he makes his final trip through the process in advance of free agency next winter. Here are their arbitration projections, noting that Chasen Shreve has already come to an agreement at $900,000, a bit below that projected by MLBTR and Matt Swartz:


In addition to Ozuna, Wacha figures to play a key role despite having lost much of 2018 to a lingering oblique injury.
What Does Team Leadership Have to Say?
The Cardinals are talking like an organization ready to push in a whole bunch of chips on the 2019 table, with Mozeliak stating at the Winter Meetings that "simply, we realize the importance of 2019."
DeWitt turned things up a notch last month, explaining that "there is value in star players" and adding that "we're aggressive and we've got resources to deploy if the right situation emerges." Incredibly, DeWitt even specifically addressed spending on free agents when commenting about his desire to build a team that perennially wins 90 games, offering up that "frankly, we felt that incremental benefit (of free agents) could get us those last few wins."
This is not an organization that seems content to watch the Cubs and Brewers rule the National League Central for the next few years.
Are the Cardinals a Player for Bryce Harper or Manny Machado?
No matter what you hear elsewhere, the answer here is simple: absolutely yes.
Although the Cardinals haven't signed a player to a contract larger than Matt Holliday's seven-year, $120 million pact, they made competitive offers for Jason Heyward and David Price approaching $200 million each while agreeing to take on over $250 million for Giancarlo Stanton before he ended up in the Bronx last winter. The team hasn't shied away from monster offers.
As for their roster, even after shipping out Luke Weaver in the Goldschmidt trade, St. Louis is dripping with cheap, controllable pitching behind Mikolas, Wainwright, and Wacha in the form of Martinez, Jack Flaherty, super-prospect Alex Reyes (despite his injuries), and Dakota Hudson, and that's before factoring in John Gant's surprising 2018 season. They don't really need starting pitching help.
The team is loaded up with right-handed bats featuring good-to-great power in Goldschmidt, Ozuna, DeJong, Molina, and defensively-homeless Jose Martinez. Harper would provide an awfully attractive complement in the middle of that order. I'm not sure if Machado fits as smoothly, but Harper sure does.
Watch out for St. Louis on Harper. They make a ton of sense.
What Will the 2019 Payroll Be?
The Cardinals will almost certainly avoid reaching taxpayer status in 2019. They've never shown a penchant to spend to that degree. However, I wouldn't be surprised if spending received another boost based on the fact that the team has missed the playoffs for three straight years and given the amount of resources poured into the Goldschmidt and Ozuna acquisitions.
As currently constructed, St. Louis has a payroll of just $148.7 million, $149.3 million for luxury tax purposes. Given historical trends and the pressure to win now, I expect to see a notable one-year jump in spending before the team regroups for 2020 with Mikolas, Ozuna, and Goldschmidt all hitting free agency at the same time.
If spending spikes to $180 million, the team would have $31.3 million of space, nearly enough to sign Harper without any other roster maneuvering. I don't think that things will get quite that lofty, but even a bit below that figure, there's enough space for the team to make a relatively simple move — like trading Gyorko for salary relief with the third baseman displaced by Carpenter's move back across the diamond — to clear space for Harper.
Projected 2019 Payroll: $175 million
Projected 2019 Payroll Space: $26.3 million