TODAY: The deal includes $52.5MM in deferred money, all without interest, Jon Heyman of MLB Network reports (Twitter links). $12MM in 2020, $13.5MM in 2021, $15MM in 2022, and $12MM in 2023 will all be pushed to the future. There'll also be a $15MM deferral on the 2024 option, if it's picked up.
The deferred money will be pushed back 15 years, per Ron Blum of the AP, which sets up a series of payouts beginning in 2035. Amusingly, and surely not coincidentally, deGrom's payments will seamlessly take over the slot long occupied by annual payouts to former player Bobby Bonilla, Mike Mayer of Metsmerized notes on Twitter.
Those extensive deferrals clearly reduce the true value of the contract, though the precise amount depends upon what discount rate is utilized. Bob Nightengale of USA Today tweets that the $137.5MM owed to deGrom in the future has been assigned a present-day valuation of $108.9MM, though it's unclear what basis was used to reach that number.
YESTERDAY, 4:52pm: The Mets have formally announced deGrom's extension.
"This is a tremendous day for Jacob, his family, our fans and the entire Mets organization," Mets COO Jeff Wilpon said in the press release announcing the contract. "Last year, Jacob had one of the most remarkable seasons in baseball history and we are excited to be able to reward him. Mets fans can celebrate knowing their ace will remain in Flushing."
7:36am: The Mets have agreed to terms on an extension with star right-hander Jacob deGrom, according to Andy Martino of SNY.tv (Twitter links). deGrom, the reigning National League Cy Young Award winner, is undergoing a physical today. The contract includes four years and $120.5MM in new money, as Ken Rosenthal of The Athletic first reported (Twitter links), with some of it deferred.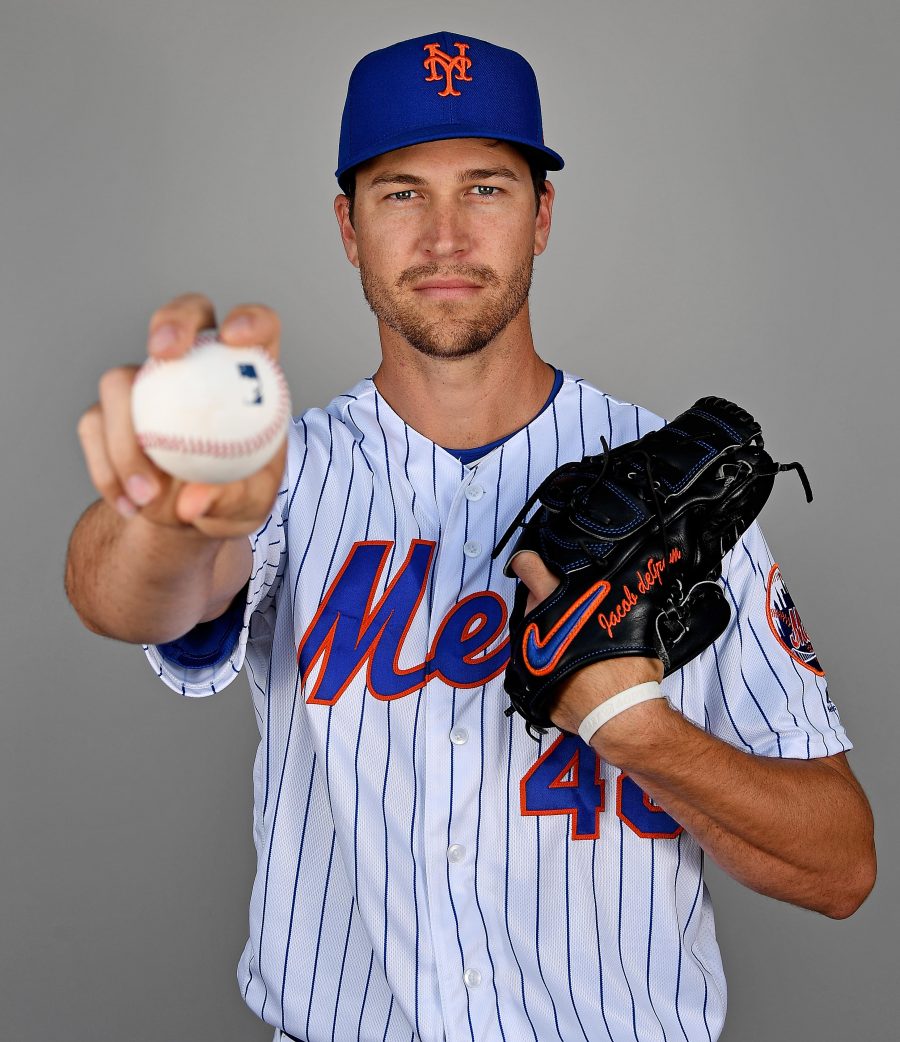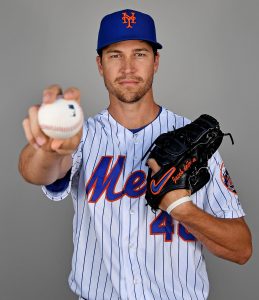 Earlier this year, deGrom agreed to a $17MM arbitration contract for the 2019 season. That effectively remains in place, though it is now restructured as a $10MM signing bonus and $7MM salary, Joel Sherman of the New York Post reports on Twitter. What would have been deGrom's final arbitration season, 2020, will be locked in at $23MM. He'll then earn $33.5MM in each of the next two seasons and $30.5MM in 2023 — if he does not first opt out. The option-year value is $32.5MM, ESPN.com's Jeff Passan tweets.
If indeed a deal is finalized, it'd bring an end to a long-running and rather fascinating saga regarding deGrom's future. It was just last summer that deGrom's then-agent, Brodie Van Wagenen, was advocating that the team either work out an extension or trade the ace right-hander. In a cinematic twist, Van Wagenen became the Mets' general manager last fall, recusing himself from direct extension talks with deGrom while the pitcher chose to remain with the same agency (CAA Baseball). (That recusal concept was evidently of rather limited scope, or has since been modified or waived, as Sherman tweets that Van Wagenen was personally on hand for the final negotiations.)
The sides held preliminary talks at the Winter Meetings, but then a lengthy silent period ensued. After agreeing to a 2019 arbitration salary, which included a record-setting $9.6MM raise, the deGrom camp put an Opening Day deadline on talks, so the clock was ticking. It seemed hopeful as camp opened that a deal would materialize, but the more recent vibe was much less promising. But Andy Martino of SNY.tv tweeted yesterday that talks were still ongoing, with Michael Mayer of MetsMerizedOnline adding on Twitter that there was some forward progress toward a deal.
As it turns out, the sides lined up on a contract that understandably includes some concessions in both directions. deGrom will turn 31 this June and was not set to reach the open market until the conclusion of the 2020 campaign. Compare that to Chris Sale, whose recent extension came just before his 30th birthday and entering his final season of contractual control. (Of course, the lefty was also coming off of an injury-limited second half to the 2018 season.) Sale's contract provided five seasons and $145MM in new earnings; he'll pitch the entire final season of that deal at 35 years of age. deGrom receives a slightly higher AAV, even though the first new contract year covers an arb-eligible season, and will celebrate his 35th birthday in the middle of his final guaranteed season (if he hasn't already opted out).
Both of those outstanding hurlers might have found greater riches in free agency. Sale would've been the top arm available this coming winter, while deGrom surely would've been among the most desirable free agents of the 2020-21 offseason. Zack Greinke had already turned 32 when he secured a six-year, $206.5MM deal with the Diamondbacks. But that deal seemed an outlier when it was signed and the market has since shifted. Clayton Kershaw hadn't yet turned 31 and had produced nothing but excellent results when he re-upped with the Dodgers last fall, but settled for a three-year pact after experiencing back issues and peripheral declines.
There's also ample risk in pitching a full MLB season, so extensions have generally lagged free agency in value to a greater extent than is the case for position players. A few still-youthful hurlers nearing free agency have secured bigger money — Kershaw didn't quite reach $200MM in his first long-term contract if you deduct his anticipated arbitration salary from that season; Stephen Strasburg secured $175MM over seven new seasons part-way through his final year of team control. But otherwise, the largest pitching extensions have gone to Sale ($145MM), Cole Hamels ($144.5MM), and Justin Verlander ($140MM).
[RELATED: MLBTR Extension Tracker]
For their money, the Mets will secure the services of one of the game's very best hurlers for most or all of his remaining productive campaigns. Never overly hyped as a prospect, deGrom's early development was slowed by Tommy John surgery. But he emerged in 2014, earning a call-up to the majors and succeeding beyond any reasonable expectations. While he was never much of a strikeout pitcher in the minors, deGrom steadily maintained about a K per inning in his early seasons. He began ramping that up further in 2017, which was also his first 200-plus-inning campaign, but didn't really take the next step until last year.
Entering the 2018 campaign, deGrom carried a 2.98 ERA with 9.7 K/9 and 2.3 BB/9 through 680 2/3 career innings. There had been a few health wobbles along the way but he was, by and large, a durable and thoroughly excellent pitcher. It seemed there wasn't much more ceiling to reach, but he unquestionably found it.
Ramping up his velocity (96.7 mph average fastball) and increasingly shelving his sinker in favor of his two offspeed offerings (change and slider; combined usage of 40%) helped deGrom boost his swinging-strike rate to a career-high 15.1%. He drove his strikeout rate up to a personal-best 11.2 K/9 while maintaining a typically sparkling 1.9 BB/9 walk rate, cut back on the home run issues that had cropped up a bit in 2017, and induced nearly as much soft contact (25.2%) as he allowed hard contact (26.6%).
The results followed those impressive underlying numbers. deGrom finished the 2018 campaign with 217 innings of 1.70 ERA ball. Unsurprisingly, given the off-the-charts earned run outcomes, ERA estimators felt there was a bit of good fortune mixed in — but not enough to detract from deGrom's excellence. He was credited with 1.99 FIP, 2.60 xFIP, and 2.78 SIERA.
Nothing is assured in this world, least of all when it comes to future pitching performance. But deGrom seems about as good a bet as any veteran hurler to keep producing into his mid-thirties. His ability to maintain top physical form will perhaps dictate the extent to which he can approach his newly established personal heights, but his multi-pitch arsenal and impeccable command seem to provide about as much of a floor as any starter.
The upside in the contract is plainly limited by deGrom's age, but that doesn't mean the Mets can't hope to achieve good value. The organization will still retain a fair bit of payroll flexibility after the 2020 season, the final year of obligations to Yoenis Cespedes and a few other pricey veterans. deGrom knocks Cespedes off of the organization's financial Mt. Rushmore, joining David Wright, Johan Santana, Carlos Beltran to make up the four largest contracts in Mets history.
Photo courtesy of USA Today Sports Images.