It's May 28, two full months into the season, and the Twins are atop Major League Baseball in record (36-17), run differential (plus-110), runs (319) and home runs (105). They're already almost halfway to last season's win total (78) with 109 games to go. If you didn't think the Twins would be in this position, one that sees them leading the preseason AL Central favorite Indians by 10 games, you're part of a club with countless members.
So how have the Twins done it? Largely with homegrown products. Shortstop Jorge Polanco, outfielders Byron Buxton, Eddie Rosario and Max Kepler, and right-hander Jose Berrios and Kyle Gibson are among those who have been at the forefront of Minnesota's charge up the standings. But many of the additions executives Derek Falvey and Thad Levine made this past offseason, when they happened to lock up Polanco and Kepler to sweetheart extensions, have played significant roles in the Twins' greatness thus far.
As far as winter pickups went, the Twins' costliest acquisitions – free-agent signings Marwin Gonzalez (two years, $21MM) and Nelson Cruz (one year, $14.3MM) – received the lion's share of attention entering the season. As the Twins expected, they've been prominent pieces in 2019. However, some of the Falvey-Levine duo's less expensive buys have been arguably as important.
Over 20 percent of the Twins' league-high HR total has come from first baseman C.J. Cron and second baseman Jonathan Schoop, who have combined for 23 dingers. The 29-year-old Cron arrived in late November as a waiver claim from the Rays, who cut him even though he was coming off a 30-home run campaign in which he slashed .253/.323/.493 (122 wRC+). Low-budget Tampa Bay wasn't on board with paying Cron upward of $5MM via arbitration. He ended up settling for a bit less, $4.8MM, shortly after joining the Twins. Since then, they've benefited from Cron's .270/.333/.534 (125 wRC+) line with 13 HRs in 198 trips to the plate. It doesn't look like a fluke, as Cron is walking more, striking out less, chasing fewer out-of-zone pitches and making more contact than he did in 2018. He also boasts an expected weighted on-base average (.376) that sits nine points higher than his real wOBA (.367).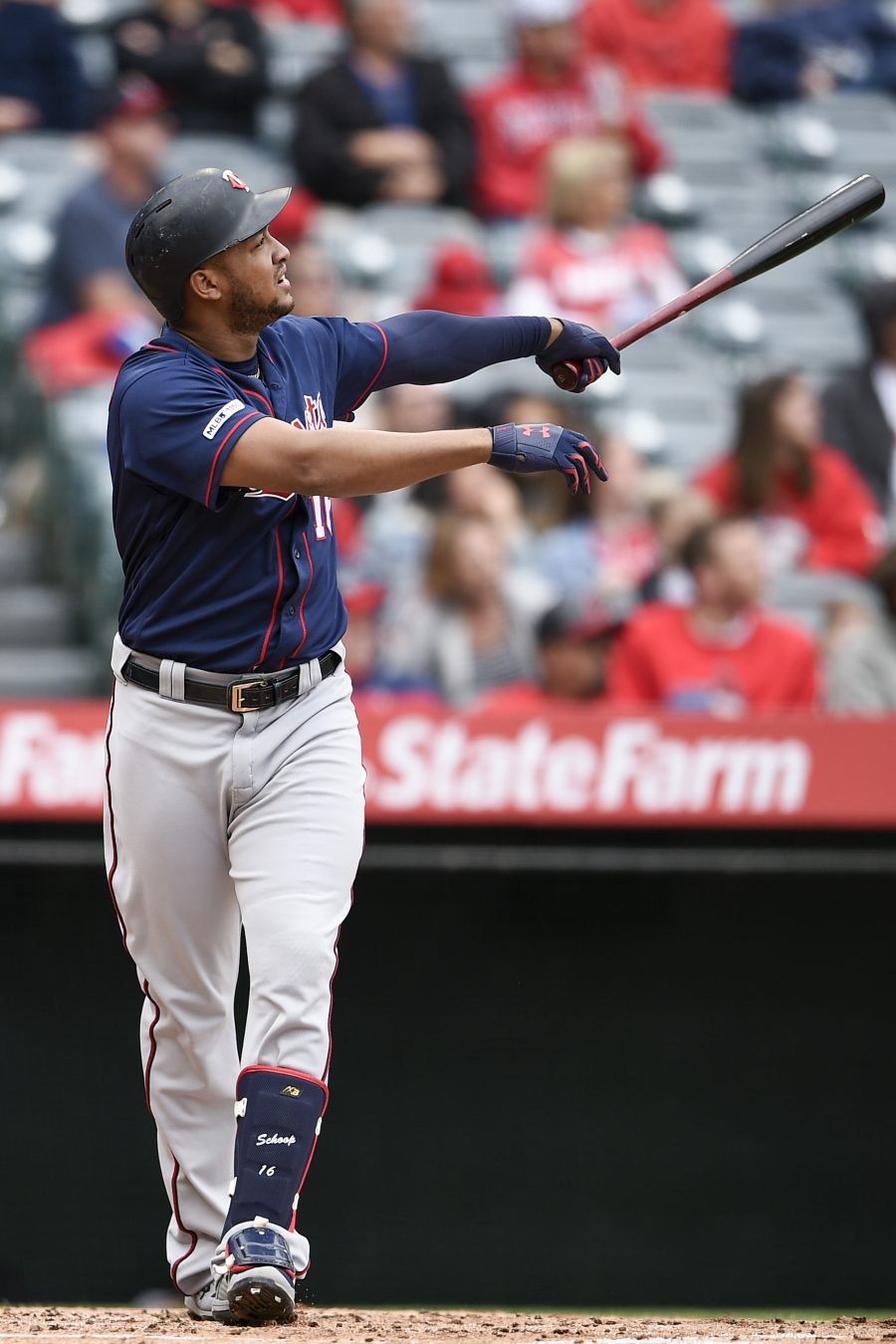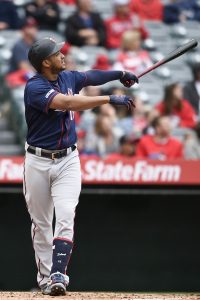 To this point, Cron has replaced now-retired franchise icon Joe Mauer's production with aplomb. Schoop also had a tough act to follow in Brian Dozier, an excellent Twin from 2012-17 whom the team traded last summer amid a disappointing season. So far, Schoop hasn't been fazed either.
Like Dozier, Schoop followed up an impressive 2017 with a down '18, in which the Orioles traded him to the Brewers in July. Schoop wasn't good with either team last year, and the Brewers understandably decided after the season to non-tender him instead of giving him a potential $10MM-plus salary in arbitration.
On Dec. 6, a week after he reached free agency, Schoop found a new home in Minnesota at a $7.5MM salary. The 27-year-old has begun his Twins tenure by slashing .266/.321/.514 (118 wRC+) with 10 HRs through 187 trips to the plate. Whether it's sustainable is in question, though. Schoop has posted below-average strikeout and walk rates, which admittedly has been the case throughout his time in the majors, while swinging and missing at an all-time high rate and making less contact than ever. Encouragingly, though, there isn't a large gap between Schoop's wOBA (.356) and xwOBA (.347).
With the help of Cron and Schoop, the Twins' offense has been the driving force behind their first-place start. But pitching has also been a major reason for the team's revival. Berrios, Jake Odorizzi and Kyle Gibson get most of the attention in their rotation, but another offseason scrapheap pickup – left-hander Martin Perez – has logged a sterling 2.17 ERA through 49 2/3 innings out of their rotation. Before he got to Minnesota, Perez was largely a back-end starter in Texas from 2012-18. He was borderline unusable last year, an injury-shortened campaign, and the Rangers declined his $6MM club option thereafter. In doing so, the Rangers had to pay Perez nearly half that money ($2.35MM). They weren't exactly teeming with starters at the time, which showed how far the former promising prospect, 28, fell out of favor in Arlington.
Perez has found new life with the Twins on a $4MM guarantee, though, and may be pitching his way into their 2020 plans. They'll have to decide on a $7.5MM option after the season, but the way things are going, it doesn't look as if Perez will end up back in free agency then. Perez's rise has come thanks in part to a noticeable increase in velocity. His fastball and sinker each averaged around 93 mph last year, but they're in the 95 range this season. While Perez's walk rate of 4.08 per nine isn't appealing, he has upped his K/9 from 5.48 to 8.69 in a one-year span. At the same time, hitters are making less contact off Perez, whose 10.9 swinging-strike percentage far outdoes the 7.8 mark he managed in Texas. When they have put the bat on the ball, the contact hasn't been all threatening, evidenced in part by Perez's paltry .283 xwOBA (compared to a .298 wOBA).
When Perez and the Twins' other starters have handed off to the club's bullpen, they've given the reins to relief corps which has made strides since 2018. The loss of the lights-out Ryan Pressly, whom the Twins traded to the Astros last summer, has stung. However, three more members of the Twins' buy-low offseason bonanza – righties Ryne Harper, Blake Parker and Mike Morin – have come through to help ease the pain of Pressly's loss.
Harper was already in the organization last season, but he spent it in the minors and wasn't a lock to stick around this year. The Twins re-signed him to a minor league deal, however, and have since seen his emerge as a trustworthy piece of their bullpen. The 30-year-old Harper, who hadn't even pitched in the majors prior to 2019, leads Twins relievers in innings (22, tied with Taylor Rogers) and has pitched to a stingy 1.64 ERA/2.57 FIP with 8.18 K/9 and 2.05 BB/9. Granted, regression for the soft-tossing Harper is likely on the way – it'll be hard to maintain a .220 batting average on balls in play and an 85.2 percent stand rate, and perhaps even tougher for a fly ball-heavy hurler to continue limiting home runs. Nevertheless, one can't quibble with the unexpected production he has given Minnesota to this stage.
The 33-year-old Parker has been similarly effective through 17 1/3 innings, having registered a 1.04 ERA in an effort to prove the Angels were wrong in non-tendering him last November. Parker isn't going to keep this up, as his .190 BABIP, 96.2 percent strand rate, uninspiring strikeout and walk rates (7.27 K/9, 3.63 BB/9), and FIP (3.63) indicate. No matter, the groundball-heavy Parker undoubtedly looks worthy of Minnesota's $3.2MM investment.
The team's paying even less to Morin, who signed a minors deal in December after struggling with the Angels, Royals and Mariners in previous years. Since the Twins promoted Morin, 28, to the majors May 3, he has worked 9 1/3 innings of one-run ball without issuing a walk.
Roughly a third of the way through the season, Minnesota has been a juggernaut. Whether the Twins will continue to fare this well is up for debate, though it's hard to envision a team with this much talent nosediving out of the race. Regardless of whether you believe the Twins are for real, though, it's fair to say a good portion of their success has come thanks to the shrewd, low-risk offseason moves Falvey and Levine made.
Photo courtesy of USA Today Sports Images.