No, this isn't a piece about baseball legend Cool Papa Bell. Try as I might, I couldn't come up with a catchier title in regards to Pirates first baseman Josh Bell, who has evolved into one of baseball's premier offensive players in 2019. It's been something of an unexpected development considering the unspectacular start Bell's career got off to during his first couple years in the majors.
A second-round pick in 2011, Bell soared up prospect lists in his days in the Pirates' farm system, ranking as Baseball America's 38th-best farmhand when the club promoted him to the bigs. Bell first got the call on July 8, 2016, almost exactly three years ago, and has been a mainstay in Pittsburgh since then. Through 2018, though, Bell looked like somewhat of a light hitter relative to his position, not the franchise-caliber masher he has become. While Bell did smack 26 home runs in 2017, he nonetheless entered this year a career .260/.348/.436 batter over 1,355 plate appearances, giving him a 110 wRC+ and a 1.4 fWAR which made him more closely resemble, say, James Loney than Freddie Freeman.
This season has been a completely different story for Bell, who, with 26 homers across 374 PA, has already tied his career high en route to his first All-Star nod. With a .306/.377/.654 line, Bell ranks fourth in the game in wRC+ (158), trailing a decent trio of Cody Bellinger, Mike Trout and Christian Yelich. The 26-year-old Bell has already racked up 2.7 fWAR, almost doubling the mark he posted during his entire career before 2019. Plus, while Bell recorded a mediocre .177 ISO from 2016-18, that number has soared to .349 this year, putting him fourth in the league.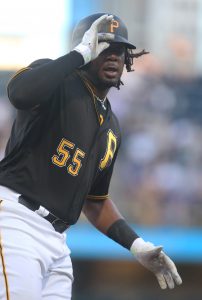 So why the sudden epiphany? For starters, Bell's pulling the ball more than ever and going opposite field less than at any previous point, all while hitting more fly balls and fewer grounders. That's an easy recipe for more pop, as is his decrease in infield fly balls. Bell's pop-up rate stood at upward of 9 percent in each of his prior seasons, but it has plummeted to just over 2 percent this season.
Unsurprisingly, Bell has hit the ball much harder in general. His hard-contact rate has risen by an eye-popping 15 percent since last season, while his soft-hit rate has fallen by almost 10 percent, according to FanGraphs. Only 11 players have outdone Bell in hard-hit percentage. With that in mind, it's not exactly stunning he ranks near the top of the majors in weighted-on base average (.421) and expected wOBA (.404), per Statcast, which places the switch hitter in elite company in most of its offensive metrics. Bell's expected batting average (91st percentile), barrel percentage (95th), xwOBA (96th), expected slugging percentage (96th), hard-contact rate (97th) and exit velocity (98th) are all magnificent.
Unlike 2018, when Bell logged a .284 wOBA/.257 xwOBA against breaking pitches, those offerings haven't fooled him this year. If you're going to throw a breaking pitch to Bell nowadays, there's a good chance you're going to pay. He has hit a ridiculous .455/.460 off them this season, having shown power against them in several quadrants of the strike zone, which the drastic change in FanGraphs' heatmaps shows between  2018 and '19.
It's clear Bell has benefited from a more aggressive approach. He's swinging at way more pitches, including out of the zone, which has led to less contact, an all-time worst swinging-strike percentage and more strikeouts. But when you're producing like this, it doesn't matter. He's still walking and striking out at better clips than most hitters, evidenced by a K/BB ratio which ranks 50th among 158 qualified batters.
The Pirates have been waiting for a new face of the franchise to rise up since they traded away organizational icon Andrew McCutchen prior to the 2018 campaign. It appears they've found his successor in Bell, though the newly established slugger's days of playing for a relative pittance are nearing an end. Now in his last season on a league-minimum salary, Bell's on the verge of cashing in during the arbitration process. Considering his 2019 breakout, though, that's a high-class problem for Pittsburgh.
Photo courtesy of USA Today Sports Images.