After unexpectedly earning a playoff berth in 2017, the Twins finished far out of contention last season with a 78-84 record. The club's offense contributed to its mediocrity a year ago, ranking 13th in the majors in runs, 19th in wRC+ (95) and 23rd in homers. Aside from infielder Eduardo Escobar, whom Minnesota traded to Arizona before the end-of-July deadline, none of its regulars posted well above-average offensive production. Additionally, the Twins handed out a couple thousand plate appearances to players who were so-so or worse at the plate. Franchise icon Joe Mauer, who retired at season's end, as well as Brian Dozier (traded last summer) and offseason departures Robbie Grossman, Logan Morrison and Logan Forsythe were among those responsible for Minnesota's middle-of-the-pack attack.
Unlike last season, there hasn't been anything run-of-the-mill about the Twins' offense. In fact, the unit has been downright scary, a key reason why the Twins have sprinted to the majors' fourth-ranked record (56-33). No team has scored more runs than the Twins, who are tied atop the league at 509 and have seen their wRC+ climb a whopping 21 points to 116 (second in baseball). With 166 home runs, the Twins are first in the majors and on pace to eclipse the record 266 the Yankees swatted just last season.
The club's marked offensive improvement is the product of in-house talent coming into its own and shrewd offseason pickups by chief baseball officer Derek Falvey and general manager Thad Levine. A slew of holdovers – shortstop Jorge Polanco (19), center fielder Byron Buxton (19), outfielder Max Kepler (25), utilityman Ehire Adrianza (30), third baseman Miguel Sano (44), and catchers Mitch Garver (53) and Jason Castro (83) – have each boosted their wRC+ by sizable amounts. Meanwhile, unheralded rookie utility player Luis Arraez has recorded a phenomenal 162 wRC+  in his first 95 plate appearances.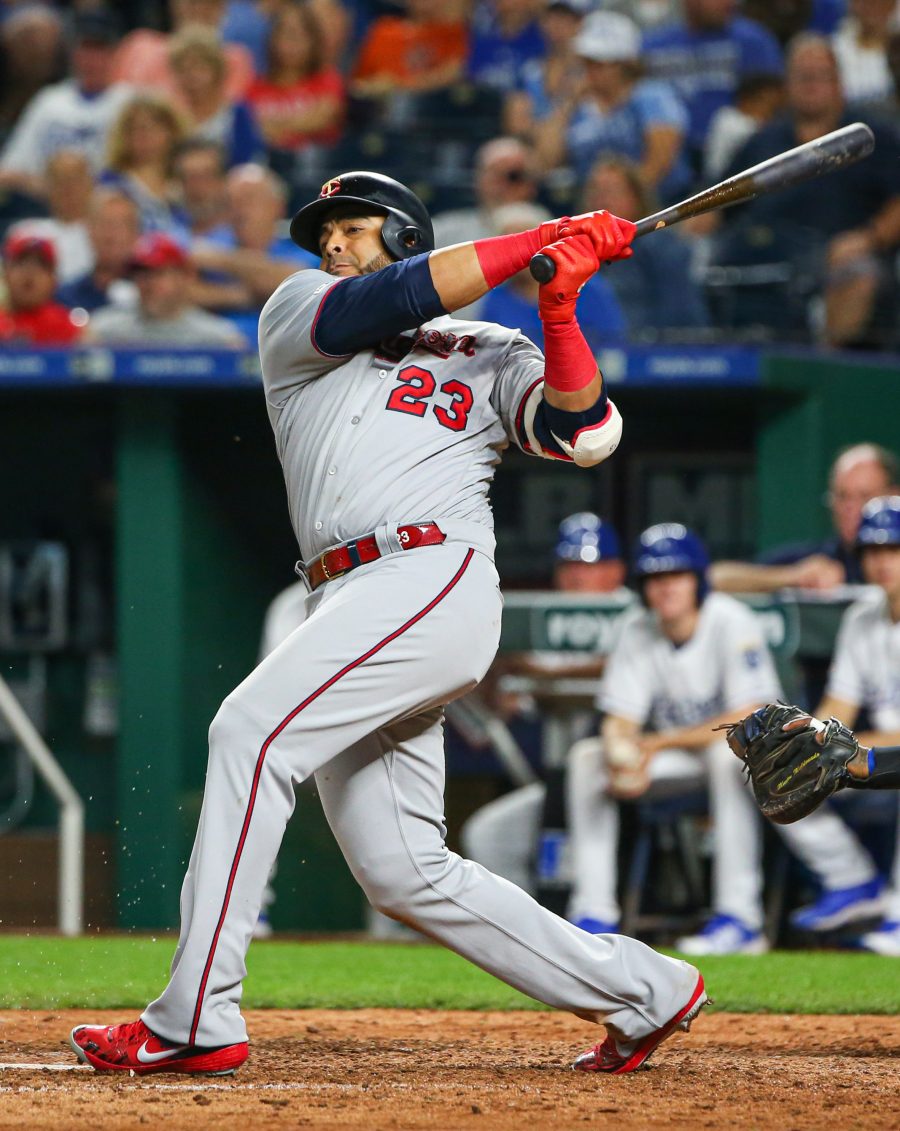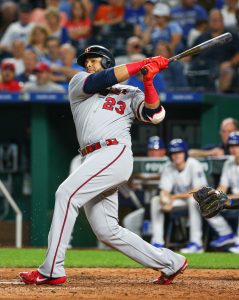 The Twins also helped their cause with a few notable additions to their offense over the winter, including the signing of accomplished slugger Nelson Cruz to a one-year, $14.3MM deal. Cruz couldn't find a multiyear contract because of his advanced age (39), but he still isn't showing signs of slowing down. He has smashed 16 homers, giving him 376 for his career, and is on track to finish with a 130-plus wRC+ for the sixth straight year.
Fellow free-agent signings Jonathan Schoop (103 wRC+) and Marwin Gonzalez (94) haven't been close to as effective as Cruz, but Schoop has outdone the offensive output Dozier and Forsythe put up at second in 2018. Gonzalez has come on strong since an ice-cold April, thereby doing his best to justify the two-year, $21MM investment Minnesota made in him.
The team also utilized the waiver wire to its advantage in the offseason, scooping up first baseman C.J. Cron after the Rays cut him on the heels of a 30-home run season. Cron, whom the Rays didn't want to pay an estimated $5.2MM in arbitration, settled for $4.8MM after catching on with the Twins. The 29-year-old's numbers have dipped compared to last season's, though he has still hit .266/.326/.495 (111 wRC+) in 331 PA and added 17 HRs to the Twins' potentially historic ledger.
With the Twins hoping to vie for a World Series in the season's second half, it's fair to wonder whether their offense can keep up this type of pace. Statcast's expected weighted on-base average metric presents a mixed bag of answers. Castro, Cruz, Gonzalez and Cron have all logged xwOBAs ranging from 29 to 55 points better than their actual marks. On the other hand, the xwOBAs of Polanco and Kepler are 15 points lower, Buxton's is 26 points inferior, Sano's lagging by 43 and Garver by 57. However, Polanco, Kepler and Garver are still clearly above average in the category. Meantime, there's not much difference for Adrianza, Schoop or slugging outfielder Eddie Rosario.
Between a high-octane offense and a quality pitching staff, the Twins are legitimate candidates to play deep into the fall this year. Of course, there's still work to be done around this month's trade deadline (perhaps by acquiring another starter and more relief help) for a team trying to hold off the hard-charging Indians in the American League Central.
Photo courtesy of USA Today Sports Images.