The Braves announced Tuesday that they've re-signed right-hander Chris Martin to a two-year contract. The deal is worth a guaranteed $14MM and will be evenly distributed at $7MM per season, according to the team. Martin is represented by ISE Baseball.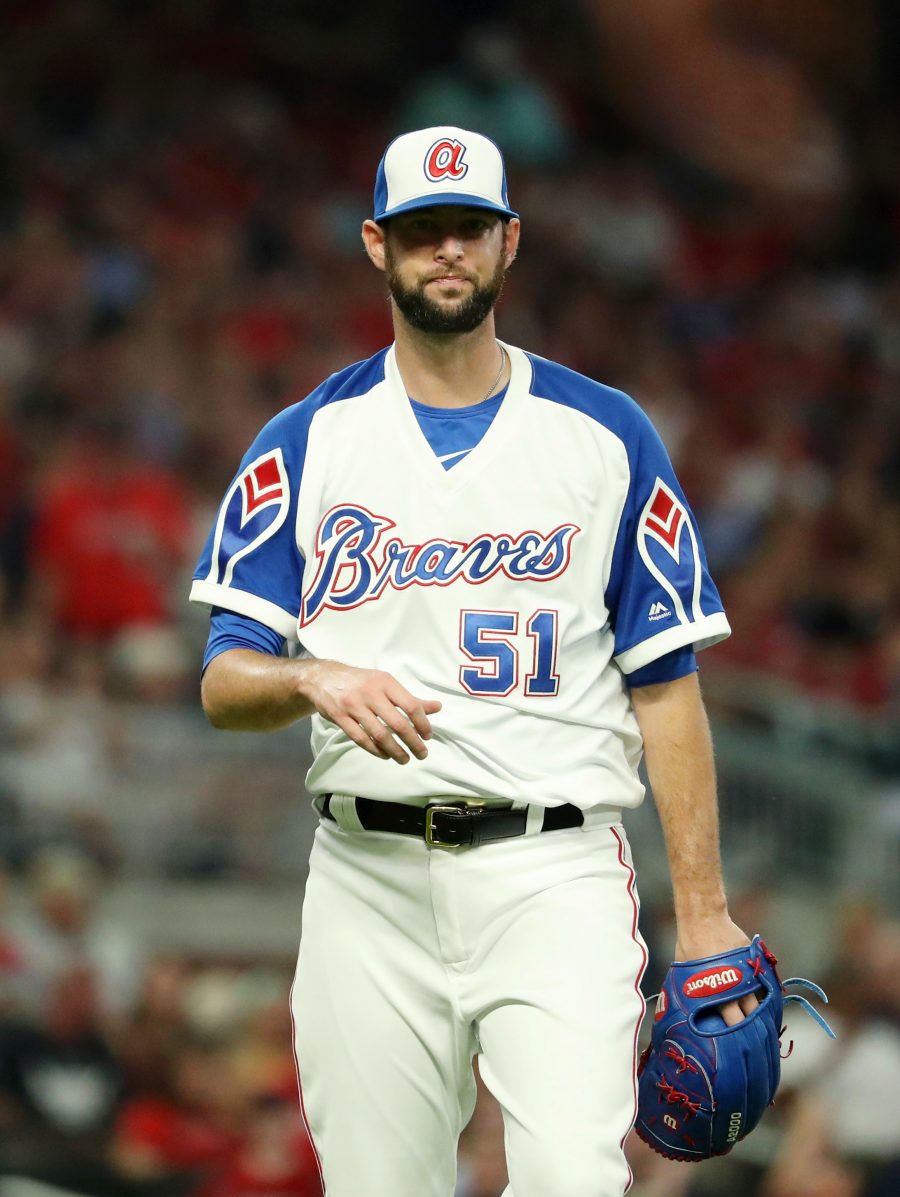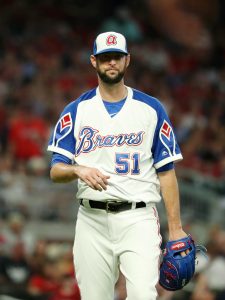 It's the third notable relief pickup of the past week for the Braves, who already snagged arguably the top reliever on the market last Thursday when signing Will Smith to a three-year, $40MM contract. Atlanta also re-signed veteran righty Darren O'Day to a one-year, $2.25MM deal in the early stages of the offseason. Between Smith, Martin, O'Day, Mark Melancon and Shane Greene, the Atlanta bullpen will head into the 2020 season as both a much more established and much more expensive collective unit than it did in 2019.
Martin, 33, enjoyed the finest season of his professional career in 2019, pitching to a combined 3.40 ERA with a masterful 65-to-5 K/BB ratio in 55 2/3 innings of relief between the Rangers and Braves. The towering righty, listed at 6'8″, opened the season in Texas but found himself pitching for the Braves down the stretch after Atlanta traded former first-rounder and top prospect Kolby Allard to the Rangers to acquire him on July 30. He was set to make his postseason debut against the Cardinals in the NLDS when an oblique injury cropped up and forced him out of the game before throwing a pitch in what proved to be a pivotal moment in the Braves' postseason loss.
This past season, Martin posted a career-high 95.7 mph average fastball and logged career-high marks in swinging-strike rate (12.4 percent) and opponents' chase rate (38.3 percent). The only pitcher in baseball (min. 50 innings pitched) who boasted a lower walk percentage than Martin's 2.3 percent mark was Atlanta teammate Josh Tomlin (2.2 percent), but Martin's 30.1 percent strikeout rate was nearly double that of Tomlin. The extent to which he can replicate his enormous gains in swinging-strike, chase and walk rates will determine Martin's success in his second stint with the Braves, but there's little denying that he was among the most appealing arms available on the market this winter.
Prior to landing far and away the largest contract of his professional career, Martin, has had one of the most fascinating odysseys in all of baseball (as most recently chronicled by the Atlanta Journal-Constitution's Tim Tucker). Drafted out of high school in '04 and junior college in '05, Martin opted not to sign in either instance and ultimately went undrafted in 2006 after undergoing shoulder surgery that he believed would end his baseball aspirations. Years later, after working as a UPS driver and working at Lowe's, a game of catch with a friend brought about the realization that his surgically repaired shoulder no longer caused him pain.
A second indie ball stint was parlayed into a minor league deal with the Red Sox, who traded Martin to the Rockies in 2013. Just four years removed from delivering packages and driving a forklift, Martin made his MLB debut with the Rockies in 2014. Brief stints with the Rox and Yankees didn't yield favorable results, and Martin ultimately found his first seven-figure contract pitching overseas for the Nippon Ham Fighters in Japan. His dominance in NPB led to a two-year, $4MM deal with the Rangers. Prior to today's announcement, Martin's career earnings between MLB and NPB checked in south of $7MM. The two-year, $14MM agreement matches the prediction included in MLBTR's Top 50 free agent list, where Martin ranked 27th.
Early in the season the Braves will continue to deploy Melancon as the club's closer, general manager Alex Anthopoulos suggested following the signing of Smith (link via Matthew Leach of MLB.com). That should lead to a primary setup corps of Smith, Martin, Greene and O'Day, with a number of the Braves' young arms combining to round out the bullpen mixture. Luke Jackson, Grant Dayton, A.J. Minter, Chad Sobotka and Jacob Webb will be among the names considered by the Atlanta brass, barring additional bullpen acquisitions and or roster moves that send some of those incumbent options elsewhere.