TODAY: The Padres have officially announced the trade.
DECEMBER 28: The Padres have an agreement in place to acquire Blake Snell from the Rays, report Dennis Lin, Josh Tolentino and Ken Rosenthal of the Athletic (Twitter link). Luis Patiño, Francisco Mejía and prospects Blake Hunt and Cole Wilcox are headed back to Tampa Bay. The deal is pending review of medicals. R.J. Anderson of CBS Sports had first reported the two sides were in discussions about a potential Snell trade.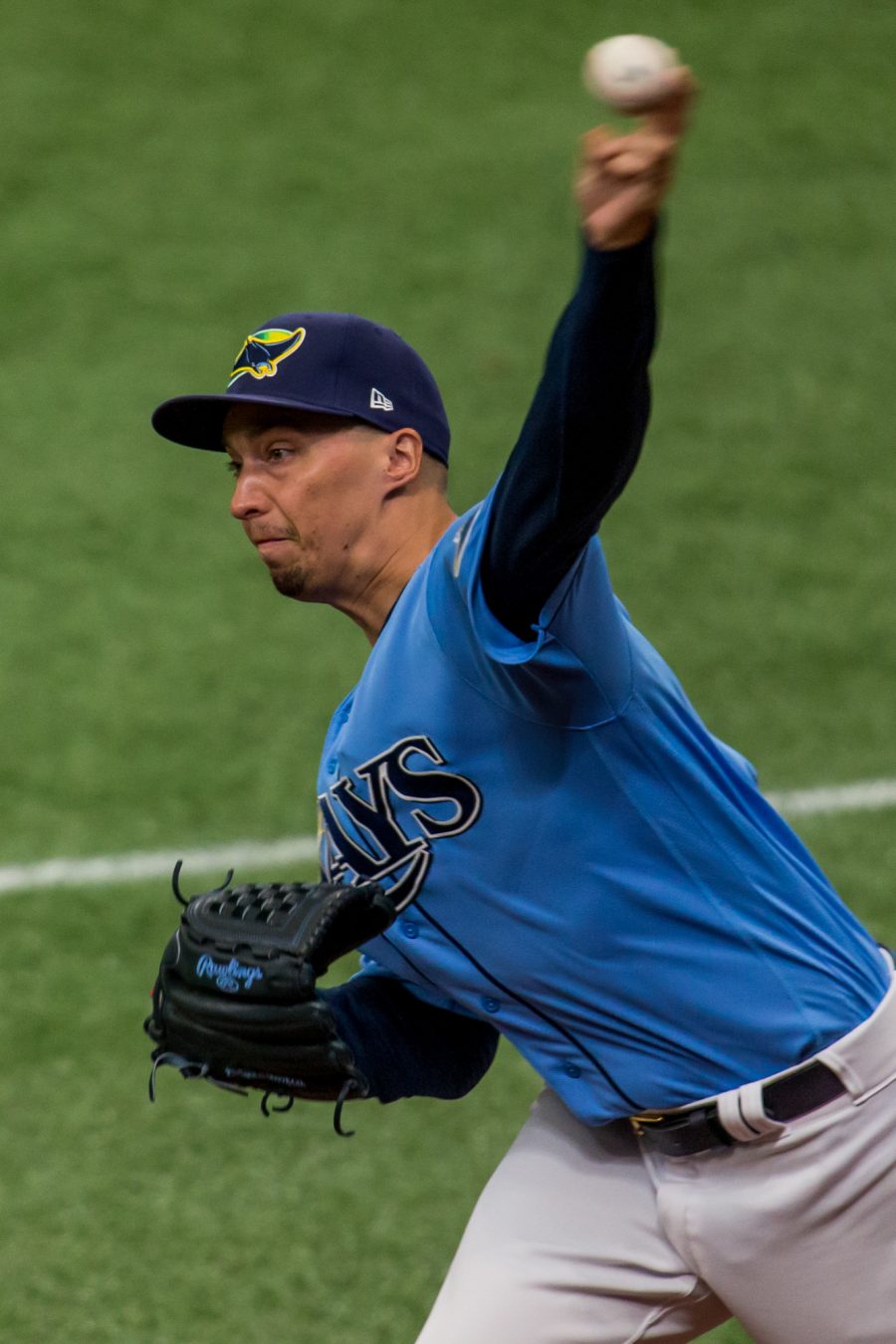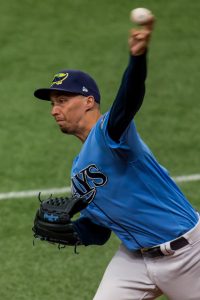 It's a shocking, out-of-the-blue acquisition for San Diego. The Rays were known to be open to offers on Snell, but there had been no indication prior to tonight any deal was particularly close. Snell, 28, is one of the sport's best pitchers. The 2018 American League Cy Young winner, he has posted a 2.85 ERA across 337.2 innings over the past three seasons. Along the way, he's struck out 32.1% of opposing hitters, holding them to a .206/.279/.350 slash line. This past season, Snell worked to a 3.24 ERA/4.35 FIP with his typical strikeout and walk numbers.
Snell becomes the second big-ticket starting pitcher acquired by the Padres within the past six months. San Diego picked up Mike Clevinger from the Indians prior to the August 31 trade deadline. Clevinger, though, required Tommy John surgery after the season, leaving the Padres looking to add to their rotation. They've done so with a bang, picking up perhaps the top starter available on the trade market. Snell will join Dinelson Lamet, who's coming off a Cy Young caliber 2020, at the top of a rotation that also features Zach Davies and Chris Paddack and should soon welcome top prospect MacKenzie Gore, to say nothing of fellow prized prospect Adrián Morejón.
The Padres are clearly aiming to push the reigning World Series champion Dodgers in the NL West in both 2021 and beyond. In addition to that high-end rotation, San Diego boasts an enviable position player core including Fernando Tatís Jr., Manny Machado, Jake Cronenworth, Trent Grisham and a resurgent Eric Hosmer. It's a win-now strike, but it's not solely a move for next year. Snell comes with three seasons of remaining control under the terms of the extension he signed with Tampa Bay in March 2019. He'll make a bargain $10.5MM salary next season, with respective salaries of $12.5MM and $16MM the following two years (his 2023 figure has potential escalators based on future Cy Young finishes).
Snell's combination of high-end talent and cheap, long-term control meant the Padres had no choice but to offer an elite package to pry him from Tampa. All four players headed back to the Rays are highly-regarded youngsters, headlined by the 21-year-old Patiño. A 2016 international signee out of Colombia, the extremely athletic right-hander quickly emerged as one of the game's best prospects. Each of Baseball America, The Athletic's Keith Law, and FanGraphs' Eric Longenhagen placed him among the top twenty farmhands in the sport entering 2020. He draws praise for a mid-high 90's fastball and plus slider and shows the makings of a plus changeup and above-average control, per Baseball America.
Patiño made his MLB debut, mostly working out of the bullpen, in 2020. His first 17.1 MLB innings didn't go well, as he struggled to throw strikes and only managed a 5.19 ERA. But Patiño had only thrown 7.2 innings above A-ball entering the season and surely would've been given more minor-league time in 2020 had there been a season. He was nothing short of dominant in the low minors from 2018-19 and is a high-upside arm who could contribute for Tampa Bay in the near future. Patiño has yet to accrue a full year of service and comes with six seasons of team control. If he were to stick in the majors for good, he'd be controllable through 2026.
Hunt, too, has emerged as a top 100 caliber prospect, tweets Longenhagen. The 22-year-old catcher has "been hitting to all fields with power" and shown high-end arm strength in recent workouts, he adds. Hunt placed just 20th among Padre farmhands in Baseball America's midseason system rankings but seems to have turned a corner in recent months. In 2019, he slashed .255/.331/.381 over 376 plate appearances in Low-A.
While Hunt may have the brighter long-term future behind the plate, Mejía isn't far removed from being seen as an elite catching talent himself. The 25-year-old ranked among Baseball America's top 35 overall prospects every year between 2017 and 2019 and headlined the Padres-Indians 2018 Brad Hand blockbuster. He comes with question marks about his aptitude behind the dish and has compiled just a .225/.282/.386 slash line in 362 career plate appearances over the past four seasons.
As MLBTR's Mark Polishuk recently examined, though, it's easy to understand the appeal he holds to Tampa Bay. Mejía's a switch-hitter who demonstrated elite bat-to-ball skills in the minors and has a top-of-the-scale arm. Given his lack of MLB track record, there's more risk in his profile than there may have been at the peak of his prospect status, but Mejía carries some long-term intrigue and can immediately step into the Rays' catching mix with Mike Zunino. Mejía has two-plus years of service and can be controlled through the 2024 season. He'll be eligible for arbitration for the first time next winter.
Rounding out the return is Wilcox, a 2020 draftee out of the University of Georgia. Selected in the third round, Wilcox was generally seen as a first-round talent who fell because of a high bonus demand as a draft-eligible sophomore. The Padres signed the 21-year-old for an overslot $3.3MM signing bonus. The right-hander has a high-90's fastball with a pair of promising secondaries in his slider and changeup, Baseball America noted in their pre-draft scouting report. Wilcox was ranked twelfth among San Diego farmhands by BA.
From a broader perspective, the trade is symbolic of the respective team-building approaches of the two organizations. Padres GM A.J. Preller has shown a willingness to make bold acquisitions both through trade and free agency, leveraging the treasure trove of prospects the club accrued throughout their rebuild to support an emergent core of homegrown talent. The Padres still boast plenty of talent in the system they could leverage for future additions to the MLB roster, with the bullpen standing out as a potential target area.
Altogether, the addition of Snell cements the Friars alongside the Dodgers and Braves as the top three teams in the National League. The Snell acquisition brings the San Diego payroll to a projected $141MM after factoring in arbitration raises, per Roster Resource. That leaves a little bit of wiggle room under last year's season-opening payroll of $157MM (before prorating) if ownership is willing to repeat that level of spending.
The Rays, meanwhile, continue to operate without regard to name recognition, showing a willingness to move anyone if they can recoup what they deem sufficient value. Tampa Bay continuously churns the major league roster while prioritizing long-term control and cost certainty. That's helped them compile a farm system that was generally regarded as the league's strongest even before today's haul of prospects.
Between Snell and Charlie Morton, however, the reigning American League champs have moved on from two of their top three starters this winter. Tampa Bay now figures to add pitching this offseason as they look to compete with the Yankees and hold off the Blue Jays at the top of the AL East. With Snell's contract off the books, the Rays' payroll is down to a projected $57MM, per Roster Resource, $17MM shy of last season's opening payroll of $74MM (before prorating).
This post was originally published on December 27th.