Francisco Lindor is now under contract with the Mets through 2031, and they'll be cutting him checks for ten years beyond that due to deferred money.  Before accounting for Lindor's $50MM in deferrals, his $341MM contract ranks third in MLB history behind Mookie Betts and Mike Trout.  But the net present value of Lindor's deal is $332.39MM, according to MLB Network's Jon Heyman, and it's been previously reported that Betts' $365MM extension actually had a present-day value of $306.66MM.  Fernando Tatis Jr.s' 14-year, $340MM extension actually outranks Lindor and Betts in that sense, even though Lindor's final million bucks was clearly tacked on so he and his agents at SportsMeter can at least nominally say he passed the Padres' shortstop.
In our interpretation, Trout's ten year, $360MM extension from March 2019 still reigns supreme among baseball contracts.  Though Trout tore up his existing contract and technically put pen to paper on a 12-year, $426.5MM deal with the Angels, he had two years and $66.5MM remaining on his old deal at the time.  The Angels committed $360MM in new money, which is the figure we think matters and allows for accurate comparison.  Baseball's first true $400MM man has yet to be anointed, and that's unlikely to happen as part of the 2021-22 free agent class.  MLB Trade Rumors maintains the definitive list of the largest MLB contracts here.
Though he had fallen short of our top ten back in March, Astros righty Lance McCullers Jr. is also off the board.  McCullers signed a five-year, $85MM extension to remain with the Astros, a reminder that Boras Corporation clients don't always explore free agency.  McCullers had age on his side, as he doesn't turn 28 until October.  The Astros were willing to grant McCullers a fifth year despite the fact that he has never pitched as many as 140 Major League innings in a single season, postseason included.  That's partially due to his November 2018 Tommy John surgery, from which McCullers is fully recovered, as well as the shortened 60-game MLB season in 2020.
As a catcher slated to hit free agency in his age 32 season, the Royals' Salvador Perez also failed to crack my top ten last month.  Perez did better than I thought, with his agents at Beverly Hills Sports Council securing a four-year, $82MM extension.  Perez will be nearly four years younger than Yadier Molina was upon starting his three-year extension, so it makes sense that Perez would command a longer term.  Perez was also able to inch past Molina's $20MM average annual value, becoming the third catcher to reach that mark along with standard-bearer J.T. Realmuto.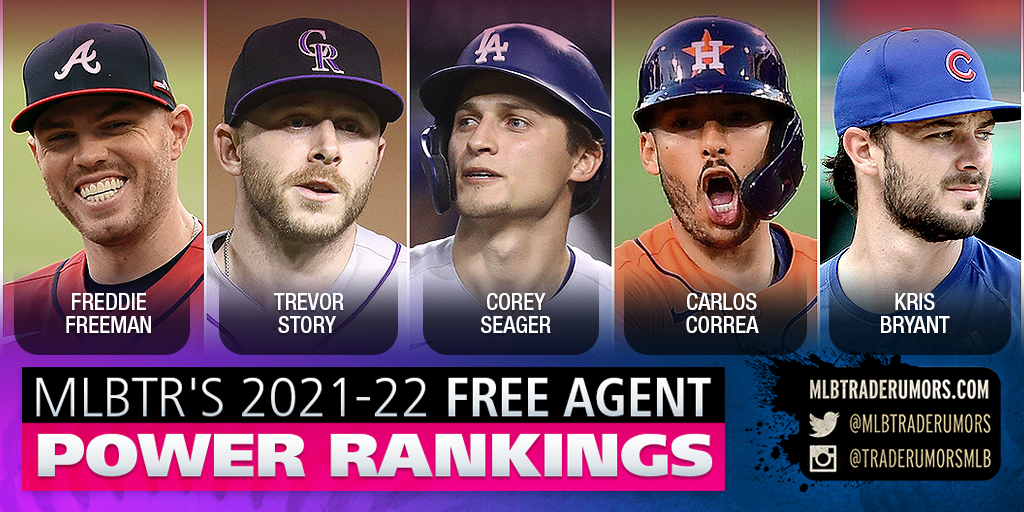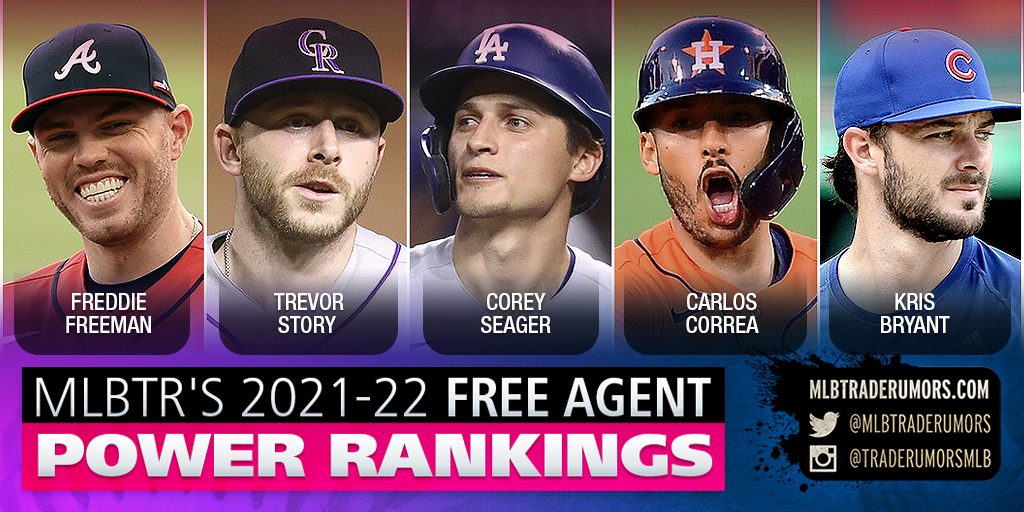 The 2021-22 MLB Free Agent Power Rankings below represent my estimation of the players' earning power, with the uncertainty of the expiring collective bargaining agreement set aside.  You can see the full list of 2021-22 MLB free agents here.
1. Corey Seager.  Even with Lindor locked up, the 2021-22 free agent shortstop class still includes seven starting-caliber players in Seager, Carlos Correa, Trevor Story, Javier Baez, Marcus Semien, Andrelton Simmons, and Jose Iglesias.  Everything we said about Seager last time remains true: it's exceedingly rare to find a shortstop who can hit this well.  It may be foolish to try to read tea leaves based on 49 plate appearances this year, but Seager's walk rate is higher than ever so far and perhaps this will be the first time he reaches 70 free passes in a season.  Will the Dodgers allow their star shortstop to reach free agency?  Jon Heyman provided an update on March 30th, noting that the Dodgers "made an effort on Seager," which obviously did not come to fruition.  As he approaches his 27th birthday this month, Seager has a clear benchmark to aim for in Lindor's $341MM.
2. Trevor Bauer.  The most notable recent development involving Bauer was MLB's collection of multiple baseballs he threw during his April 7th start at Oakland.  According to Ken Rosenthal of The Athletic, "The balls had visible markings and were sticky, and were sent to the league offices for further inspection, the sources said."  Rosenthal the baseballs were "brought to the umpires' attention."  This occurred only weeks after after MLB sent a memo to teams "alerting them of plans to crack down on pitchers' use of foreign substances to manipulate pitch movement," as Chelsea Janes of The Washington Post put it.  Per Janes' article, the memo said collected baseballs would be tested at a third-party lab and players will be subject to discipline.
Bauer, who has been outspoken about pitchers' widespread use of foreign substances on baseballs, had choice words in the wake of Rosenthal's article.  It's unclear whether Bauer was even being targeted in this instance, and it seems unlikely MLB could make a suspension stick (pun intended).
Most likely, this story is much ado about nothing, and will have no effect on Bauer's earning power should he decide to opt out after 2021.  Given the structure of his contract, most feel that Bauer is more likely to opt out after 2022.  That's why we didn't include him in the snazzy image used in this post.
3. Carlos Correa.  The Astros attempted to extend Correa by his self-imposed Opening Day deadline, offering six years and $120MM or five years and $125MM.  The six-year offer is an exact match for Xander Bogaerts' contract with the Red Sox, which Bogaerts signed coming off a 133 wRC+, 4.9 WAR season.  That contract,  covering ages 27-32, contains an opt-out after the third year and a very achievable seventh-year vesting option.  The extension still felt a bit light at the time for Bogaerts.  It still seems like a reasonable comparable for Correa at present, who hasn't topped 110 games in the regular season since 2016 (though he was healthy in 2020).
If Correa is able to hit to his abilities (a 130 wRC+ or better) while playing 140+ games, he'll prove himself right and probably at least double the Astros' offer as a free agent.  Such a contract will probably come from another team, as Correa said of the Astros, "We didn't get close at all.  There were not really any negotiations."  He added, "Once I hit free agency, I'm going to look for a big, long contract. They made it very clear that they did not believe in that."  Lindor's contract is an obvious benchmark, with Correa noting in February, "I'm the one, I feel like with Lindor, that can do both — offensively and defensively — at a high level.  I always have the option of going to third base if it's needed (for a team)."
Lindor's ten-year, $341MM contract, which has a present-day value of about $332MM, pays him through age 37.  Manny Machado was paid through age 35 on a ten-year deal worth $300MM.  Correa may have a ten-year deal in that price range in his sights, or he could tack on additional years to squeeze out a few extra dollars as Bryce Harper did.
4. Trevor Story.  Is it too early to start the Trevor Story Trade Watch?  The Rockies have virtually no chance of making the playoffs.  Assuming the qualifying offer system and its exemption for traded players remains in place, Story would get a little boost over rival shortstops Seager and Correa, who do not figure to be traded this summer.  Plus, Story would have two months to start building a case that he's a 120 wRC+ hitter outside of Coors Field.
5. Freddie Freeman.  Asked about progress on a contract extension with the Braves, Freeman told MLB.com's Mark Bowman on March 24th, "We haven't been approached yet."  A week later on Opening Day, Freeman said, "There is nothing to report on."  For as much of a foregone conclusion Freeman staying with the Braves seems to be, the club appears willing to let the reigning NL MVP reach the open market or at least get weeks away from it.  I could see a sixth year becoming a sticking point.  Paul Goldschmidt signed a five-year extension with the Cardinals in March 2019, but he was new to the team, wasn't on the open market, and didn't have an MVP on his résumé.  The Braves haven't gone past four years in free agency since signing B.J. Upton in November 2012.
6. Kris Bryant.  Bryant has been overshadowed by the shortstops of the 2021-22 free agent class, even though the Cubs and baseball fans have been talking about his free agency since his delayed call-up in 2015.  Less than 7% of the Cubs' season is in the books, but in 44 plate appearances in 2021 Bryant has begun to erase the ugly 147 PA from 2020.  In a full-length season, Bryant has never posted a wRC+ below 126.  If this is a four or five-win season in the making, Bryant could vault up this list in a hurry.  With the Cubs currently sporting a 12.4% chance at making the playoffs, he's a prime July trade candidate.
7. Michael Conforto.  With a 132 wRC+ from 2017-20, Conforto's track record speaks for itself.  That's why his first seven games of 2021 should be of little concern and shouldn't affect his free agent value.  Though SNY's Andy Martino reported on March 19th that the Mets made an offer to Conforto, MLB.com's Anthony DiComo wrote, "Shortly before Lindor signed his deal last week [March 31st], a source said the Mets had yet to exchange numbers with Conforto's agent."
The day of Lindor's agreement, Mike Puma of the New York Post wrote, "With the Mets focused on Lindor, extension talks with Michael Conforto fizzled, with the two sides in different realms regarding contract value, according to a source. Though Conforto in spring training backed away from the idea of Opening Day as a hard deadline to negotiate, the likelihood of him testing free agency is strong."  With a typical year, Conforto will be the top free agent outfielder on the market.
8. Clayton Kershaw.  There's nothing new to report on Kershaw, who recently turned 33 years old.  Speculation, including from Evan Grant of the Dallas Morning News, seems to be in the three-year, $90MM range for Kershaw.  The Dodgers remain the favorite, with the Rangers lurking as the hometown pick.
9. Noah Syndergaard.  If McCullers is worth five years and $85MM, Syndergaard deserves a spot on this list.  The Mets' flamethrowing righty, who turns 29 in August, is currently on the mend from March 2020 Tommy John surgery.  Syndergaard was said to have hit 96 miles per hour in a mid-March bullpen session and remains on track for a mid-June big league return.  That could give Syndergaard more than 20 starts to prove his health prior to free agency.
10.  Dylan Bundy.  The Angels' Opening Day starter continues to see his stock rise after three strong starts to open the season.  His velocity is up a full two miles per hour from 2020.  In his 14 starts with the Angels dating back to last year, Bundy has a stellar 27.3 K% and 6.4 BB%.  Bundy won't turn 29 until November, meaning he's more than a year and a half younger than fellow free agents Kevin Gausman and Marcus Stroman.  Drafted fourth overall by the Orioles out of high school in 2011, Bundy seems to be realizing his promise at the opportune time.
I missed this last time, but new Cardinal Nolan Arenado said in February that there is a "very, very high chance" that he will not be opting out of the remaining five years and $164MM on his deal, suggesting that staying put is "part of how we made the contract," where the Redbirds added one year and $15MM to his deal.  So, there's little reason to include him in these rankings.  Meanwhile, the Mariners' James Paxton had his hopes for a comeback season dashed, as the need for Tommy John surgery arose 21 pitches into his season.
Aside from the aforementioned Gausman and Stroman, Max Scherzer, Lance Lynn, Javier Baez, Anthony Rizzo, and Eduardo Rodriguez remain on the outskirts of the top ten.