June 22: The Rays have made it official. Franco's contract has been selected from Triple-A Durham. He's batting second in tonight's lineup and playing third base in his Major League debut.
June 20: The Rays announced they'll select the contract of top infield prospect Wander Franco prior to Tuesday's game against the Red Sox. Tampa Bay has lost six straight, falling half a game behind Boston in the American League East. With a three-game series against the division leaders upcoming, the Rays have decided it's time to bring up the league's most heralded prospect.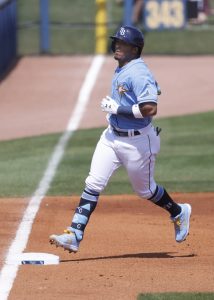 Franco, 20, is seen by public prospect rankers as a transcendent talent. Baseball America has ranked him the game's top prospect in each of the past two seasons, calling him an "exceptionally advanced" hitter with potential plus raw power and average defense at shortstop. In February, Eric Longenhagen of FanGraphs ranked Franco as the only 80-grade prospect around baseball, placing him in a tier of his own among non-MLB players. Longenhagen projects him as a top-of-the-scale hitter, raving about his bat control, pitch recognition and raw power, and calls him a possible "generational talent and annual MVP contender." Keith Law of the Athletic praised Franco's "ridiculous hand speed," incredible plate discipline and above-average power projection, suggesting he should immediately be able to post a high batting average and on-base percentage and could be "an MVP candidate at his peak."
Not only does Franco check all the boxes from a visual evaluation perspective, his minor league performance has been truly incredible. Despite being young for every level at which he's played, Franco has compiled a .333/.400/.538 line in parts of three professional seasons. He reached Triple-A Durham for the first time in 2021 and showed no signs of slowing down. Through 173 plate appearances with the Bulls, Franco has hit .323/.376/.601 with seven homers despite being the league's youngest player. Out of 102 qualified hitters in Triple-A East, the switch-hitting Franco ranks seventeenth in on-base percentage and seventh in slugging percentage.
As one might expect for someone who draws such praise for his hit tool, Franco has very rarely gone down on strikes in the minors. His 11.6% strikeout rate in Triple-A this season is the highest of his career, and that's still less than half the MLB average mark of 23.4%. Over the course of his minor league career, Franco has punched out in just 7.9% of his plate appearances while walking a strong 10% of the time.
Franco is the most talented of a trio of very highly-regarded infield prospects in the Rays system (alongside Taylor Walls and Vidal Bruján). That glut of high minors talent no doubt played a role in Tampa Bay's decision to trade shortstop Willy Adames to the Brewers for relievers J.P. Feyereisen and Drew Rasmussen last month. Walls got his first big league call in the immediate aftermath of that deal. He's played quite well, hitting .237/.356/.355 over his first 90 MLB plate appearances while playing strong defense at shortstop.
Walls is generally regarded as a superior defender to Franco, so it remains to be seen precisely how manager Kevin Cash will deploy a talented infield mix that also includes Brandon Lowe, Joey Wendle, Yandy Díaz and Ji-Man Choi. Regardless of whether the Rays immediately install Franco as the primary shortstop or bounce him around the diamond (he's seen some action at both second and third base in Durham this year in case he's needed to play a multi-positional role), it's safe to assume he'll be in the lineup on a more-or-less everyday basis in some capacity.
Franco is not yet on the 40-man roster, so the Rays will need to make another move to formally accommodate the selection of his contract. We're well past the point on the calendar at which a newly-promoted player can accumulate a full year of MLB service. Even if Franco sticks in the majors from here on out, the Rays will thus be able to control him through the end of the 2027 season.
He also seems highly unlikely to crack the Super Two threshold for early arbitration eligibility during the 2023-24 offseason. Franco will earn somewhere in the neighborhood of 105 days of MLB service this year if he remains on the big league roster. That'd put him at approximately 2.105 years at the end of the 2023 campaign. In recent seasons, the Super Two cutoff has come in at 2.115 years of service or above. In all likelihood, Franco won't reach arbitration eligibility until the conclusion of the 2024 season.
Rays fans will be thrilled to get their first look at a player they no doubt hope will become the face of the franchise. Franco has as good a chance as anyone in the minors of emerging as a true superstar over the coming seasons, and the organization believes him capable of making an immediate impact in the 2021 pennant race. The game has seen an influx of fantastic young talents in recent years. By all accounts, Franco has a reasonable shot to become the next member of that group.
Marc Topkin of the Tampa Bay Times (Twitter link) first reported Franco's impending call-up.