11:24pm: The deal does not contain any opt-out clauses, tweets Bob Nightengale of USA Today.
10:32pm: It's a five-year deal worth $100MM, Heyman reports (Twitter link).
10:27pm: The Phillies are in agreement with free agent outfielder Nick Castellanos, reports Jeff Passan of ESPN (on Twitter). Jon Heyman of the MLB Network had tweeted shortly beforehand the sides were nearing an agreement. Castellanos is a client of the Boras Corporation.
It's the second notable strike in three days for the Phillies, who agreed to terms with slugger Kyle Schwarber on a four-year deal on Wednesday. As teams like the Mets and Braves continue to add to their rosters to battle for the top spot in the NL East, the Phils have added two impact bats to the middle of their order.
Castellanos, 30, became a free agent back in November after he exercised an opt-out clause and walked away from the final two years and $34MM remaining on a four-year, $64MM contract with the Reds. The decision was eminently foreseeable, given the strength of his production in Cincinnati. The Reds made Castellanos a qualifying offer, which he naturally rejected, meaning he'd cost the Phillies their second-highest pick and $500K from their international bonus pool. The Reds, meanwhile, will gain a compensatory pick after the first round of the 2022 draft.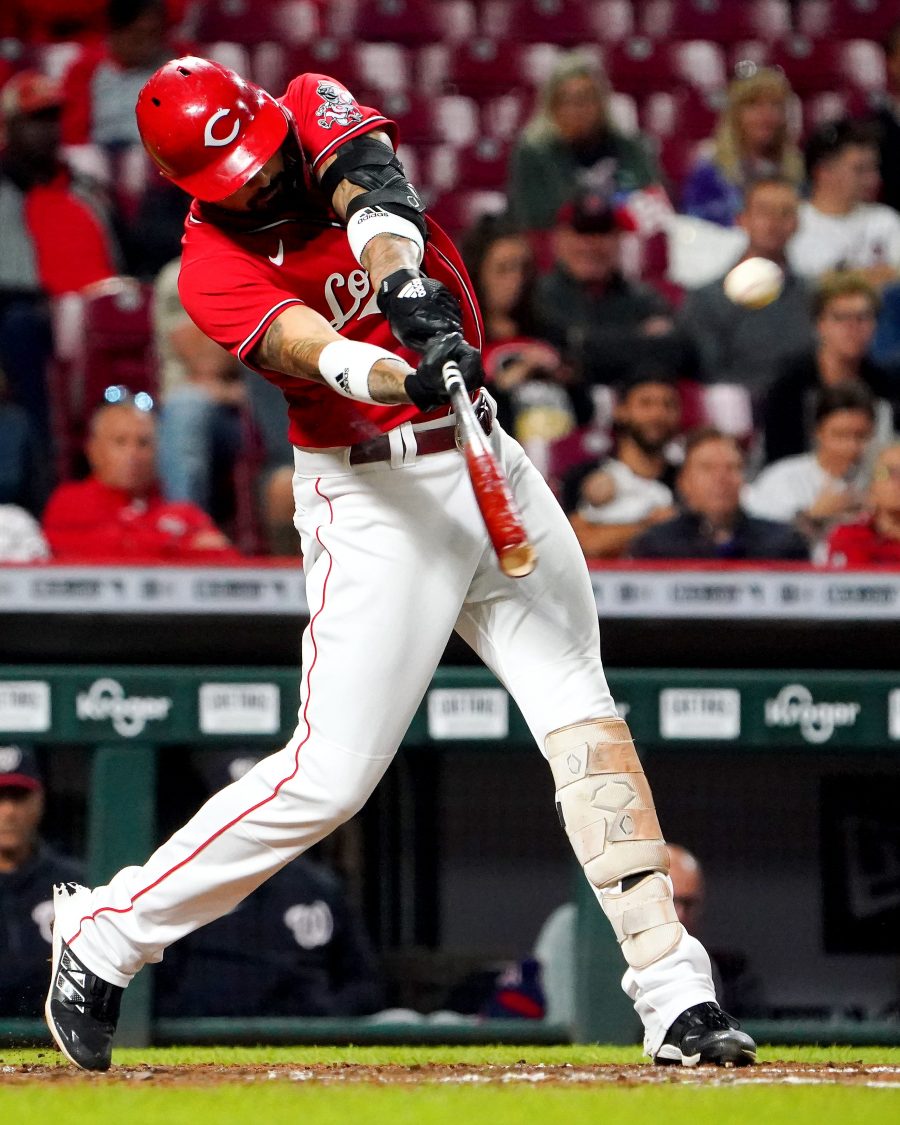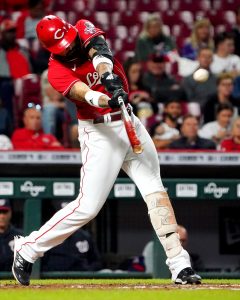 Adding Castellanos to a lineup that already includes Schwarber, reigning NL MVP Bryce Harper, All-Star catcher J.T. Realmuto, slugger Rhys Hoskins and the steadily productive Jean Segura gives the Phillies the potential for a dominant lineup — particularly if young talents like Alec Bohm and top prospect Bryson Stott can solidify themselves as big league contributors. As a team, the 2021 Phillies were a middle-of-the-pack group, ranking 13th in the Majors in runs scored (706), 15th in home runs (198), 18th in batting average (.240), 13th in on-base percentage (.318), 14th in slugging percentage (.408) and tied for 18th in wRC+ (93).
Castellanos, who'll presumably split time with Schwarber between left field and the newly created National League designated hitter slot, just wrapped up the finest season of his big league career. In 585 plate appearances with the Reds, he turned in a .309/.362/.576 batting line with a career-high 34 home runs. He doesn't offer a huge walk rate, but Castellanos strikes out at a lower-than-average rate and is a consistent source of high batting averages and slugging percentages.
Long a steady and productive hitter with his original organization, the Tigers, Castellanos elevated his game to new heights upon being traded to the Cubs in 2019. Since that trade, he's put together an exceptional .292/.346/.571 batting line with 64 home runs, 70 doubles and three triples in 1052 plate appearances between Chicago and Cincinnati. That production checks in at 34% better than league average, by measure of wRC+, and little about it looks fluky. Castellanos consistently posts hard-hit rates north of 40% and barrel rates north of 10% which, combined with his above-average bat-to-ball skills, leads Statcast to rank him among the game's leaders in expected batting average and expected slugging percentage on an annual basis.
Of course, adding Castellanos to an already defensively challenged team whose signature offseason addition thus far was the defensively challenged Schwarber creates its own concerns. Castellanos has improved his defense in right field since first moving off third base earlier in his career, but he still rates as a well below-average defender in either corner. The 2021 Phillies already ranked last in the Majors in Defensive Runs Saved, and that wasn't an issue unique to last year's team. The Phillies have ranked among the worst defensive teams in baseball for more than a half decade now, regularly trotting out subpar defenders and embarking on curious defensive experiments that have not proven fruitful (e.g. Rhys Hoskins in left field).
Bringing Castellanos into the mix won't fix that longstanding organizational flaw, but it'll nevertheless transform an already deepened Phillies lineup into one of the more formidable units in the entire National League. Given that the Phils also have a strong rotation — Zack Wheeler, Aaron Nola, Zach Eflin, Ranger Suarez, Kyle Gibson — the hope is that strong starting pitching and a potentially unyielding lineup could carry the day in spite of suspect glovework and a bullpen that has several question marks.
In order to get to that point, the Phils will push their payroll north of the base luxury tax threshold. It's not yet clear how the money will be distributed, but adding $20MM to the Philadelphia books would push their 2022 payroll to a franchise-record $233+MM level, in the estimation of Jason Martinez of Roster Resource. The financial distribution is a moot point regarding the luxury tax anyways, as those figures are calculated by summing the average annual values of a team's commitments.
From a CBT perspective, Castellanos' $20MM average annual value is the relevant number regardless of how the money is paid out. That'll push the Phillies' luxury tax calculation to a bit north of $236MM, according to Roster Resource. That's above this year's $230MM base threshold, setting the Phillies up as a tax payor at the moment.
They could try to maneuver back under the tax. Phillies president of baseball operations Dave Dombrowski told reporters at the start of the offseason that Didi Gregorius wasn't guaranteed the starting shortstop job. His deal has a $14MM CBT hit, so finding a taker for that money could be a way to avoid paying the tax. That'd be easier said than done, though; given the season Gregorius just had, Philadelphia would probably have to include some young talent from an already-weak farm system to clear that money.
One could argue the Phils shouldn't be concerned with the tax at all. As a first-time payor, they're subject to a 20% tax on any dollar spent between $230MM and $250MM. As things currently stand, they'd be subject to a fee a bit more than $1MM — insignificant money for a club already spending more than $230MM on player payroll. The bigger deterrent to narrowly exceeding the threshold is that the CBA contains escalating penalties for teams that exceed in multiple consecutive seasons.
The Phillies, though, haven't made the postseason in ten years. That's the longest active drought in the National League, one the front office and owner John Middleton are anxious to snap. The hiring of Dombrowski — a famously aggressive executive — last offseason signified that ownership was prepared to push some chips in as part of an effort to put a competitive team back on the field. In one of the most impactful moves of his year-plus tenure, he'll bring in a player with whom he's quite familiar from their overlapping time with the Tigers.
Aligning with that win-now mentality, the Phillies are content to sacrifice two draft choices to bring Castellanos into the fold. Because Cincinnati made him a qualifying offer, Philadelphia will lose their second-highest and fifth-highest selections in the 2022 draft and $1MM in international bonus pool space as compensation for signing Castellanos.
Time will tell whether the Phillies have done enough to overcome the aforementioned bullpen and defensive concerns in a difficult division. They could continue to try to bolster the roster, with center field, shortstop and third base all standing out as areas of varying concern. Further payroll additions would come with additional tax concerns. The Phillies would pay a 32% tax on any overages between $250MM and $270MM, with higher penalties if they push even beyond that mark. That kind of spending spree seems unlikely, but the Phils have already pushed to levels previously unreached with the franchise in hopes of constructing one of the game's top offenses.
Image courtesy of USA Today Sports.