With just a month remaining in the 2022 regular season, some of the awards races are coming into view. The National League Rookie of the Year balloting will be a two-man show, with Braves teammates Spencer Strider and Michael Harris II battling one another for the hardware. Neither player entered the season as a favorite, but they've pulled away from the field with spectacular performances.
Harris didn't even reach the majors until a few days before June, but he's started his career on a .309/.352/.538 tear. That's elite offensive output, and while it'll probably be difficult to keep hitting at that level while swinging and missing as often as he does, there's far more to his game. Harris has rated as a plus defensive center fielder, and it wouldn't be a surprise if he eventually takes home a Gold Glove Award. He's also a plus baserunner who has gone 16 of 17 as a base-stealer. The Braves cemented Harris as a key piece of the core by signing him to an eight-year extension last month.
Great as Harris has been, he may be trending towards a runner-up finish in the ROY race. That's a testament to how dominant his teammate has been on the mound. Unlike Harris, Strider got his feet wet in the big leagues last season. Atlanta called him up in October, and he came out of the bullpen twice during the final week of the regular season. The call-up was seemingly geared towards gauging whether Strider would be a playoff option, but the Braves left him off the postseason roster. After winning the World Series, they're certainly not quibbling about that decision, but there's no question he'll be a major factor in the playoffs this time around.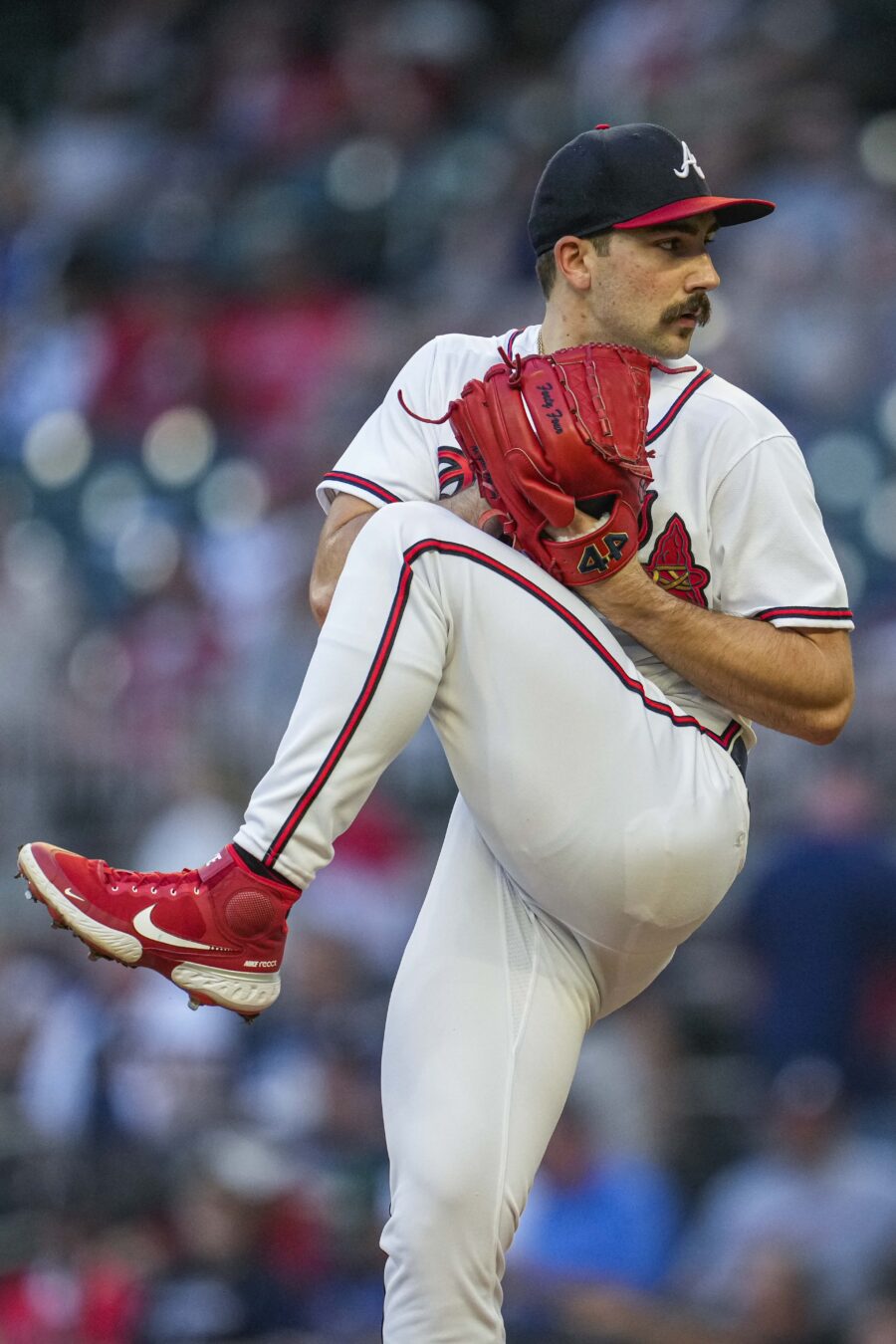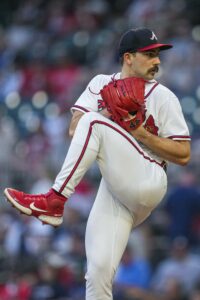 Strider didn't open the season in the rotation. Atlanta initially turned to a primary five of Max Fried, Charlie Morton, Ian Anderson, Kyle Wright and Huascar Ynoa, with Strider on hand as a multi-inning relief option. The 23-year-old thrived in that capacity, pitching to a 2.22 ERA while holding opponents to a pitiful .167/.263/.214 line through 24 1/3 frames. It may have been tempting to keep him in that role, particularly since many scouting reports on Strider had suggested a bullpen future may be his best fit.
Through two months, however, the Braves weren't getting great results from the bulk of the rotation. Fried was excellent, as was Wright. Yet Morton and Anderson had some early-season struggles, and the fifth spot proved a revolving door between Ynoa, Bryce Elder and Tucker Davidson. On May 30, the Braves turned to Strider to make the first start of his big league career. He struggled, allowing five runs in 4 1/3 innings in a loss to the Diamondbacks. The Braves stuck with him, and he reeled off three solid starts in a row. Strider then took a six-run drubbing at the hands of the Giants on June 21, but he's been arguably the best pitcher in the game since that point.
Strider twirled six scoreless innings against the Dodgers his next time out, kicking off an ongoing stretch of 10 of 12 starts in which he's allowed two or fewer runs. Over that time, Strider has a 2.15 ERA and surrendered only a .176/.233/.258 slash line. He's struck out nearly 40% of batters faced while only walking 6.1% of opponents. The righty has eclipsed double digit punchouts on four occasions, including a masterful 16-strikeout gem against the Rockies last week.
While Strider's late entrance to the rotation has kept him from accruing as many innings as the game's top arms, he's been among the league's best hurlers on a rate basis. No other starting pitcher with 90+ innings has a strikeout rate anywhere near his 37.8% mark since he moved to the rotation. The next closest pitcher, Shohei Ohtani, checks at 33%. Strider's among the top 20 starters in ERA (2.79), has allowed the fourth-lowest opponents' on-base percentage (.249) and the lowest slugging percentage allowed (.276). Only Shane McClanahan, Dylan Cease, Kevin Gausman and Ohtani are generating swinging strikes at a better clip than Strider, who's gotten a whiff on 15.2% of his total pitches out of the rotation.
Strider's approach is a bit atypical for a starting pitcher, a big reason evaluators questioned whether he could stick in a rotation. He leans extremely heavily on his fastball, turning to the four-seam more than two-thirds of the time. Strider pairs that with a slider and barely turns to a third offering, rarely deploying his changeup. It can be tough to navigate big league lineups with only two pitches, but the fastball-slider pairing has been dominant. Strider is averaging an absurd 98.2 MPH on his heater, while hitters have come up empty more than half the time they've swung at his mid-80's slider. The shallower repertoire has neither inhibited Strider from handling left-handed opponents (who have a .200/.256/.284 line against him this season), nor from maintaining his effectiveness multiple times through a lineup.
It's probably too soon to call Strider a true ace. A 2020 draftee, he's still only in his second full professional season. This year's 114 2/3 innings are already a personal-high, and it remains to be seen whether he can maintain this kind of form through a 162-game schedule and into the postseason. On an inning-for-inning basis, though, Strider has performed right alongside the game's best. He's already been far better than the Braves could've reasonably anticipated, and he has certainly secured a spot in the playoff rotation alongside Fried and at least one of Morton or Wright.
The addition of Harris and Strider to a core that is coming off a championship gives them one of the league's more complete rosters. Atlanta is playing at a 101-win pace, and they've pulled within half a game of the much improved Mets for first place in a top-heavy NL East. Which team will secure the division title and accompanying first-round bye will be one of the most intriguing storylines of the season's final couple weeks. Strider will play a big role in those efforts and in whatever postseason run the Braves can mount to follow.
Note: All stats through play Tuesday.
Image courtesy of USA Today Sports.