The Rays are dipping into the free agent pitching market, agreeing to terms with right-hander Zach Eflin on a three-year deal. It's reportedly a $40MM guarantee for the O'Connell Sports Management client. Eflin will make $11MM in each of the next two seasons, followed by an $18MM salary in 2025. The deal is pending a physical.
Eflin had spent his entire big league career with the Phillies. Originally drafted by the Padres, the Orlando native was dealt to the Dodgers and Phils during his time as a minor leaguer. He reached the majors by the middle of the 2016 campaign, bouncing on and off the MLB roster for the first couple seasons. Eflin struggled during his early big league looks, but he'd settled in as a capable mid-rotation arm by 2018.
That season, he made 24 starts and worked to a 4.36 ERA across 128 innings. That kicked off a remarkably consistent stretch of results. In each of the five seasons between 2018-22, Eflin posted an ERA between 3.97 and 4.36. Aside from a spike in strikeouts during the abbreviated 2020 season, he achieved those 3rd/4th starter results in a similar manner every year. He's proven an excellent strike-thrower who misses bats at a slightly below-average level but keeps the ball on the ground at a solid clip.
Between 2019-21, Eflin worked to a 4.12 ERA with a slightly below-average 21.4% strikeout rate but a stellar 5.7% walk percentage. He'd been on a similar path to begin this season, posting a 4.37 ERA with a 19.6% strikeout percentage and a 5.3% walk rate through his first 13 starts. At the end of June, he landed on the injured list with a right knee contusion. That cost him over two months. By the time he was ready for reinstatement in early September, the Phils had limited time to build him back to a starter's workload before year's end. They expedited his return to the majors by plugging him in short relief. Eflin made seven appearances out of the bullpen during the regular season, then tossed 10 2/3 frames over 10 outings as a high-leverage arm during the Phils' run to a National League pennant.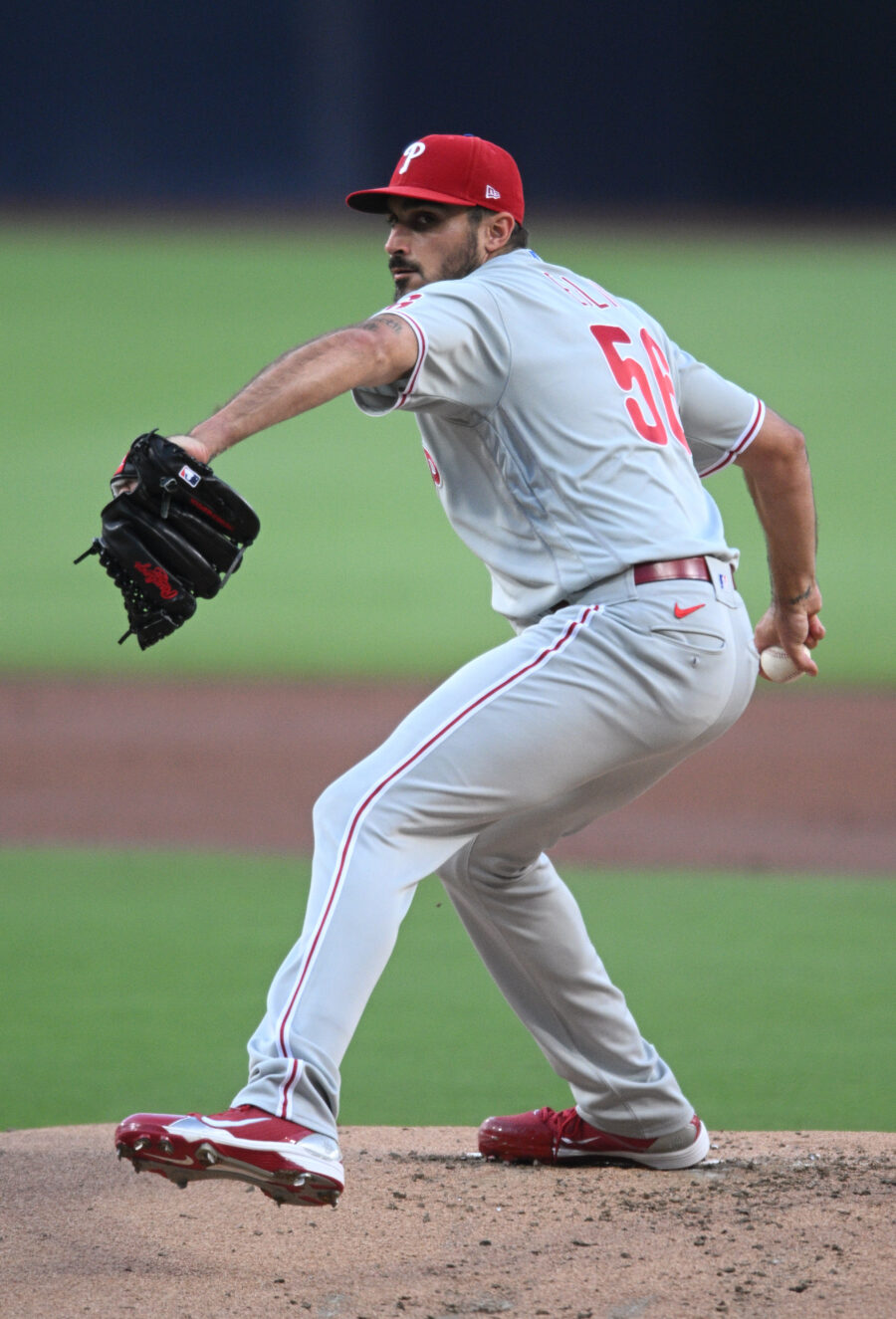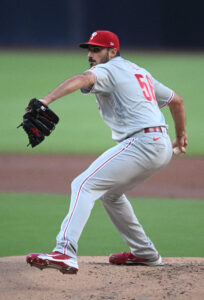 While Eflin doesn't miss many bats, his blend of stellar control and a solid five-pitch mix allowed him to find a fair amount of success in Philadelphia's hitter-friendly home environment. Against right-handed hitters, he leans primarily on a sinker in the 92-93 MPH range, but he turned to a four-seam fastball more often against lefties. Eflin mixes in a cutter and curveball as his usual secondary offerings, occasionally deploying a slider against righties as well. He rarely turns to a changeup, however, and he's had his share of issues with left-handed batters. Southpaws have hit Eflin at a .274/.335/.492 clip since the start of 2018, but he's stifled same-handed hitters to a .255/.291/.398 mark.
Tampa Bay surely has designs on plugging him back into the rotation after a healthy offseason. He'll step in behind Shane McClanahan and Tyler Glasnow in the pecking order, joining Drew Rasmussen and Jeffrey Springs in what looks to be the season-opening starting five. The Rays have one of the sport's top pitching prospects, Taj Bradley, waiting in the wings after a great season in the upper minors. Shane Baz was expected to seize a rotation job himself, but he's likely to miss all of next season after undergoing Tommy John surgery in September. Luis Patiño, Yonny Chirinos and Josh Fleming are on hand as rotation or multi-inning relief options for what should again be a strong Tampa Bay pitching staff.
If healthy, Eflin fits nicely into the middle of that group. At the same time, the Rays are placing a bet on a pitcher with a concerning injury history. The knee contusion that cost Eflin a couple months this year was the latest in a line of joint issues that have plagued him since before he began his career. He underwent a pair of surgeries to repair the patellar tendons in both his knees in the summer of 2016. At the time, Eflin acknowledged he'd battled chronic knee pain dating back to adolescence (link via Todd Zolecki of MLB.com). He avoided any worrisome injuries for the next few seasons, but he went back under the knife in September 2021 to again repair the patellar tendon in his right knee. That cut his year short, meaning he's lost chunks of three of the past six seasons to knee issues. There's real risk in investing in a pitcher who has only once topped 130 MLB innings in a season.
The Rays were willing to look past that to add a pitcher who's typically effective when healthy. Eflin's also one of the younger arms available in free agency. He won't turn 29 until next April, and a pitcher with his age and statistical track record may well have found four years on the open market if not for injury concerns. Tampa Bay wasn't the only team that valued Eflin in this range, as Bob Nightengale of USA Today tweets the Red Sox had made him the same offer. Eflin elected to join the Rays instead, signing closer to home and avoiding state income tax.
With an $11MM salary for next season, Eflin becomes the highest-paid player on the Tampa Bay roster. He'll lose that title in 2024, when Glasnow's salary spikes to $25MM, but he'll count for a significant portion of a Rays payroll that typically ranks among the league's lowest. The Rays are now up to around $78MM in projected commitments for 2023, not far off their franchise-record $83MM mark from this past season. The overall $40MM guarantee represents the largest free agent investment in Rays history.
It also easily tops MLBTR's pre-offseason projection of two years and $22MM for Eflin. The deal narrowly beats the three-year, $39MM guarantee Tyler Anderson received from the Angels last month. Anderson had rejected a qualifying offer and cost the Halos a draft choice. The Phils elected not to qualify Eflin. Philadelphia won't receive any compensation for his departure, while the Rays won't lose any picks to add him. To find Eflin's replacement, Philadelphia can dip into a free agent rotation market that offers a number of options beyond the top trio of Jacob deGrom, Carlos Rodón and Justin Verlander. Players like Chris Bassitt, Kodai Senga, Jameson Taillon, Nathan Eovaldi, Noah Syndergaard, Andrew Heaney, Taijuan Walker and Sean Manaea all remain on the market as strong candidates for multi-year deals.
Jeff Passan of ESPN was first to report the Rays and Eflin had agreed to a three-year deal. Joel Sherman of the New York Post first reported the guarantee at $40MM. Marc Topkin of the Tampa Bay Times reported the specific financial breakdown.
Image courtesy of USA Today Sports.