The majority of the Athletics' fire sale has been concluded, with trades of everyone from stars like Matt Olson to little-known relievers such as Sam Moll (flipped to the Reds at this year's deadline). The most interesting player remaining on the roster might've already been moved were it not for some health troubles.
Right-hander Paul Blackburn enjoyed something of a breakout with Oakland last year, pitching to a 2.90 ERA and 3.48 FIP through his first 16 starts and 87 innings. It was a largely out-of-the-blue emergence for a pitcher who'd just a year prior been placed on outright waivers and passed over by every team in Major League Baseball. Blackburn's 18.8% strikeout rate wasn't going to wow anyone, but he coupled it with strong command (6.2% walk rate) and a heart 48.7% grounder rate.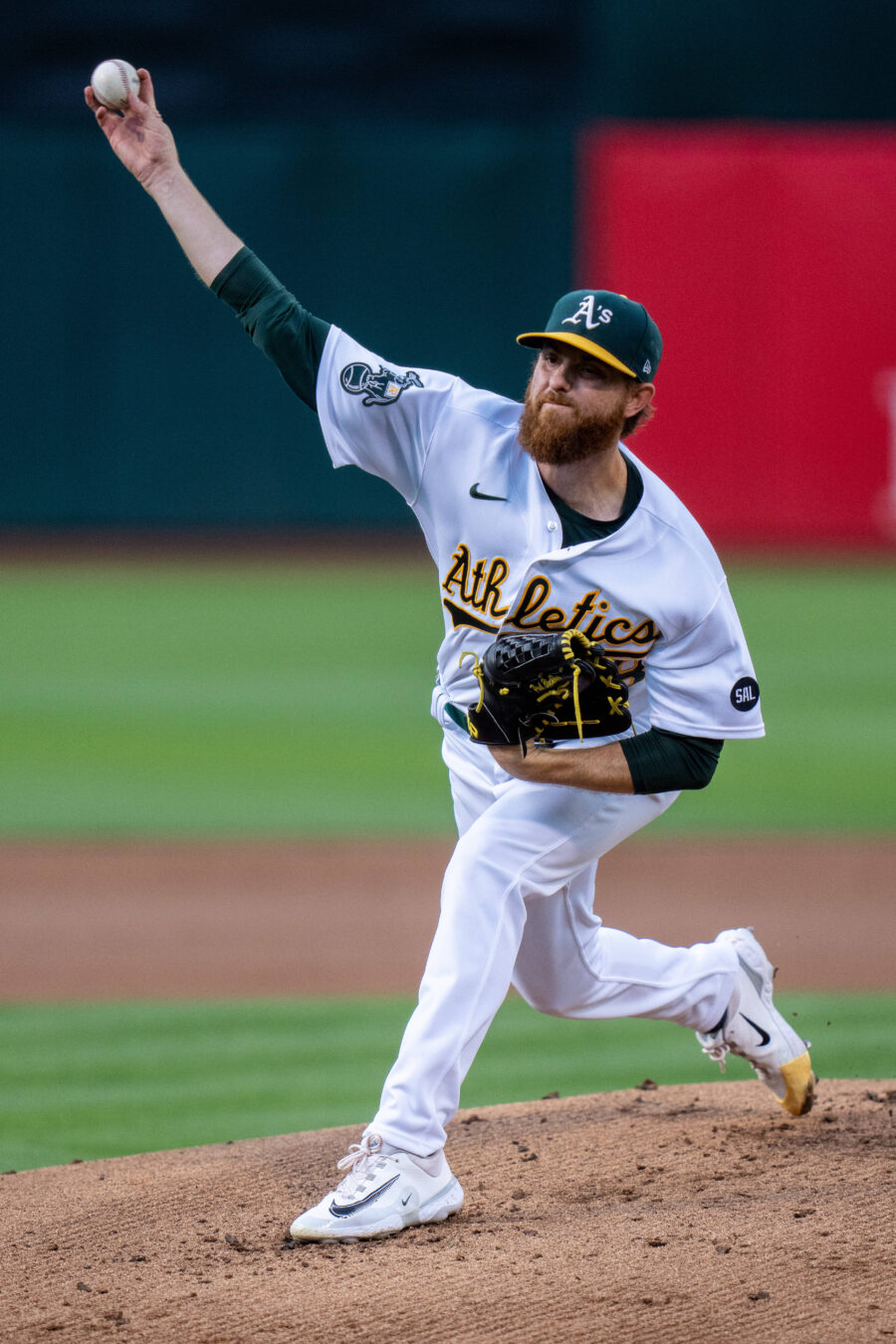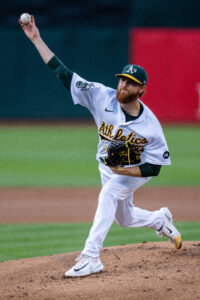 Clubs might've generally looked at him and seen a fourth starter's ceiling, but Blackburn was earning scarcely more than the league minimum and came with three more years of club control beyond the 2022 season. Given the perennial demand for controllable starting pitching, there'd surely have been interest.
The injury bug had other plans, however. Blackburn was trounced for six runs by the Astros on July 8, and over his next four appearances he served up another 19 runs. The stretch of 24 1/3 innings with 25 runs allowed sent his ERA careening to 4.28, and shortly after the trade deadline, Blackburn was placed on the injured list. It was eventually revealed that he'd been attempting to pitch through a torn tendon in the middle finger of his pitching hand. He didn't require surgery, but he didn't make it back to the mound in 2022.
The A's likely received at least some trade interest in Blackburn over the winter, but any offers for him were surely diluted by the injury-shortened season and uncertainty about the small sample size of his breakout. They opted to hold onto the right-hander heading into the 2023 season, only for further health troubles to arise. Blackburn tore the fingernail on his right middle finger late in spring training and then had multiple setbacks while waiting for that to heal, including blisters on his pitching hand.
Though the injuries were minor in nature, they kept Blackburn from taking the mound for more than a month to begin the season. Upon returning, the results weren't sharp — 5.48 ERA through his first eight trips to the mound — but there was a noticeable change in his arsenal that led to promise of not just a turnaround but an improvement over his 2022 performance.
After throwing sliders just 4.5% of the time in 2022, Blackburn is now throwing the pitch at about four times that level. He entered the 2023 season with a career 15.5% strikeout rate but has punched out 23.1% of his opponents this season. His career 8% swinging-strike rate has jumped two percentage points, and his 29.3% opponents' chase rate has spiked to 34.3% as well. Though Blackburn still has below-average life on his heater, this year's 91.9 mph average is a career-high mark.
While Blackburn's first eight starts produced that ugly 5.48 ERA, he was also plagued by a sky-high .374 batting average on balls in play and an abnormally low 67.3% strand rate during that time. Things have trended in the other direction recently. Over his past seven starts, Blackburn touts a 2.79 ERA. He's still been unlucky on balls in play (.345 BABIP), but his strand rate has climbed back upward and now sits right in line with his 2021-22 levels. Overall, Blackburn has a 4.15 ERA but a 3.44 FIP. He's getting fewer grounders (40.9%) because he's throwing fewer sinkers, but that rate paired with Blackburn's 23.1% strikeout rate and 7.8% walk rate have the look of a legitimate mid-rotation starter. His strikeout, walk and ground-ball rates are all roughly in line with names like Jose Berrios, Jordan Montgomery and Tanner Bibee.
As with any Oakland pitcher, it's perhaps tempting to assume that a spacious home park is a primary factor to Blackburn's success. He does, after all, have a 3.77 ERA in Oakland this year compared to a 4.54 mark on the road. But that's largely a function of a .406 BABIP away from his home environs; Blackburn isn't giving up gobs of home runs once he leaves his cavernous home setting and pitches in more neutral or hitter-friendly stadiums. He's actually been more homer-prone at home — both this year and especially last year — than on the road.
Blackburn isn't the same pitcher he was in 2022, but both versions were serviceable. On the whole, he has a 4.22 ERA in his past 196 innings at the big league level, with better fielding-independent marks — particularly in 2023, as he's adopted a more slider-heavy approach that's helped him induce more chases, miss more bats and limit hard contact at an elite level. Blackburn's 86.8 mph average opponents' exit velocity is in the 88th percentile of MLB pitchers. His paltry 4.7% barrel rate and 31.2% hard-hit rate rank in the 90th and 92nd percentiles, respectively.
Heading into the offseason, the A's will have two years of control over Blackburn remaining. He'll be due a raise on his already modest $1.9MM salary, and the injury that sidelined him into May will tamp down his raise a bit and somewhat limit his earning power. He has the look of an affordable third or fourth starter who can be controlled for another couple seasons. A league-average strikeout rate, above-average command, below-average velocity and plenty of weak contact may not be the sexiest of profiles — but it's undeniably valuable.
The A's don't have much left from their big league roster to peddle in the offseason, and it's unfortunate for them that Blackburn's peak trade value could coincide with a deep and talented crop of free-agent starting pitchers this winter. But teams that don't want to meet those exorbitant open-market prices and are eyeing starters who they can control beyond the 2024 campaign will surely ask Oakland GM David Forst about Blackburn's availability. This year's gains in strikeouts and continued strong command likely make him a more appealing arm than he has been in the past.
Image courtesy of USA Today Sports.