In one of the first deals of the summer trade season, the Blue Jays announced they've right-handed reliever Adam Cimber and left-handed-hitting outfielder Corey Dickerson from the Marlins in exchange for infielder Joe Panik and minor league righty Andrew McInvale. The swap comes barely a week after Toronto GM Ross Atkins acknowledged a desire to add bullpen help (and after the team was reported to be seeking left-handed bats on the trade market).
It's a bit of a surprise move on a number of levels. Dickerson is presently on the 10-day IL with a foot injury, and it's unclear when he'll return to the field (although he's eligible at any time having already spent more than 10 days on the shelf). Sportsnet's Ben Nicholson-Smith tweets that Dickerson is still in a walking boot but feeling good as he progresses through rehab. Meanwhile, it's a bit unexpected to see the Fish taking back a struggling veteran infielder such as Panik, but Miami does have a pair of infielders (Brian Anderson, Jose Devers) on the injured list at the moment.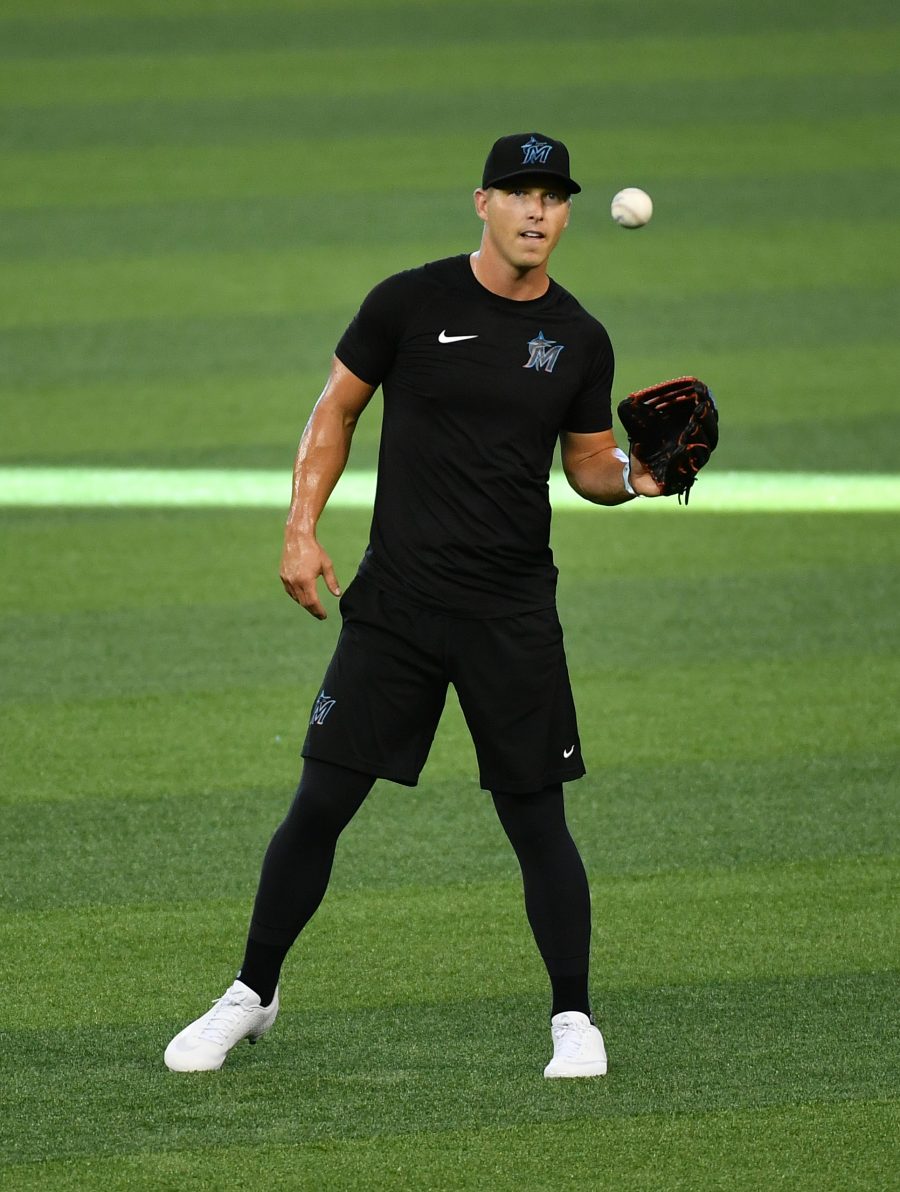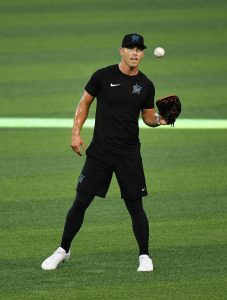 What's not surprising, from a broader perspective, is that the Marlins would be seeking a trade partner for Dickerson. The 32-year-old has been a roughly league-average bat since signing a two-year, $17.5MM deal with Miami in the 2019-20 offseason and is hitting .263/.324/.380 through 225 trips to the plate in 2021. But the Marlins have multiple young outfielders they'd like the chance to evaluate for the remainder of the 2021 season, including Jesus Sanchez, who now figures to get the bulk of the time in left field. The 23-year-old decimated Triple-A pitching, slashing .349/.400/.643 with nine homers, five doubles and three triples through 140 plate appearances prior to his promotion. He now has a clearer path to everyday at-bats in Miami than he would've with a healthy Dickerson eventually returning from the injured list.
For the Blue Jays, Dickerson figures to slide into a part-time outfield role. Toronto currently has Lourdes Gurriel Jr., George Springer, Teoscar Hernandez and Randal Grichuk in the mix for outfield and DH at-bats, but all four bat right-handed. Dickerson's left-handed bat makes for a nice fit, particularly given his longstanding platoon splits. He's held his own against lefties in his career, hitting .268/.305/.408, but has thrived against right-handers with a .287/.333/.514 output.
While Dickerson is the more recognizable name of the two going back to the Jays in this deal, Cimber is perhaps the key piece of this trade for the Blue Jays. The 30-year-old sidearmer has pitched in 34 1/3 innings so far with the Marlins and notched a 2.88 ERA — albeit primarily in low-leverage situations.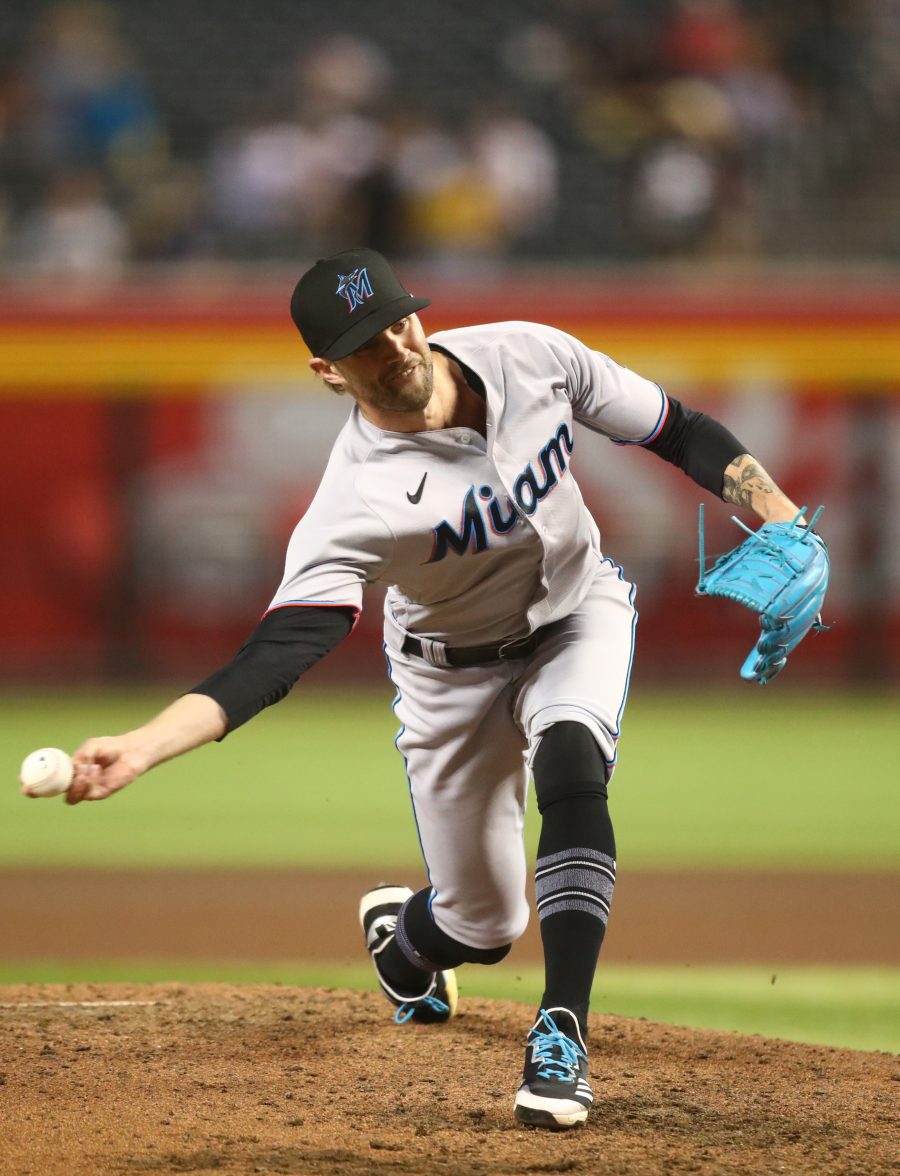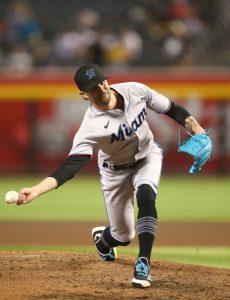 Cimber doesn't miss many bats, but that's often the case with sidearm and submarine pitchers. He's posted just a 15.9 percent strikeout rate so far in 2021 — about nine percent lower than league-average — but also sports better-than-average walk and ground-ball percentages (7.9 and 49.5, respectively). He rarely gives up premium contact, sitting in the 81st percentile of MLB pitchers in terms of opponents' average exit velocity and the 96th percentile in terms of opponents' barrel rate, per Statcast.
For his career, Cimber has been far more effective against righties than lefties, but he's been an absolute nightmare for left-handed opponents so far in 2021. It's a sample of just 55 plate appearances, so the small-sample caveat certainly applies, but left-handed opponents have posted just a .196/.327/.283 slash against him. Right-handers, meanwhile, are slashing .269/.329/.333 against him.
Dickerson is a free agent at season's end, so he's a pure rental for the Blue Jays whenever he's able to return to the field. Cimber, on the other hand, is controllable via arbitration through the 2024 season. He's playing the current year on a $925K salary after avoiding arbitration as a Super Two player over the winter and will have three more trips through the arb process before he qualifies as a free agent. His inclusion in the deal gives the Jays a reliever with a career 3.69 ERA and 4.01 SIERA both for the remainder of the 2021 season and perhaps for multiple years to come.
Looking at the Marlins' end of the swap, Panik will give them an experienced bench option and help provide some cover for those injuries and any others that may arise. (Both Miguel Rojas and Jazz Chisholm have already spent time on the IL in 2021.) He could also see increased time at third base, freeing versatile Jon Berti up to bounce around the diamond as he has in seasons past. Panik was productive in the first couple years of his career with the Giants, but he's settled in as something of a journeyman utility player. Dating back to 2018, the former first-round pick is batting .246/.313/.332 — including a .246/.293/.351 hitter in 123 plate appearances so far in 2021.
Panik's inclusion in the deal also serves as something of a financial counterweight to the Blue Jays' additions of Dickerson and Cimber. The Marlins are also sending the Jays about $2.65MM as part of the trade. Overall, the Jays are adding about $4.4MM of Dickerson's remaining salary and $482K of Cimber's remaining salary, but shedding the remaining $982K on Panik's deal and getting this $2.65MM in cash considerations. That leaves about a $1.3MM sum remaining to be added to the Toronto payroll.
As for the 24-year-old McInvale, he'll add another arm to the upper levels of the Miami system. Although he was one of the Blue Jays' final picks in 2019 (37th round and No. 1107 overall), McInvale has risen to Double-A and fared quite well this season. He's pitched 20 2/3 innings out of the bullpen an impressive 31.8 percent strikeout rate and a massive 63.6 percent ground-ball rate. Command has been an issue, however, as McInvale has walked 13 batters (14.8 BB%), hit another pair and tossed three wild pitches.
McInvale didn't rank among the Jays' best prospects, as one would expect for a recent 37th-rounder who didn't pitch in 2020. However, the Marlins are parting with an outfielder they've deemed superfluous and a right-hander they acquired from the Indians this past winter in exchange for cash ($100K, to be exact). Saving some of Dickerson's salary and adding a pitcher who's performed well at the Double-A level seems like a solid outcome to the whole gambit for them. As for the Jays, they're effectively purchasing an experienced righty and rolling the dice on a veteran hitter with a strong track record against right-handed pitching. It's not the flashiest of trades we'll see this summer, but it's one that ultimately feels fairly sensible for both clubs — even if it looks a little odd at first glance.
Craig Mish of the Miami Herald first reported that Dickerson was being traded to the Blue Jays and that the Marlins were sending some cash (all Twitter links). MLB Network's Jon Heyman then added that Cimber, Panik and a Jays minor league pitcher were in the swap. The Athletic's Kaitlyn McGrath first reported McInvale's inclusion. Shi Davidi of Sportsnet reported (via Twitter) the Marlins' inclusion of salary.