Duane Shaffer was involved in many facets of the game during his 36-year stint in the Chicago White Sox organization. He was a pitcher, coach, roving instructor, manager, area scout, supervisor and scouting director after being selected by the club in the 11th round of the 1969 draft.
While he is the answer to the trivia question of "Who was manager Tony La Russa's first pitching coach?" – Shaffer performed those duties for LaRussa at Double-A Knoxville in 1978 – he is best known in baseball circles for overseeing 17 White Sox amateur drafts from 1991-2007.
"I was fortunate enough to work for Jerry Reinsdorf during most of my time there," said Shaffer, who is now a pro scout with the San Diego Padres. "He afforded me the opportunity to do pretty much anything I wanted to do. He was a tremendous owner. He was a great guy to work for, and I don't want that to go unsaid. I appreciate what he did for me when I was there."
Shaffer's finest hour as the scouting director – and his greatest opportunity to thank Reinsdorf – took place in 1998, when his draft netted two of the most important pieces on the White Sox's 2005 World Series championship club.
Heading into that draft, Shaffer had plenty of reasons to be optimistic about the White Sox's draft position. Although the team wasn't selecting until the 16th spot, Shaffer was certain that the guy he wanted was going to be sitting there for the taking.
The White Sox also received a supplemental first-round pick (No. 35 overall) and an extra third-round pick due to losing free agent outfielder Dave Martinez – who signed with Tampa Bay.
In 1998, Chicago's first four selections – Kip Wells, Aaron Rowand, Gary Majewski and Josh Fogg – all went on to see extensive big league action, appearing in a combined 38 major league seasons. That in itself merits attention. But it was a 38th-round draft-and-follow selection named Mark Buehrle that turned this into an outstanding draft for the White Sox.
– – –
On the day of the draft, Shaffer's plan was to select a college pitcher at No. 16 who could get to the majors quick. The player at the top of his draft board was Kip Wells, a right-hander out of Baylor University.
"Kip Wells was the guy we knew had the best chance of being there when we picked," Shaffer recalled. "Obviously, you had 15 other guys in front, but doing your homework, you have a good idea who they're going to take prior to you picking. When it came down to that, he was the guy that we wanted.
"He was a guy that you watched pitch, and he was 91-to-95. Good breaking ball. Had a decent feel for pitching. I saw him pitch a few times that year, and I recollect taking Ron Schueler, the general manager, to go see him. This was at the University of Arizona, down in Tucson. We went over and sat down the third-base line and watched him pitch six or seven innings. He was very impressive. You watched the ball come out of his hand. You watched the breaking ball – and the ease in which he did it. He was a big, loose, lanky kid that just impressed you watching him go about his business. He repeated that on a regular basis. That's who we targeted.
"As it got closer to our turn, Jeff Weaver – who we had drafted the year before (second round in 1997) – went to the Tigers at No. 14. Then Clint Johnston went right in front of us – he was a Vanderbilt kid, left-handed pitcher, who the Pirates picked. Kip was sitting there for us when we picked. Actually, it ended up being a Kip Wells/Brad Lidge discussion when we got down to it. And we ended up selecting Kip."
It turned out to be an immediate gratification selection, as Wells was in the majors by the end of the following season. In total, he pitched 12 major league seasons – mostly as a starter – with nine different teams. Lidge, meanwhile, was a big league reliever for 11 years.
Looking back, it's hard not to notice that four of the 10 players selected immediately before Wells did not see a day in the majors.
Looking back, it's also hard not to notice that four picks after Wells, the Indians selected a high school left-hander by the name of CC Sabathia.
"I went up and saw Sabathia, and he was a good-looking kid," Shaffer said. "Hindsight is 20-20, obviously, and you'd love to have him. The problem is we thought he might have trouble throwing a breaking ball. At that particular time, we didn't want to take a guy who had one pitch in the first round. We thought about him and we talked about him – he was a big strong kid – but we weren't convinced as a group that he was going to have a really good breaking ball. He ended up doing it, obviously. So if you want to say we missed, yeah, we missed. But I'm happy with Kip Wells and I thought he was a good pick at that time."
As the draft moved into the supplemental round, the future heart-and-soul of the White Sox's 2005 championship team was there for the taking. And Shaffer was more than happy to take Cal State-Fullerton outfielder Aaron Rowand at No. 35 overall.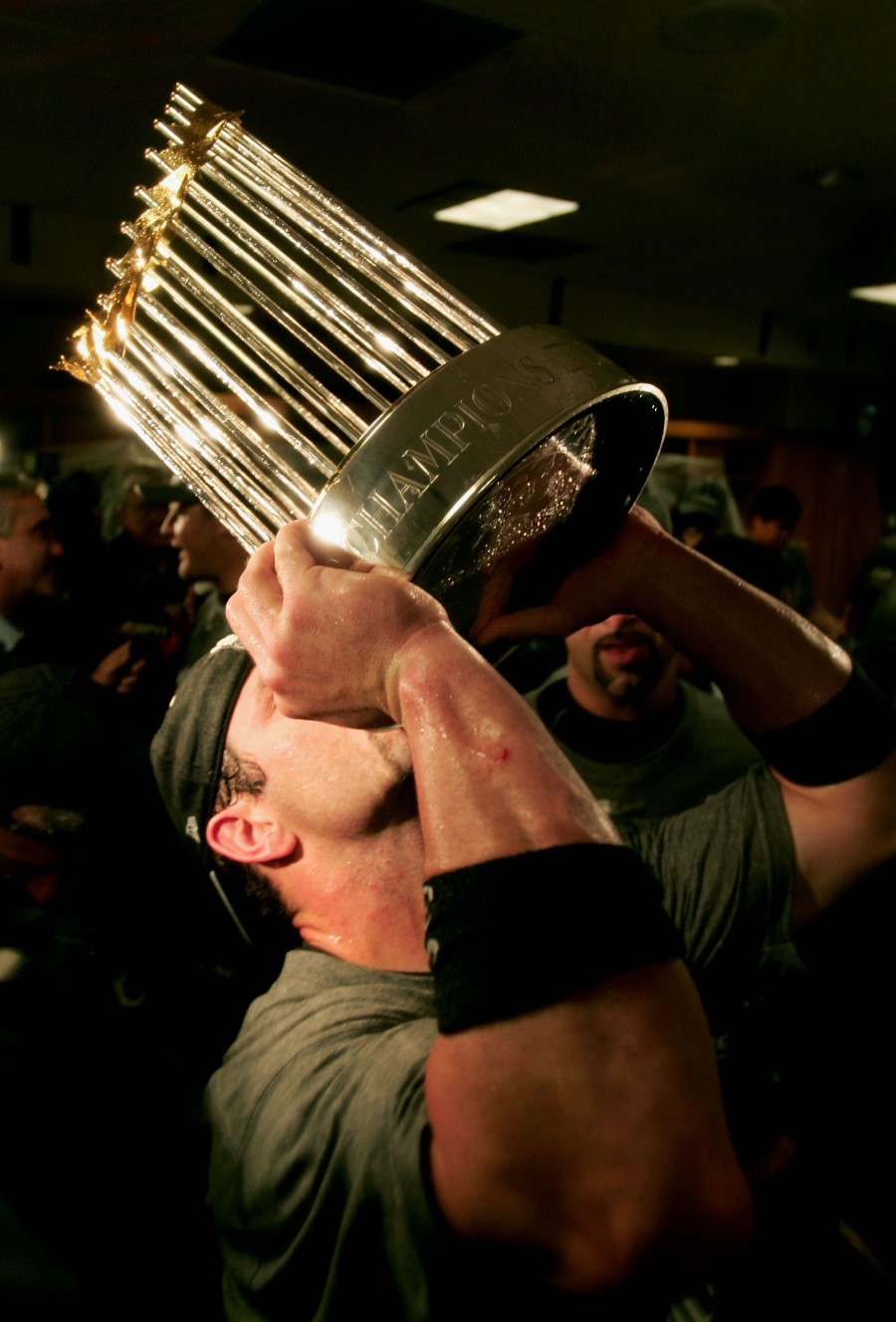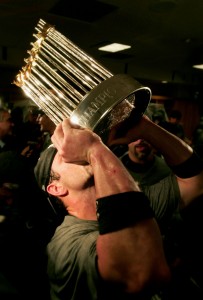 "When he got to us with that pick, I was extremely happy to get a kid like him," Shaffer said. "I knew the physical tools, but it was the mental side for him. He was going to make himself a big leaguer – no matter what. This kid had tremendous determination to be a good major league player.
"You might ask why I didn't take him first, and the answer is because I didn't have to. I knew the market. I knew what was in front of him … I knew what was behind him. When he was there for the taking as the supplemental pick, we were extremely happy – because we knew we were getting a gamer, one of those guys that loved to put the uniform on and do whatever he could do to help a ball club win. Aaron was always like that.
"I just had a really good feeling about him … the way he went about his business … the competition level he played against and excelled in at the Division I level at Fullerton. He was one of those guys … you look at him, and you know this guy is a big leaguer."
Rowand spent five seasons with the White Sox, two with the Phillies and four with the Giants, earning a pair of World Series rings (2005 with the White Sox and 2010 with the Giants).
Shaffer's next two selections – right-handed pitchers Gary Majewski (St. Pius X High School in Houston, No. 59 overall) and Josh Fogg (University of Florida, No. 89) – had solid but unspectacular big league careers.
Majewski was a reliever with Expos, Nationals, Reds and Astros from 2004-2010, appearing in 231 games.
"Gary was a good-arm kid. He could let it fly. That's what we liked about him," Shaffer said. "Good loose arm, and the ball came out of his hand extremely well. Good, live fastball. This is the separator for me when you talk about the high school kid vs. the college guy at this point. His breaking ball wasn't great; it was OK. He'd show you flashes. At that particular time of the draft, that's when you might take a chance on a high school kid. Do you think he's going to get a good breaking ball? Fortunately for us, he ended up developing a decent breaking ball, and he turned out to be a solid-average major league relief pitcher."
Fogg had a cup of coffee with the White Sox in 2001 before being traded to the Pirates – along with Wells – as part of a five-player deal in which starter Todd Ritchie was acquired by Chicago. Fogg was mostly a starter with the Pirates, Reds and Rockies from 2002-2009 – with five double-digit victory campaigns to his credit.
"Josh Fogg showed you a good idea of how to pitch," Shaffer said. "90-to-93. Good off-speed stuff. Repeated well – and that's the part of it I liked the most. He was a great competitor, and he would be facing the University of Miami or whoever it was – and he'd just handle it as well as he could. He knew when and how to make pitches. I really liked the way he went about his business. And I thought that translated well into a major league pitcher.
"These are the kind of guys that we emphasized as you got down into the draft – and I know the third round is not deep. But at that particular time, when you had multiple picks or supplemental picks, the third round was farther down than it might sound. I liked Josh. I thought he was a good competitor. When he was on the board when we picked right there, I thought that was a good pick. He was a college guy we thought could move fast."