The Rockies are next in our Offseason In Review series.
Major League/International Signings
Notable Minor League Signings
Extensions
Trades and Claims
Notable Losses
Summary
Rockies GM Dan O'Dowd is all about locking up his own players, despite mixed results.  The initial contracts for Troy Tulowitzki and Ubaldo Jimenez were masterstrokes, while extra years and dollars guaranteed to Huston Street, Chris Iannetta, and Aaron Cook have been regrettable.  Six Rockies were extended this winter, headlined by Tulowitzki and Carlos Gonzalez.
The Tulo and CarGo extensions were very different situations, and I analyzed them here and here.  Both players were already under control through 2014, so O'Dowd is planning four years into the future with these deals.  He's gambled $167MM on nine player seasons for the pair from the year 2015 forward.  Whether these players age well is anyone's guess, but the contracts carry big risk and big potential reward.  It's not often we see a GM looking so far ahead.
The Rockies established cost certainty with the extensions for arbitration eligible pitchers Lindstrom and Hammel, though the safe move would have been going year-to-year.  The Rockies bought out a couple of free agent years at reasonable rates for Betancourt and Belisle after deciding not to offer a third year to free agent Matt Guerrier.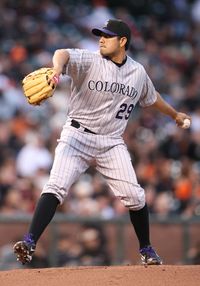 The Rockies made a pair of free agent commitments, retaining De La Rosa (pictured) and bringing in Wigginton.  On one hand, the De La Rosa contract was a win in that the Rockies didn't have to commit to a fourth year for a guy who's never topped 185 innings and posts ugly walk rates.  On the other, player options often ensure that the player re-enters the free agent market if he has a strong final season and stays put if he's not worth his option price.  I felt that the Rockies overpaid for Wigginton's versatility in an offseason where Eric Hinske signed for one year and $1.35MM.
On the trade front, I love the acquistion of Paulino for Barmes.  Barmes seemed headed for a non-tender, while Paulino's big strikeout rate and velocity qualify him as a sleeper.  The Rockies acquired a non-tender candidate of their own in Lopez, though $3.6MM isn't a bad gamble.  The price to acquire Lindstrom was reasonable as well.    
The 2011 Rockies look like an improved team, if De La Rosa, Hammel, and Jhoulys Chacin are able to provide full seasons in support of Jimenez.  Even if not, the bullpen looks deeper given the addition of Lindstrom and assuming good health for Street.  But this offseason was about much more than 2011, as O'Dowd invested heavily in the futures of Tulowitzki and Gonzalez.
Photo courtesy of Icon SMI.