Cody Ross would have been better off hitting free agency last year, after the Giants won the World Series and Ross hit five postseason home runs on his way to winning the NLCS MVP. It's not that his season numbers are that different this year, but Ross would have had some buzz if he had hit free agency after his strong finish and postseason heroics in 2010. This year, San Francisco will in all likelihood miss the playoffs, so there's no way for Ross to supplement his pedestrian season stats.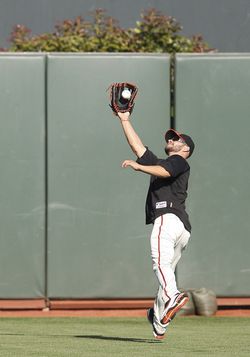 The 30-year-old outfielder has a .240/.325/.405 line with 14 homers in 461 plate appearances for the Giants this year, not far off of the .269/.322/.413 line and 14 homers he had for the Marlins and Giants a year ago. Yet Ross no longer seems critical to the Giants' success, as he did a year ago.
To his credit, Ross raised his walk rate to a career-best 10.6% in 2011 and played all three outfield positions, marking the fourth time in the past five seasons that he has appeared in left, center and right.
Though he hoped for a long-term extension with the Giants as recently as this spring, reality has since set in. The Giants seem unlikely to offer Ross a raise from his current $6.3MM salary or sign off on a multiyear deal, according to Henry Schulman of the San Francisco Chronicle. 
If the Giants are indeed hesitant to pay Ross more than $6.3MM, they may decide against offering arbitration after the season. Ross projects as a Type B free agent, which means San Francisco would obtain a top pick in next year's draft if the New Mexico native declines their offer and signs elsewhere. 
Given Ross' free agent prospects, he could receive encouragement from his representatives at SFX to accept should the Giants offer arbitration. If they don't offer arbitration, he would appear to be in line for a one-year Major League deal on the open market. He has had enough success in his career, particularly against left-handers (career .912 OPS), for teams to guarantee him a few million dollars and a roster spot, but his luster has disappeared, so a multiyear deal would now be a coup for Ross and his agency.
Photo courtesy Icon SMI.