Clint Barmes ranks eighth among all free agent position players in FanGraphs' wins above replacement for 2011, after Jimmy Rollins and Aramis Ramirez but before Michael Cuddyer and Marco Scutaro.  Not bad for a guy I considered a non-tender candidate a year ago.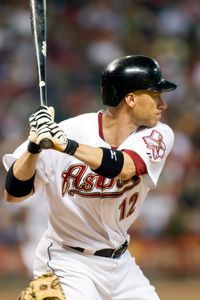 Barmes (pictured) ended up a bright spot for the Astros, mainly because he was able to play a capable shortstop for a thousand innings.  That's where most of the WAR value comes from, rather than Barmes' .244/.312/.386 batting line.  He played 123 games for the Astros, missing most of April due to a broken bone in his hand.
Credit the Astros for recognizing Barmes' value as a shortstop, a position he hadn't played regularly for Colorado once Troy Tulowitzki arrived.  Barmes has said he'd like to return to the Astros, but GM Ed Wade isn't sure if the team's economic environment will allow it.
Omar Infante's two-year, $8MM extension with the Marlins seems a fair comparable for Barmes and the Astros.  The Astros should at least offer arbitration to Barmes, assuming our projection that he just barely made the cut for Type B status is accurate.  Above-average shortstops are hard to come by on the open market, though at least two others will be available in free agency this winter in Jose Reyes and Rollins.  If the Astros fail to sign Barmes, he could be a more affordable alternative for the Twins, Braves, Phillies, Brewers, Pirates, Cardinals, or Giants.      
Photo courtesy of Icon SMI.