Last night's seven-walk World Series performance was one to forget for the Cardinals' Edwin Jackson, though the righty certainly isn't turning his attention to free agency yet.  Jackson might be the fourth-best free agent starter this offseason; let's take a closer look.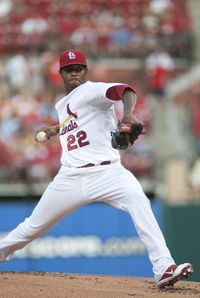 One point Jackson's agent Scott Boras is sure to play up is sure to play up is his client's age; he just turned 28.  No accomplished free agent starter is younger, and most are over 30.  For Boras that will translate into years, perhaps with a target of four.  Last winter only Cliff Lee exceeded three years, and only a handful of guys reached that level.
Though Jackson will be fighting a reputation of inconsistency, he has made at least 31 starts every year since 2007.  Including the 2011 postseason, Jackson has averaged about 214 innings from 2009-11.  In '09 with the Tigers Jackson's innings pitched per start jumped past 6.4, and it has stayed there since.  He's not much different than Mark Buehrle in that regard.
Despite these numbers, Jackson doesn't feel like anything close to a #1 or #2 starter.  He averages almost 95 miles per hour on his fastball, yet his strikeout rate stays around seven per nine innings and he's quite hittable.  His last two pitching coaches were the game's best, Dave Duncan and Don Cooper.  While Jackson had a flash of brilliance for 75 innings with Chicago last year, his strikeout rate came back down and his walks back up this year.  Jackson was arguably worse in his Cardinals stint, with both his strikeout and groundball rates plummeting.  Jackson's ERAs have bounced around and even his SIERAs tell us to expect anything from 3.85 to 4.30.  
Six teams have tried to harness Jackson's potential, and potential suitors will have to wonder why he's been deemed so movable.  Though he's had some moderate AL East success, I don't expect the Yankees and Red Sox to seriously enter the mix.  I could see the Orioles, Blue Jays, Royals, Twins, Marlins, Nationals, Cubs, Pirates, and Rockies as matches for Jackson instead.     
Photo courtesy of Icon SMI.