Cole Hamels turns 28 today and by the time he turns 29 there's a good chance he'll have signed a new contract — either with the Phillies or as a free agent. The left-hander is one season away from hitting free agency for the first time in his career, so an extension with the Phillies is possible. Hamels has said he'd like to stay in Philadelphia and the Phillies have the need and resources to keep him in place.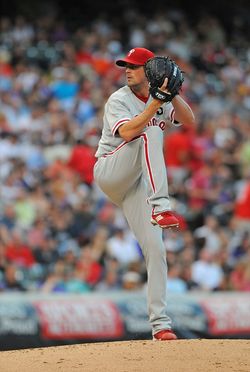 Hamels was born nine months before Matt Cain and drafted eight spots before the Giants right-hander. Both have distinguished themselves from the competition at the Major League level over the course of the past six seasons, but the question of which pitcher is more effective remains unanswered, as this comparison of their career stats shows. 
Cain, the harder thrower, has more innings to his name, more 200 inning seasons and a slight edge in career wins above replacement, according to FanGraphs and Baseball-Reference. Hamels, who has the shinier win-loss record, induces more ground balls and has struck out more hitters per inning while allowing fewer walks.
When MLBTR's Luke Adams examined a possible extension for Cain two days ago, he pointed out that the going rate for elite arms on long term deals falls in the $20MM per season range. Hamels hasn't won a Cy Young Award like teammates Cliff Lee and Roy Halladay, so a contract north of $20MM may not be realistic at this point, when only one team — the Phillies — can bid. However, the Phils had the biggest payroll in the National League this past season, so it's not as though they'll have to ask Hamels for a hometown discount.
The Giants and Phillies valued Cain and Hamels similarly when they drafted them eight spots apart from one another nearly a decade ago. Even though the two high schoolers have since become some of the game's best pitchers, their value relative to one another remains similar. A five-year, $100MM contract could work for Hamels and the Phillies, just as it could work for Cain and the Giants. 
MLBTR contributor Matt Swartz estimates a 2012 salary of $14MM for Hamels through arbitration. Four free agent seasons at $20MM per year and a $5MM buyout for an option year would bring the value of a possible deal to the $100MM range. It's probably less than what Hamels, a John Boggs and Associates client, could obtain on the open market if he delivers another strong season in 2012. But it would provide the left-hander with security and the opportunity to hit free agency again at the age of 32 — the same age Lee was when he signed for $120MM last offseason.
If there's one pitcher who's more comparable to Hamels than Cain, it's Jered Weaver, the Angels right-hander who signed a team-friendly five-year $85MM extension during the 2011 season. Baseball-Reference says Hamels and Weaver are each other's top statistical comparables, which means the Phillies can argue Hamels should earn $17.5MM per free agent season, just as Weaver will. However, Hamels has bargaining power since he's closer to free agency than Weaver was last summer and is starting from a higher 2011 salary. Plus, Hamels is a year younger than Weaver and his resume includes 13 excellent postseason starts and a World Series MVP award.
Hamels' injury history could give the Phillies pause. He struggled with injuries as a minor leaguer and early in his MLB career, spent time on the 15-day DL this August due to left shoulder inflammation and had a hernia repaired and loose bodies removed from his pitching elbow after the season. To his credit, he has averaged 31 starts and 206 innings since 2007, his first full season in the Phillies' rotation.
While the Phillies might balk at the possibility of a rotation that includes three $20MM pitchers, GM Ruben Amaro Jr. spent upwards of $65MM on Philadelphia's rotation this past season, proving his willingness to commit to starters. The club won 102 games behind a historically good pitching staff in 2011, so it won't be a surprise if ownership is willing to spend on future rotations.
Now that the Phillies have addressed most of their offseason needs, the front office can focus on the possibility of an extension for Hamels over the course of the next few months. Don't be surprised if five years and $100MM works for both sides. If not, Hamels will enter the 2012 season with the chance to become the most coveted pitcher of the 2012-13 offseason.
Photo courtesy Icon SMI.