The Braves boast an enviable collection of young pitchers, enough that they were able to trade Derek Lowe this offseason, lose Tim Hudson to injury, and still go 10-7 early on. Mike Minor, Brandon Beachy, and Tommy Hanson have carried the bulk of the workload while Randall Delgado cuts his teeth as the fifth starter and Julio Teheran bides his time in Triple-A. One guy who has not carried his weight so far is right-hander Jair Jurrjens.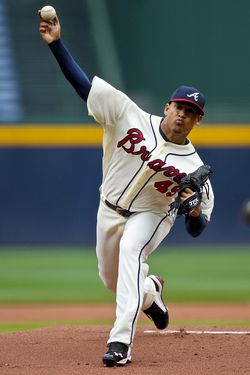 Jurrjens, 26, made a fourth straight disaster start last night – five runs in three innings to the Dodgers – and was demoted to Triple-A after the game. He's allowed 17 runs and put 38 men on base in 16 1/3 innings across those four starts after posting a 2.96 ERA and being named to the NL All-Star Team last year. Jurrjens did finish last season on the disabled list though, missing a total of 44 games with right knee inflammation. He had surgery on the same knee after the 2010 season and has made a total of five trips to the disabled list since his debut in 2007.
The biggest physical concern with Jurrjens is not necessarily his knee, but his declining fastball velocity. PitchFX data says he averaged between 91.2 and 91.9 mph every year from 2007-2010 before dropping off to 89.1 mph last season and 88.4 mph in the early going this season. The start-by-start plot of his fastball velocity range is troubling, especially since he had shoulder problems in 2007 (inflammation) and 2010 (stiffness). Only once in his four years had Jurrjens topped 200 innings (2009) and only twice has he topped 160 innings (2008 and 2009).
Although his ERA has fluctuated through the years, Jurrjens has maintained a steady walk (3.2 BB/9) and strikeout (6.1 K/9) rate through his career. He started his time in the big leagues by getting a healthy amount of ground balls (49.6% from 2007-2008), though he's become more susceptible to fly balls in recent years (41.7% from 2009-2012). After producing 3.7 and 3.9 wins above replacement in 2008 and 2009 according to FanGraphs, respectively, he's produced just 2.2 WAR total in the two years and three weeks since.
Jurrjens will make $5.5MM this season, his second year of arbitration eligibility as a Super Two. The Braves made no secret of their willingness to trade him this past offseason, most notably offering him to the Orioles as part of a package for Adam Jones. They also had talks with the Rockies, Red Sox, Royals, Orioles, Blue Jays, Tigers, and Reds. Given his relatively high salary, two more years of arbitration eligibility, his injury problems, and all the young arms in the rotation around him, Jurrjens suddenly looks like a potential non-tender candidate if he can't right the ship in Triple-A and contribute to the big league club this season.
Photo courtesy of US Presswire.