Jeff Keppinger can play multiple positions and he's a difference maker on offense — at least against left-handed pitching. The combination will attract the interest of many teams when he hits free agency this coming offseason.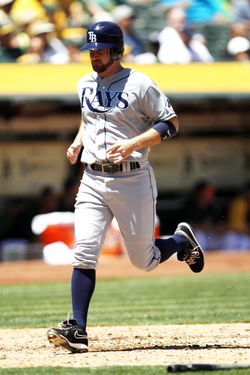 When the Rays signed Keppinger to a one-year, $1.525MM deal in January, they expected him to be a tough out, especially against left-handed pitching. The 32-year-old has thrived with Tampa Bay posting a .329/.376/.445 batting line in 320 plate appearances. He also has nearly as many walks (20) as strikeouts (21) thanks in part to a 93.2% contact rate that ranks third among MLB players with at least 300 trips to the plate. 
Keppinger has been particularly effective against lefties, as his .411/.437/.558 batting line against them shows (103 plate appearances). This performance isn't unexpected, either. Keppinger, a right-handed hitter, has a career line of .336/.380/.491 against left-handers. 
Teams will also take note of Keppinger's versatility when he hits free agency this offseason. He has appeared in 15 or more games at first base, second base and third base in 2012, playing mostly at the hot corner. He has previous experience at shortstop, though none since 2010. The mixture of versatility and offense has been worth two wins above replacement in 2012, according to both FanGraphs and Baseball-Reference.
The ability to hit left-handed pitching doesn't always translate into substantial free agent contracts, as noted lefty mashers Jonny Gomes (one-year, $1MM), Andruw Jones (one-year, $2MM) and Scott Hairston (one-year, $1.1MM) discovered last offseason. Similarly, veteran utility players usually sign for less than $5MM. Ramon Santiago, Nick Punto, Greg Dobbs, Willie Bloomquist and John McDonald obtained two-year deals worth $1.5-2MM per season last winter.
But few players offer the versatility to play multiple infield positions and the ability to produce against lefties. The combination could drive Keppinger's asking price to the two-year, $10MM range. Aaron Hill, Clint Barmes and Mark Ellis signed contracts in that range a year ago, and those deals could represent a target for Keppinger's representatives at CSE. Teams may hesitate to pay starter money for a so-called utility player and if that's the case, the deals signed by Jerry Hairston Jr. (two years, $6MM) and Jamey Carroll (two years, $6.75MM) could provide an alternate template for Keppinger. 
He definitely appears to be in line for a considerable raise and he has a good shot at a multiyear deal. It's a notable shift in value for a player who was non-tendered by the Giants just nine months ago.
Photo courtesy of US Presswire.