The Giants are bringing back the NLCS MVP, having agreed to re-sign second baseman Marco Scutaro to a three-year, $20MM deal.  The World Champion Giants are keeping their team mostly intact, having signed Angel Pagan yesterday and Jeremy Affeldt in November for a total commitment of $78MM for the trio.  Scutaro is represented by Praver/Shapiro.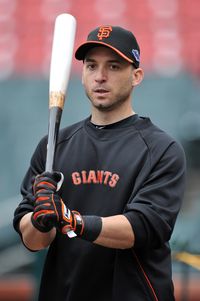 Three years is a sizeable commitment for Scutaro, who turned 37 in October.  The second baseman was greatly aided by a strong finish, as he hit .362/.385/.473 in 268 regular season plate appearances with the Giants after coming over in a July trade with the Rockies.  Scutaro further helped his cause with a 1.140 OPS during San Francisco's seven-game win over St. Louis in the NLCS.  As Dave Cameron of FanGraphs notes, Scutaro's high contact style looks good when the hits drop in, though his Giants performance is unsustainable.  
The Cardinals had also been in the mix for Scutaro this offseason.  With Scutaro and Jeff Keppinger off the board, the free agent market for second basemen includes Kelly Johnson as a potential starter.
Ken Rosenthal of FOX Sports (Twitter link) was the first to break the news of the signing.  Photo courtesy of U.S. Presswire.