1:53pm: The Rangers will assume $10MM of Young's $16MM salary and the Phillies will be responsible for the $1.2MM Young will receive for waiving his no-trade clause, reports T.R. Sullivan of MLB.com.
SUNDAY, 11:14am: The Phillies announced that the trade is official after receiving approval from MLB.
SATURDAY, 12:49pm: The Phillies have a new third baseman and an era has come to an end for the Rangers. Philadelphia has agreed to acquire infielder Michael Young from Texas in exchange for right-hander Josh Lindblom and minor leaguer Lisalverto Bonilla. Young will receive $1.2MM in benefits in exchange for agreeing to waive his no-trade clause, which accounts for the difference in state tax.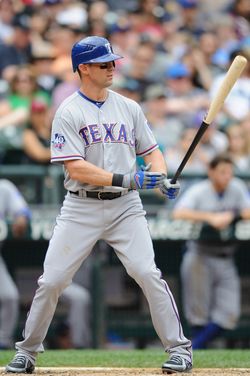 Young, 36, was originally drafted by the Blue Jays but has spent his entire big league career in Texas after being acquired as part of a package for Esteban Loaiza back in 2000. He hit just .277/.312/.370 in 651 plate appearances this year, but he's one year removed from a .338/.380/.474 performance in 2011. Young is the Rangers' all-time leader in games played (1,823), plate appearances (8,047), hits (2,230), doubles (415), and triples (55) among many other statistics.
Lindblom, 25, has been traded for the second time in five months. The Phillies acquired him from the Dodgers in the Shane Victorino swap just before the trade deadline. The righty pitched to a 3.55 ERA with 8.9 K/9 and 4.4 BB/9 in 71 total innings this year. Lindblom is a fly ball pitcher and thus very homer-prone (1.6 HR/9), which could be a bad mix for The Ballpark in Arlington. He is under team control through 2017.
Bonilla, 22, pitched to a 1.55 ERA with 12.4 K/9 and 4.1 BB/9 in 46 1/3 relief innings split between Single-A and Double-A this season. Baseball America ranked him as Philadelphia's number 12 prospect before the season in their 2012 Prospect Handbook, saying Bonilla "has a chance to be a mid-rotation starter, but he could also serve as a late-inning reliever."
The Rangers have been targeting free agent Zack Greinke as well as exploring three- and four-team trades for Justin Upton in recent days. They also remain in the hunt for Josh Hamilton. With Young gone, they lack an established DH and a right-handed platoon partner for first baseman Mitch Moreland. Top prospect Mike Olt could step in to fill that role if he isn't traded, however. Texas still needs a utility infielder as well.
Young will plug the third base hole for the Phillies, though the club will need to continue looking for outfield help. Lindblom's departure figures to ramp up their search for bullpen help as well. This is Philadelphia's second significant trade in the last week as they acquired Ben Revere from the Twins a few days ago. The two deals have cost the Phillies a total of four pitchers.
Bob Nightengale of USA Today first reported Young had agreed to waive his no-trade clause (Twitter links) as well as miscellanous financial details (all Twitter links). Evan Grant of The Dallas Morning News first reported the inclusion of Lindblom and Bonilla, which MLB.com's T.R. Sullivan confirmed. Photo courtesy of US Presswire.