Critics have long believed that Tim Lincecum's unconventional mechanics wouldn't stand the test of time in the Major Leagues, but the Giants right-hander could retire tomorrow having more than proved his worth.  Lincecum has two NL Cy Young Awards and two World Series titles to go along with his career 3.31 ERA, 9.8 K/9 rate and three NL strikeout crowns over just six seasons in the bigs.
Though Lincecum ended the year with another championship ring, he spent his postseason in the unfamiliar position of relief pitcher.  Lincecum was relegated to the bullpen following a troubling 2012 season that saw him post a 5.18 ERA, 4.4 BB/9 rate and 1.1 HR/9 rate (all career worsts), plus a league-leading 17 wild pitches and 107 earned runs allowed.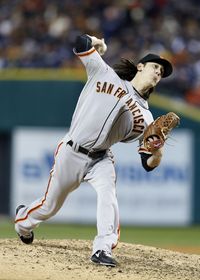 While Lincecum had a few very rough patches during the 2010 and 2011 campaigns, nobody expected him to completely lose his form.  The advanced metrics paint a less-grim picture of his 2012 performance (Lincecum posted a 4.18 FIP, 3.82 xFIP, 3.97 SIERA) but he also lost almost two miles off his fastball.  Lincecum dropped to career-low average speed of 90.4 mph, down from 92.2 mph in 2011.
Lincecum looked sharp out of the bullpen during the postseason and, combined with those decent advanced metric numbers, there is some reason to believe that he can bounce back and become "the Freak" once again in 2013.  If he doesn't, however, he will leave millions of dollars on the table in free agency, as Lincecum is set to hit the open market next winter. 
Lincecum resisted signing a long-term extension with San Francisco, opting instead to take shorter contracts that he said kept him more focused.  The tactic didn't cost Lincecum in the short term, as he signed a pair of two-year deals with the Giants that covered his four arbitration-eligible years (Lincecum was a Super Two) and earned $63.5MM over the 2010-13 seasons. Lincecum reportedly turned down a five-year, $100MM extension from the Giants last winter, a move that he could regret if he struggles against in 2013 and faces a drastically lowered price tag in free agency.
If nothing else, Lincecum's poor 2012 cost him a chance at a mega-deal akin to the contracts signed by Felix Hernandez ($175MM), Zack Greinke ($147MM) or Cole Hamels ($144MM) within the last year.  Even a vintage Lincecum season wouldn't earn him quite as much as the $112.5MM extension teammate Matt Cain signed with the Giants last April.  Though Lincecum will be just 29 years old by season's end, those persistent whispers about his durability will surface again and keep him from cashing in to his fullest extent, perhaps even keeping him under $100MM in guaranteed money.
Still, a ceiling of "under $100MM" is nothing to sneeze at, so Lincecum can regain a lot of value with another big year.  A repeat of 2012, however, would put Lincecum in line for a short-term deal whether he liked it or not.  His track record would only get him so far, and Lincecum would likely have to settle for an incentive-filled one- or two-year contract (or maybe two years plus an option). 
There's also the chance the Giants could make Lincecum a qualifying offer if he has another poor season.  Such a one-year pact would be worth between $13.5-$14MM and make sense for both sides — Lincecum would get another chance to prove himself in a familiar environment and the Giants would see if they could salvage a final good season from their former ace at a relative bargain price.  Even if Lincecum rebounded and subsequently left after 2014, the Giants would now be in position to reap draft pick compensation for Lincecum if he turned down another qualifying offer and signed elsewhere.  That would get the Giants something for a Lincecum departure, aside from some relief that he passed on that big extension.
The 2013-14 offseason could be something of a transformative one for the Giants, as they'll have around $56MM coming off the books due to the expiring contracts of Lincecum, Barry Zito and Hunter Pence.  Some of that money could be spent on extensions for Buster Posey or Pablo Sandoval, or GM Brian Sabean could look to make a splash in the free agent market.  Lincecum has been a huge part of the Giants' recent past, and his 2013 season will likely determine if he is part of the team's future.
Photo courtesy of Rick Osentoski/USA Today Sports Images