Edward Mujica wasn't supposed to be the Cardinals' closer. He wasn't even their backup plan or third in line to the closer's throne. However, with Jason Motte down for the year due to Tommy John surgery and early falters from Mitchell Boggs and Trevor Rosenthal, the ninth inning is precisely where Mujica finds himself. And he's thriving there.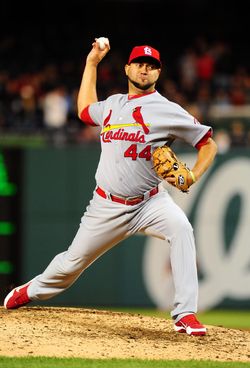 Mujica has been nothing short of brilliant while saving 11 games through a quarter of the season. He's allowed just three runs in 16 innings of work, good for a 1.69 ERA. On top of that, he's given up just eight hits and one walk, and he's punched out 15 hitters along the way. His 43.9 percent ground-ball rate is a tick above the league average for relievers (43.7 percent), as is his 92.1 mph average fastball velocity (league average is 92.0 for relievers).
It may not seem like it, but Mujica, who just turned 29, is already a veteran of four Major League teams (Indians, Padres, Marlins, Cards), and he'll be eligible for free agency following the 2013 season. At 29 years of age, the Octagon client is slated to be one of the youngest free agents on the market.
Assuming he continues pitching well, Mujica will have a strong 2013 season and age on his side, but he's got more than that working for him. The Venezuela native has quietly established himself as a very reliable bullpen arm since breaking out with the Padres in 2009. Over his past 320 2/3 innings, he's posted a 3.34 ERA, 7.7 K/9, 1.5 BB/9 and 44.9 percent ground-ball rate. If ERA isn't your cup of tea, that's ok, because FIP (3.67), xFIP (3.36) and SIERA (3.00) are all big fans of Mujica's work.
He's not only been effective, he's been durable — appearing in at least 59 games and firing at least 65 1/3 innings each year from 2009-12. Mujica has been to the disabled list just once in his career, and it was for a broken pinkie toe last season. He barely missed more than the minumum 15 days.
Free agent relievers aren't getting paid quite like they were when Francisco Cordero and Francisco Rodriguez were landing contracts that paid them $12MM annually, but a succesful reliever with a history of closing out games can still do just fine on the open market. For proof, look no further than Brandon League and Jonathan Broxton. League signed a three-year, $22.5MM contract with the Dodgers last November, and Broxton signed with the Reds for $21MM for that same three-year period.
That type of payday is attainable — perhaps even surpassable — for Mujica if he can finish strongly. He's been more consistent than League and generates more strikeouts with better command, and he doesn't have Broxton's injury history. It's also important to consider the weakness of the closer market next offseason. Rafael Betancourt's $4.25MM option should be exercised. Mariano Rivera is retiring. Joel Hanrahan had Tommy John surgery yesterday. Fernando Rodney has struggled terribly early in the year. Ryan Madson hasn't thrown a pitch yet this season. Carlos Marmol is Carlos Marmol. Grant Balfour and Mujica could be the top "proven" closers on the market, and Mujica is nearly seven years younger.
The Tigers, Yankees, Red Sox and Cubs are among the deep-pocketed teams that could be in the market for a closer next offseason, depending on their current injury situations and faith in internal alteratives. Barring a complete collapse, the three-year, $16.5MM contract that Joaquin Benoit signed with the Tigers seems like the floor for Mujica.
Photo courtesy of USA Today Sports Images.