After an excellent four-year run, the Reds signed Homer Bailey to a huge extension but otherwise only made small moves this offseason, perhaps preparing to set aside more money to retain other members of their increasingly-expensive core.
Major League Signings
Notable Minor League Signings
Trades and Claims
Extensions
Notable Losses
Needs Addressed
The Reds made only one significant trade and three small MLB-level free agent signings. The Brayan Pena contract preceded the Ryan Hanigan deal, which briefly meant the Reds had three MLB-caliber catchers (Pena, Hanigan and Devin Mesoraco). They then sent Hanigan, a better player than Pena, to Tampa for a pitching prospect (David Holmberg) who isn't likely to make a significant impact. If the Reds can get anything out of Holmberg (who lacks upside but could provide a bit of starting rotation depth), the Hanigan trade might turn into a modest win for them — Hanigan doesn't hit much, and the trade opens more playing time for the younger Mesoraco. But the Reds will likely miss Hanigan's pitch-framing.
The Reds also signed Skip Schumaker, an aging, light-hitting 2B/OF who isn't good at either position, to a perplexing two-year deal. They did much better in re-signing Manny Parra, who made lefties look ridiculous last season and who should play a key role in the Reds' 2014 bullpen. At $5.5MM, he's a great deal, especially compared to roughly-similar lefties like Boone Logan and Javier Lopez who got three-year contracts. Logan got three times as much ($16.5MM) from the Rockies as Parra did from the Reds.
Questions Remaining
The Reds have done little to compensate for the departure of Shin-Soo Choo and his .423 OBP, and instead they'll hope that Billy Hamilton can step into their outfield. The difference between Choo and Hamilton might not be quite as enormous as it initially appears, since Hamilton's baserunning is so valuable and since Choo wasn't an ideal fit for center field. But offensively, Hamilton is a big step down, and after a season in which he posted a .308 OBP at Triple-A Louisville, there are questions about how often he'll be able to reach base and use his speed. Last fall, we suggested the Reds might acquire another outfielder as an insurance policy, but they haven't, unless you count Schumaker. (Chris Heisey will be the Reds' main outfield backup.) They might have also been able to use a backup plan in left field, where the aging and often inconsistent Ryan Ludwick is anything but a certainty, particularly after a 2013 season shortened by a major injury.
With Bronson Arroyo's departure, the Reds also have concerns about their rotation depth, but there appears to be little they can do about it. (Holmberg's addition should help a bit there.) And now closer Aroldis Chapman is out for six weeks to two months after a nasty recent injury. Jonathan Broxton and Sean Marshall are both also returning from injury. The Reds' bullpen should be strong overall once everyone gets healthy, however.
Deal Of Note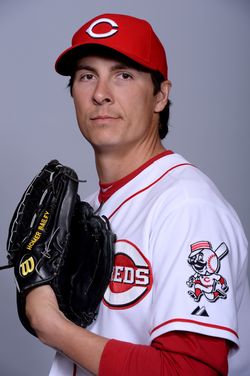 With Choo and Arroyo departing, Homer Bailey's impending free agency represented a test for the Reds, and they did open their wallets, signing him to a six-year deal with an option for a seventh. While $105MM guaranteed may seem like an astronomical figure for a pitcher with Bailey's generally undistinguished track record, it's worth keeping in mind that teams ought to pay players for what they're going to do, not what they've already done.
In recent years, Bailey has made slow but significant improvement in a number of key areas — his strikeout rate, walk rate, ground ball rate, and even his velocity. He was a top-of-the-rotation-type pitcher in 2013, and at age 27 (28 in May), he's a very good bet to remain one in the near future. As MLBTR's Steve Adams recently noted, Bailey's contract is one of several (including those of Masahiro Tanaka, Freddie Freeman and Phil Hughes) that reflect the importance of age. There's a good chance Bailey will improve in the near future, unlike the vast majority of players who sign $100MM contracts.
Overview
Immediately after the 2013 season, the Reds fired manager Dusty Baker, replacing him with former pitching coach Bryan Price. That began a tumultuous offseason in which the Reds braced for Choo's departure and prepared to trade star second baseman Brandon Phillips. One might have thought that the Reds were coming off a 70-win season, rather than 90 wins and a playoff berth. The Reds ultimately held onto Phillips, but otherwise, their offseason behavior wasn't typical of a contending team. While the Reds don't usually have splashy offseasons, their quiet winter means their talent level is significantly behind that of the Cardinals, and probably behind that of the Pirates again as well.
Part of the problem might be the need to look to the future. The Reds now have Bailey locked down for the next several years, but Johnny Cueto, Mat Latos and Mike Leake will all be eligible for free agency following the 2015 season. The Reds have one good young pitcher in Tony Cingrani and at least one more on the way in top prospect Robert Stephenson, but they may still have to either ink some combination of Cueto, Latos and Leake long-term or scramble to fill rotation spots in two years.
Meanwhile, the rest of their team is about to get very expensive. Joey Votto, Phillips and Bailey will make a total of $32MM in 2014, but they'll cost $51MM in 2016 and $55MM in 2017. Those are huge numbers for a small-market team.
At this point, the Reds have gotten lots of mileage out of their once-young core of Votto, Phillips, Jay Bruce, Leake, Bailey and Cueto — they've won 90-plus games and gone to the playoffs in three of the last four seasons. As the economics of baseball drive those players' salaries north, though, it will be tougher and tougher for the Reds to keep them. It will also be tough to fill holes around them without more star-caliber talent on the way from the farm system. Baseball Prospectus recently ranked the Reds' group of 25-and-under players (led by Stephenson, Hamilton, Mesoraco and Cingrani) 23rd-best in the Majors. Baseball America (subscription required) was even less charitable, ranking the Reds 27th in the 25-and-under category.
The Reds are, to some degree, victims of their own success. They haven't had a top-ten draft pick since they selected Leake eighth overall in 2009. While recent first-rounders like Stephenson and Phillip Ervin appear to be good players, it isn't easy to develop stars when there are always at least a dozen teams picking ahead of you, especially if your team isn't traditionally a big player for Latin American amateur talent.
Within this context, their trade for Choo before the 2013 season looks like it might have been more of a one-last-shot move than the sort of deal the Reds typically make. That isn't to say it will be impossible for the Reds to contend in 2014, only that their days of being a perennial 90-win team may be nearing an end, at least for now.
The Reds' NL Central rivals in Milwaukee have had similar problems recently — the Brewers had a successful run of seasons with their Ryan Braun / Prince Fielder core, but struggled to maintain their success after those players got expensive. In the long term, the Reds' situation isn't as dire as the Brewers', because the Reds have done a better job in recent years of acquiring and developing young talent. But the parallels are hard to ignore. If you're a small-market team, it can be difficult to manage your assets as they start to earn more money. The Reds might have some tougher sledding ahead.
Photo courtesy of USA Today Sports Images.