One-day leagues are one of the most exciting ways to play fantasy baseball.  For any given day of the MLB schedule, you can create a fantasy team and win huge cash prizes.  If you have $22 and love Major League Baseball, draft a one-day fantasy baseball team at DraftStreet.com for the games this Friday.  You could win a share of $100,000 with a massive first place prize of $20,000.
750 players will win cash on Friday and you can be one of them.  Simply pick a roster that includes 12 players and stay under the $100,000 salary cap.  Score the most fantasy points and find out if you win after the end of the Mariners-Athletics game.
During the 2013 DraftStreet Baseball Championship, a player named maxdalury won $100,000 cash with this roster: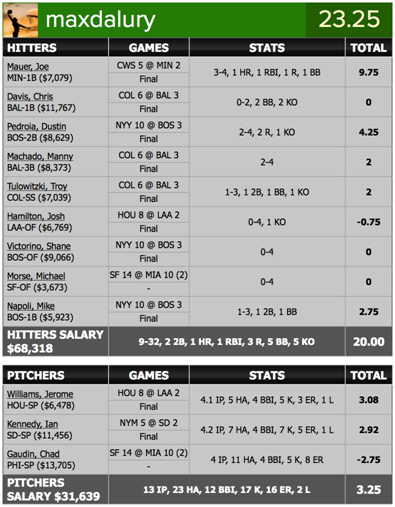 How to Enter the $100,000 MLB BIG SCORE one-day fantasy contest:
Sign up at DraftStreet.com.
Enter the $100,000 BIG SCORE League for $22.
Save your MLB team by 12:55pm eastern time, Friday, April 4th.
Finish in the top 750 and you'll double your money.  First place wins $20,000!  If this is your first time depositing at DraftStreet you will receive a 100% deposit bonus, up to $200 free.
Here's what my roster might look like: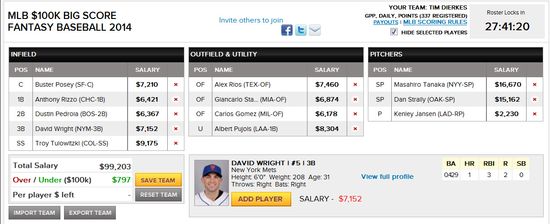 Friday April 4th MLB Eligible Schedule
Braves @ Nationals – 1:05pm EST
Orioles @ Tigers – 1:08pm EST
Brewers @ Red Sox – 2:05pm EST
Phillies @ Cubs – 2:20pm EST
Twins @ Indians – 3:05pm EST
Giants @ Dodgers – 4:10pm EST
D'Backs @ Rockies – 4:10pm EST
White Sox @ Royals – 4:10pm EST
Cardinals @ Pirates – 7:05pm EST
Yankees @ Blue Jays – 7:07pm EST
Reds @ Mets – 7:10pm EST
Padres @ Marlins – 7:10pm EST
Rangers @ Rays – 7:10pm EST
Angels @ Astros – 8:10pm EST
Mariners @ Athletics – 10:05pm EST
This post is a paid advertisement from DraftStreet.