After a quiet start, the Braves made a fascinating play to lock up multiple young stars, then reacted boldly when two top pitchers were lost to their second UCL tears.
Major League Signings
Notable Minor League Signings
Luis Ayala, Scott Downs, Tim Hudson, Paul Janish (non-tendered), Elliot Johnson (non-tendered), Reed Johnson (declined option), Kameron Loe, Paul Maholm, Christhian Martinez (non-tendered, still unsigned), Brian McCann, Eric O'Flaherty
It is not often that a division-winning ballclub exits an offseason with more needs than when it entered it, but that seems to be the case to some extent in Atlanta. Of course, that is probably not the fault of the Atlanta front office, which seemed to have pretty well wrapped up its offseason affairs when two key pitchers —
Kris Medlen
and
Brandon Beachy
— were deemed in need of a second Tommy John procedure.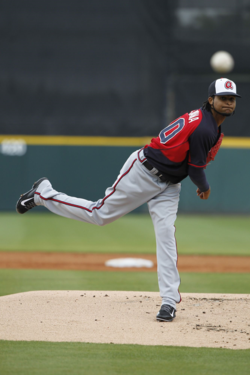 Fortunately, one very appealing arm — the draft compensation-bound Santana — remained unsigned. Rather than pay a high cost in MLB-ready prospects while taking on salary through a trade, GM Frank Wren made the seemingly wise decision to snatch up Santana one a one-year deal at the value of the qualifying offer, giving up the club's first overall choice (26th overall) in the process. 
But having already committed to pay Medlen ($5.8MM) and Beachy ($1.45MM) for the coming season, there was probably only so much that Wren could do at that point. Rather than making another significant addition that might have offset the loss of those two arms, Wren simply shipped out one aging veteran (Garcia) in favor of another (Harang) in a move that seemed motivated as much by possible cost-savings as anything else. In the end, the team will still move forward with a rotation that will ultimately feature some good arms in Santana, Teheran,
Mike Minor
, and
Alex Wood
while awaiting the anticipated mid-season return of Floyd.
David Hale
 represents another internal option for the club.
Going into the offseason, the largest hole seemed to have been created by the departure of longtime backstop McCann. Short of re-signing him, there was little that could have been done to replace his overall production. Atlanta will go with a promotion of last year's miracle story,
Evan Gattis
, who will be joined behind the plate by
Gerald Laird
and (to a lesser extent) trade acquisition Doumit, who figures primarily to serve as a bench bat. Of course, this group figures to be a hold-over while
Christian Bethancourt
finishes his development in Triple-A.
The biggest moves of the offseason for Atlanta did nothing to impact the club's present construction. As I
wrote back in September
, the club had a broad group of outstanding arb-eligible and pre-arb talent that looked prime for extensions. As I explained then, Wren had not extended a single player who had less than five years of MLB service time at the time of the deal during his entire tenure as GM. 
Things kicked off, we now know, with the surprise announcement that the Braves had reached agreement on a new stadium deal that created new revenue opportunities. The impact of that agreement became clear only after the dust settled on a flurry of extensions that drastically changed the club's long-term complexion. First baseman Freddie Freeman, shortstop Andrelton Simmons, starter Julio Teheran, and closer Craig Kimbrel were all given lengthy new deals. When combined with the two-year contract for outfielder Jason Heyward, which did not extend team control, the total guarantees reached $280.7MM — quite a sum for the conservative-spending franchise.  
Driven by the ongoing rotation issues noted above, the organization's overall pitching depth could be tested in 2013. Atlanta has other starting options behind those already touched upon, but most come without the prospect pedigree or experience that would inspire confidence. Hale is a well-regarded youngster who will start out in the rotation. Otherwise, after sending out Gilmartin in the Doumit deal, the Braves will be left to pull from upper-minor arms like
Cody Martin
, Yunesky Maya, and
Aaron Northcraft
. 
The key pieces of the bullpen from last year remain in place, led by Kimbrel. The four most-used set-up relievers from last year —
Anthony Varvaro
,
David Carpenter
,
Jordan Walden
, and
Luis Avilan
— all return as well. But the Braves lost the services of their three next most tapped bullpen arms, with Luis Ayala and Scott Downs leaving via free agency and
Cory Gearrin
going down with the team's third notable UCL tear. Atlanta also said goodbye to the Tommy John-recovering O'Flaherty, once a staple at the back of the pen. Filling in those innings in middle relief, at least to start the year, are a trio of rookies:
Ian Thomas
,
Ryan Buchter
, and
Gus Schlosser
. Thomas and Buchter join Avilan as lefties in the pen, at least until the club receives a boost from a couple of southpaws working back from elbow injuries in
Jonny Venters
and the recently-signed Luis Perez. Of course, the Braves will hope to move Hale into a pen role if they can gather up enough healthy starters, and can still turn to some of the arms who 
lost the battle
 over the final slots during the spring.
Otherwise, the major concerns for Atlanta are those that the team expected to face going into the year. Will high-dollar veterans B.J. Upton (center field) and Dan Uggla (second base) do enough to justify regular roles, if not their contracts?  If not, the team may be forced to turn to other, far-from-certain options (such as Jordan Schafer and Tommy La Stella) to supplement or replace those veterans. Will the Gattis/Laird combination behind the dish be serviceable over a full season, and/or can Bethancourt force his way into the bigs? And can Chris Johnson approximate his surprising 2013 at third? 
While it is tempting to highlight one of the team's newly-minted extensions, it is tough to pick just one: big dollars for the game's best closer and best defensive shortstop? A $135MM contract for a young first baseman that has meaning 
for the broader extension market
? As bold a stroke as were those successive contracts, however, another signing was an even greater departure for a front office and ownership that has kept a tightly-controlled budget: the signing of Santana.
For a team that has experienced its share of disappointment in reaching and advancing through the post-season in recent seasons, and had carefully planned its expenditures to keep together a strong core for years of contention to come, the sudden loss of two key rotation members posed a dilemma. Adding Santana tacked on an additional 14% in payroll on top of the team's prior commitments for the year, bringing the final tab to a new team record of over $112MM for direct player obligations.
That expenditure carries no future benefits, of course, and required the sacrifice of the 26th overall pick in the upcoming amateur draft. (Though Atlanta may hope to recoup that pick next year, if Santana declines a qualifying offer from the club.) Fans wondering whether the organization would extend payroll when needed to put a winner on the field may have their answer, and that stroke — along with the team's somewhat controversial new park and sizeable new long-term commitments — is cause for optimism (both this year and moving forward) from a competitive perspective.
Somewhat like the World Series champion Red Sox, the Braves did not allow a successful 2013 season to deflect the club from its broader plans for building and maintaining a competitive roster. Though exception was made to bring in Santana at the last minute, Atlanta charted a course of supplementing its current roster construction and developing its player assets for future seasons. While some believe that the club is a less likely champion this year than it might have hoped to be coming into the 2014 season, it nevertheless has the pieces both to challenge for the division and make the post-season run that has been so elusive in recent memory.
Image courtesy of Kim Klement/USA Today Sports Images