Orioles right fielder Nick Markakis entered the 2014 season with a lot to prove coming off the worst season of his pro career in 2013, and he was able to reestablish a significant amount of value heading into what will likely be his first venture into the free agent market. While he does have a mutual option ($17.5MM with a $2MM buyout) — such options are rarely, if ever exercised by both sides — especially when they're for such a lofty amount.
Strengths/Pros
Throughout his career, Markakis has consistently gotten on base at a strong clip. A lifetime .290/.358/.435 hitter, Markakis has never posted a single-season OBP lower than .329, and he's never batted below .271, either. His lowest OBP and batting average both came last season on the heels of three 2012 surgeries — one to repair a sports hernia, one to repair a broken hamate bone in his right wrist and the other to repair a broken thumb in his left hand. Markakis performed well after the first two operations — the hernia and the hamate procedures — but the thumb injury ended his season. It's possible that an injury to his dominant hand, coupled with the effects of the surgery on his right hand left him a bit sapped in that poor 2013 campaign.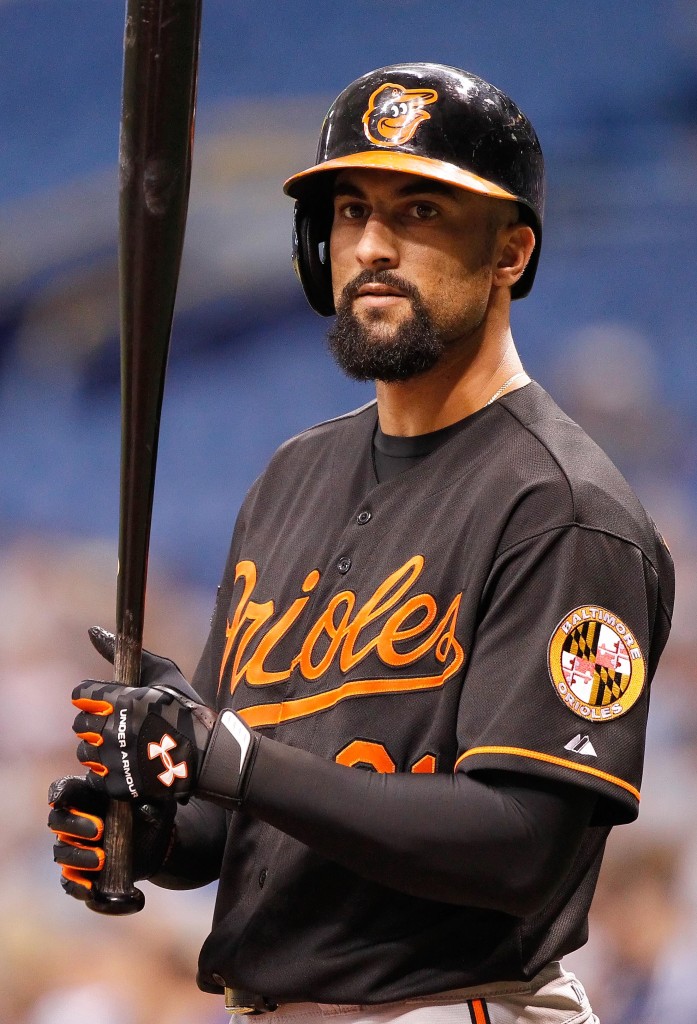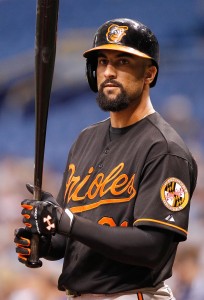 Though he does have those three fairly recent surgeries in his history, Markakis has otherwise been one of baseball's most durable players over the life of his nine-year career. The former first-round pick (seventh overall) has averaged 152 games per season since debuting as a 22-year-old in 2006, topping 160 games five times and 155 or more on seven occasions. Aside from 2012, he's never been on the disabled list.
As his OBP marks indicate, Markakis walks at a fairly strong clip. He's never posted a walk rate lower than 7.9 percent in a season and is at 9.3 percent for his career (8.7 percent in 2014). He's one of the toughest batters in baseball to strike out, as evidenced by a lifetime strikeout rate of 13 percent (11.8 percent in 2014). And, while he doesn't have the plus power he showed earlier in his career, Markakis has hit 10 or more homers in each season of his career, including 14 this year.
Defensive metrics go back and forth on Markakis' value in right field, but Ultimate Zone Rating has long been a fan of his strong, accurate arm, and he posted positive marks in both UZR/150 (+5.8) and Defensive Runs Saved (+1) in 2014.
Weaknesses/Cons
As noted, defensive metrics offer a wide range of potential outcomes on Markakis. While he was a plus defender in right field this season and graded as perhaps baseball's best right fielder back in 2008 (+11 UZR/150, +22 DRS), he's posted negative marks more often than not in recent years. Perhaps that's a reflection of the heavy workload he takes on each season, and perhaps the hernia surgery in 2012 impacted some of his glovework, but agent Jamie Murphy of TWC Sports will likely have to deal with some teams that are skeptical of Markakis' defensive outlook in the tail end of his prime years.
Though he's a steady contributor in terms of batting average and OBP, Markakis hasn't hit for power in recent seasons. He was on his way to a solid .174 ISO (slugging percentage minus batting average) in his injury-shortened 2012, but that mark has been nearly cut in half over the previous two campaigns (.097). He's still a double-digit homer threat, but after routinely hitting about 45 doubles per season earlier in his career, he hit just 51 between 2013 and 2014 combined.
Also clouding the picture is a late-season swoon for Markakis, who struggled mightily for 45-50 games from late July to mid-September. He did recover with a strong 10-game showing to close out the season, but his second half was notably weaker than his first: .288/.351/.395 before the break and .256/.329/.372 following.
Personal
Markakis and his wife, Christina, have three children. Together, the couple launched the Right Side Foundation in 2009 — a nonprofit organization that seeks to better the lives of distressed children in the state of Maryland. Nick and Christina were honored by the Balitmore Sun when they received the Tim Wheatley Award for off-the-field contributions to the community.
Markakis is known as a driven player who will take the field even when he's not at 100 percent — a fact that is reflected in the number of games he's played throughout his career.
Market
Jon Heyman of CBS Sports reported yesterday that the Orioles are expected to decline Markakis' option. I found this to be a moderate surprise, as the team could have picked up its half of the option and assumed that Markakis would decline; players with his track record at his age almost never want to play on a one-year deal, instead preferring a longer commitment even at a lower annual rate. That move would spare the O's his $2MM buyout and allow them to make a $15.3MM qualifying offer. It's possible they could still make the QO — the combined total of the QO and the buyout ($17.3MM) would still be less than that of his option — but this seems to suggest that the team isn't comfortable risking a $17MM+ commitment to Markakis in order to secure a draft pick. If that's the case, he seems likely to hit the market without draft pick compensation, which is great news for Markakis and his agent.
From a competition standpoint, Markakis is positioned well. Yasmany Tomas is the name generating the most buzz in terms of corner outfield options, but he's yet to play a game in the Majors. Melky Cabrera is coming off a fine season and is perhaps the most direct competitor. Nelson Cruz has a bigger bat but is more than three years older with more pronounced defensive issues. Some teams will undoubtedly have more interest in making an upside play on someone like Colby Rasmus over a shorter term, but Markakis can rightfully claim that he's a more consistent contributor. Nori Aoki brings a lighter bat at an older age. Beyond that grouping, Markakis will be competing with aging veterans, many of whom are coming off poor and/or injury-plagued seasons; Alex Rios, Michael Cuddyer, Corey Hart, Mike Morse, Josh Willingham and Torii Hunter are among the alternatives.
Markakis isn't going to make a cellar-dwelling team into a contender, but he's the type of bat that an above-average club can look at as one of the final pieces to rounding out a contending roster. His steady batting average and OBP numbers slot are a good fit at the top of a batting order.
If the Yankees are convinced that Alex Rodriguez can play in the field enough to make Carlos Beltran a primary DH, then Markakis could be a right field option there. He'd make a nice replacement option for the Blue Jays in the event that Cabrera signs elsewhere, and the Tigers have some uncertainty in the outfield after Andy Dirks missed the 2014 season and given Hunter's uncertain status. The Royals will need to replace Aoki if he does not re-sign, and the Mets have a well-documented corner outfield need. Seattle, San Francisco, Pittsburgh and Cincinnati are all in need of corner outfield help as well, and the White Sox would make sense if they want to move on from Dayan Viciedo.
Expected Contract
Markakis has three primary competitors in my opinion: Tomas, Cruz and Cabrera. Beyond that grouping, he can make the case that he's the next-best bat and a more certain commodity than others on what is unquestionably a thin market for bats. Players in this age bracket have been targeting at least four-year commitments, and I would expect Markakis to do the same.
The late-season swoon is a strike against Markakis, but the fact that he can likely come without a draft pick attached makes him an appealing alternative to Cruz and Cabrera, and he will of course be significantly less expensive than Tomas.
I still think there's at least a chance that Markakis ends up with a QO, and if that's the case, I'd peg him for a three-year, $39MM contract.
However, if he's hitting the open market without draft pick compensation attached, I do think that's enough to get him to four years, albeit at a slightly lesser AAV. Assuming there's no QO in play, I'm projecting a four-year, $48MM contract in a weak market for hitters.
Photo courtesy of USA Today Sports Images.