Over the next few weeks, I will be discussing some of the higher profile upcoming arbitration cases. I will rely partly on my arbitration model developed exclusively for MLB Trade Rumors, but will also break out some interesting comparables and determine where the model might be wrong.
Jeff Samardzija enters his third year of arbitration eligibility this winter following an excellent season in which he struggled to get run support. Samardzija threw a total of 219 2/3 innings with a 2.99 ERA and 202 strikeouts, but the Cubs and Athletics each failed to score runs behind him, and he finished with a 7-13 record (and remember that for all the problems with the Win statistic, it's still a notable component of arbitration valuation).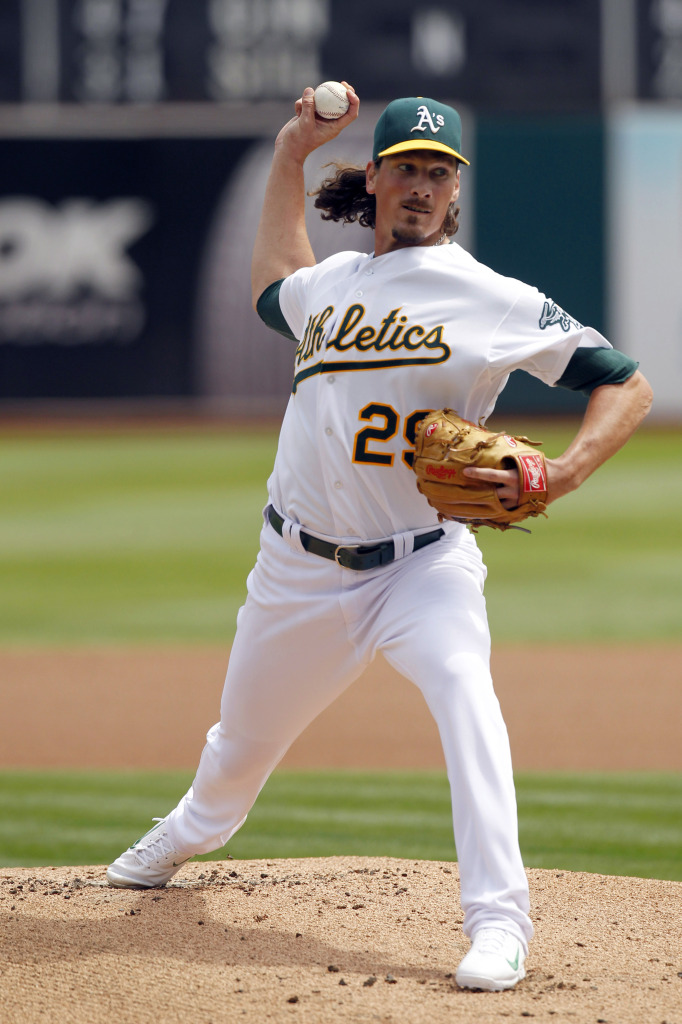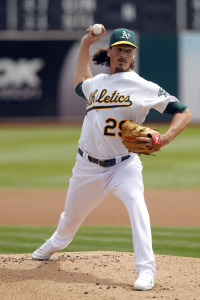 It is rare that a player has a sub-3.00 ERA in over 200 innings yet fails to win more than seven games. However, that type of odd case is what my arbitration model is designed to handle. By putting the right weight on the right statistics, the model strives to match players like Samardzija up with the comparable players that are likely to come up in a potential arbitration hearing. The model has projected a $3.85MM raise for Samardzija in 2015 to take him from a $5.35MM salary up to a $9.2MM salary.
Trying to find actual comparables for Samardzija was tricky. There were no Arb 3 starters with an ERA under 3.50 who had single-digit wins at all in the last eight years, at least among those with 180 innings pitched. There were also no pitchers under a 3.30 ERA with under 13 wins either with that number of innings either. No one with an ERA under 3.50 with less than 13 wins had more than 210 innings. However, three pitchers were close to these criteria.
David Price got a $3.89MM raise last year with a 10-8 record and a 3.33 ERA in 186 2/3 innings. Homer Bailey had an 11-12 record with a 3.49 ERA in 209 innings last year too, which got him a $3.65MM raise. A couple years earlier, Matt Garza had a 10-10 record with a 3.32 ERA in 198 innings, which got him a $3.55MM raise. Each of these three guys had more wins than Samardzija's seven, but they also had fewer innings and higher ERAs. Samardzija also passed 200 strikeouts, something that none of those three did (though Bailey had 199 and Garza had 197). With the extra innings and lower ERA, it seems likely that Samardzija could pass this group. One potential roadblock is that Price's track record and the fact that he was over .500.
In cases like these, it can be helpful to try to establish a floor and a ceiling player. In other words, players that are likely worse than/better than the player in question, whose salaries are close enough together that you can find a solid range for the player.
One reasonable floor for Samardzija could be Brandon McCarthy from 2012. He had just a 9-9 record with a 3.32 ERA in 170 2/3 innings and struck out only 123 batters. Although he did have two more wins that Samardzija, it's unlikely that a 9-9 record bests a 7-13 record by enough to offset the 49 extra innings and 79 extra strikeouts. McCarthy got a $3.28MM raise that year.
A potential ceiling for Samardzija could be a pitcher with a sub-3 ERA with a similar number of innings, but double digit wins. However, finding such players was tricky. Max Scherzer went 21-3 with a 2.90 ERA in 214.1 innings last year, which is obviously better. It did net him an $8.8MM raise. Carlos Zambrano way back in 2007 got a $5.9MM raise after a 16-7 season with a 3.41 ERA in 214 innings. But his case was obviously better than Samardzija's, so he does not look like a useful comparable.
Justin Masterson's case last year could be appropriate to establish a ceiling, but he falls short of Samardzija's case in a few ways. He had a 14-10 record with a 3.45 ERA in 193 innings, and he struck out 195 batters. Masterson got a $4.07MM raise. Doubling up Samardzija's win total is probably enough to offset to extra innings and lower ERA after Samardzija, but he doesn't quite work like a typical ceiling.
Using McCarthy and Masterson as a floor and a ceiling leaves a pretty wide window between a $3.2MM and $4.07MM raise for Samardzija to fit in. All three of the aforementioned comparables (Price, Bailey, Garza) fell in that window. In the end, there's a strong case for Samardzija to get a raise somewhere in the $3.55MM to $3.89MM raise range from those three players, and the $3.85MM that the model projected fits in there as well. It's possible that Samardzija's record hurts him enough that he ends up with a good deal less, or that his ERA and innings place him above this group, but a safe midpoint is probably the model's projection.
Photo courtesy of USA Today Sports Images.