Over the next few weeks, I will be discussing some of the higher profile upcoming arbitration cases. I will rely partly on my arbitration model developed exclusively for MLB Trade Rumors, but will also break out some interesting comparables and determine where the model might be wrong.
Josh Harrison will enter his first year of arbitration this winter after having a great year. From 2011 to 2013, Harrison had irregular playing time and bounced between the minors or majors, but in 2014 he firmly cemented his starter status with a .315 average and 58 extra-base hits. Harrison had a .347 OBP after failing to crack .290 in his previous three seasons, and slugged .490. Although his high OBP, 38 doubles and 7 triples made him a tremendously valuable 4.9 WAR player in 2014, they unfortunately (for him, at least) are not the kind of contributions awarded generously through the arbitration process.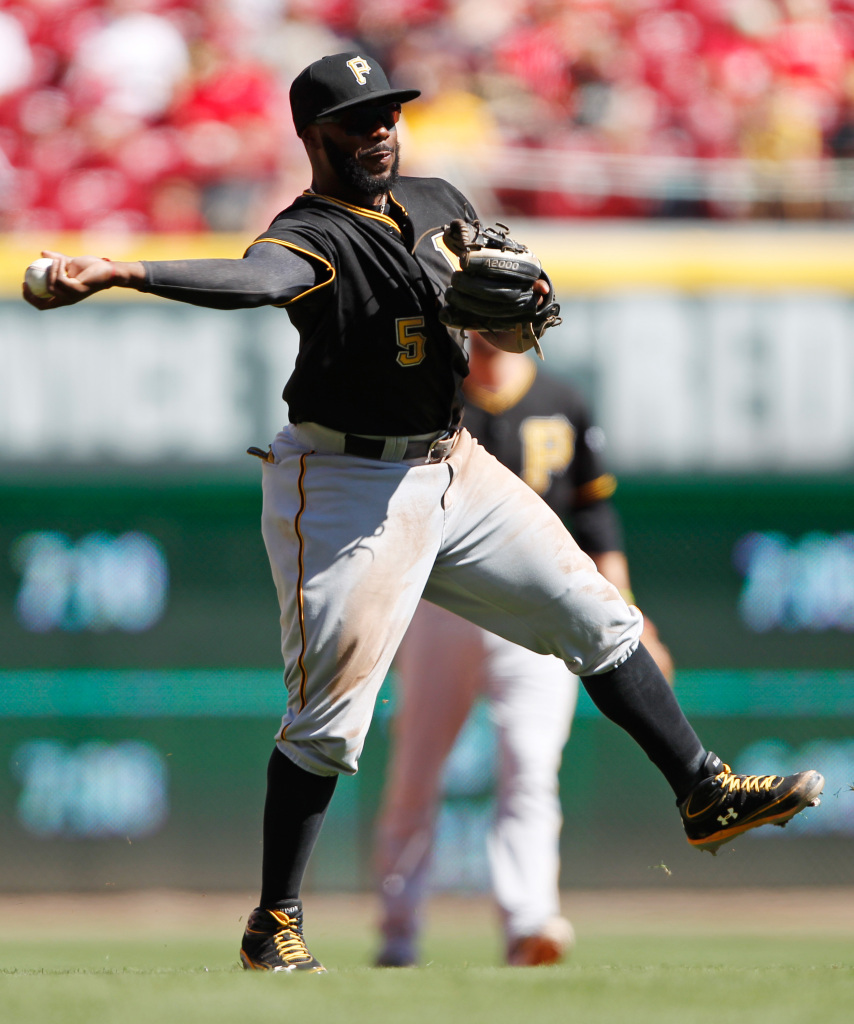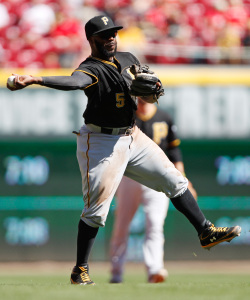 Harrison had just 13 home runs, along with only 52 RBIs. The limited runs batted in are not surprising given that he hit out of the leadoff spot the majority of the time, but leadoff hitters usually offset some of their lack of power numbers with stolen bases when they go to arbitration. Harrison had 18 stolen bases, which is solid but not elite. In Harrison's case, the value he added in 2014 does not typically get rewarded in arbitration. Harrison also loses out relative to other players because he only had 550 PA in his platform season. Playing time is perhaps the most crucial characteristic of a good arbitration case, and Harrison loses out to players who have more PA.
On the other hand, Harrison does benefit from the fact that arbitration rewards a strong platform season far more than performance in recent seasons. In his previous three seasons, he had only 575 PA combined, with just 7 home runs, 46 RBIs, and 13 stolen bases. And with only a .250 average in his pre-platform seasons, Harrison hurts his case, but far less than if he had struggled to hit safely in his platform year.
As a result of this, the model projects him to earn $2.2 million for 2015 and I do not think the model is far off in this one. Combining the peculiarity of the pairing of his strong platform season and his weak pre-platform years, the high average with lack of major power or stolen bases out of the leadoff spot, and his low playing time totals, it is difficult to find comparables for Harrison, but as we discuss some options below, the $2.2 million estimate starts to look pretty appropriate.
Looking for comparables, there were three key features that I searched for first. One was having between 400 and 600 PA in his platform season, so that the player was a starter but did not get too much playing time. I also initially looked for players who hit .300 since that is such a strong part of Harrison's case, but who had less than 20 home runs, since power would have really helped his case. That left two players in the last five years.
Nyjer Morgan's 2012 case is a pretty strong one, and he earned $2.35MM. He hit .304 with 4 home runs and 37 RBIs, and stole 13 bases over 498 PA. So he had less power and plate appearances than Harrison in his platform year, but was otherwise similar. Morgan did have 1403 PA in his pre-platform years, more than double Harrison's 575 PA. Morgan also hit .283 in his pre-platform years, also beating Harrison's .250 average handily.
Rajai Davis' 2010 case is a little old to be used a typical arbitration case but also looks similar despite only getting $1.35MM. He hit .305 with 3 home runs and 48 home runs, and actually stole 41 bases, all with 432 PA. His .256 average and 462 PA pre-platform do look a lot more like Harrison, though. Even still, that case looks pretty out of touch with more recent numbers.
Expanding the group of potential comparables by looking for guys who hit between .290 and .300 in their platform year adds a couple names. David Murphy in 2011 got $2.4MM for a .291 average, 12 home runs, 65 RBI, and 14 steals in 467 PA in his platform year, and 1085 pre-platform PA in which hit .278, with 35 home runs and 147 RBI, along with 16 stolen bases. Tyler Colvin's 2013 case is especially similar, and he got $2.275MM. Colvin hit .290 with 18 home runs and 72 RBI, along with 7 steals, although he only got 446 PA. In his pre-platform years, he had 636 PA and hit .215 with 26 home runs and 78 RBI, adding in six stolen bases.
The main issue with this group of four guys is that none of them had 500 PA, let alone 550 like Harrison. Eric Hosmer in 2014 could perhaps be a solid comparable for his platform year, with a .302 average, 17 home runs, 79 RBI, and 11 stolen bases. But Hosmer's pre-platform years sum to a much loftier line than Harrison's. He had 1161 PA, again about twice Harrison's total, and he also hit 33 home runs and 138 RBI, far more than Harrison's seven home runs and 46 RBI. Hosmer's $3.6MM salary seems pretty unattainable for Harrison. Austin Jackson and Billy Butler both earned $3.5MM with similar lines to Hosmer, and both seem unlikely matches for Harrison because of their far greater pre-platform playing time.
Sometimes in arbitration cases, it is useful not just to look for comparable players, but to sandwich a player between a ceiling and a floor player. The ceiling player would clearly have superior numbers and should have a salary above the player in question, while the floor player would have inferior numbers and a low salary.
Alejandro de Aza's 2013 arbitration case netted him $2.075MM, which seems like a reasonable floor for Harrison. He had a similar number of PA, 585, but hit just .281 and only had 9 home runs and 50 RBI, although he did steal 26 bags. His pre-platform years are worse, with only 388 PA to Harrison's 575, and only four home runs and 36 RBI, both less than Harrison's seven and 46, and with a similar number of stolen bases. De Aza did hit .280 in his pre-platform years, but that difference is not as large as the platform year batting average advantage that Harrison enjoys. As a result, it is difficult to see Harrison getting less than $2.075MM.
Jay Bruce looks like a ceiling. He had 573 PA going into his 2011 case, and he hit 25 home runs with 70 RBI. Bruce did have a .281 average, which is less than Harrison's .315, but it seems unlikely that Harrison's batting average could be more important than his lack of relative power. Bruce also had 839 PA pre-platform, and although he hit just .240, he had 43 home runs and 110 RBI. The fact that Bruce went into arbitration with 68 career home runs, more than triple Harrison's 20, makes him a ceiling. Harrison is unlikely to match Bruce's $2.792MM salary.
So it seems likely that Harrison will fall somewhere between $2.075MM and $2.792MM, and probably closer to $2.075MM. Tyler Colvin's 2013 earnings of $2.275MM seem like the best comparison, which further cements Harrison around that range. I could see Harrison getting somewhere in between my $2.2MM estimate and maybe $2.5MM, but it will be hard for Harrison to go much past that point.