"It's not every day the best free agent goes to a team that finished in last place," Cubs President of Baseball Operations Theo Epstein said today at the press conference announcing starting pitcher Jon Lester's new six-year contract.  Epstein later explained, "We knew early on that if we signed Jon Lester, it would be about belief. It was because he would believe in us, believe in our future, and believe that winning a World Series with the Cubs was a unique opportunity."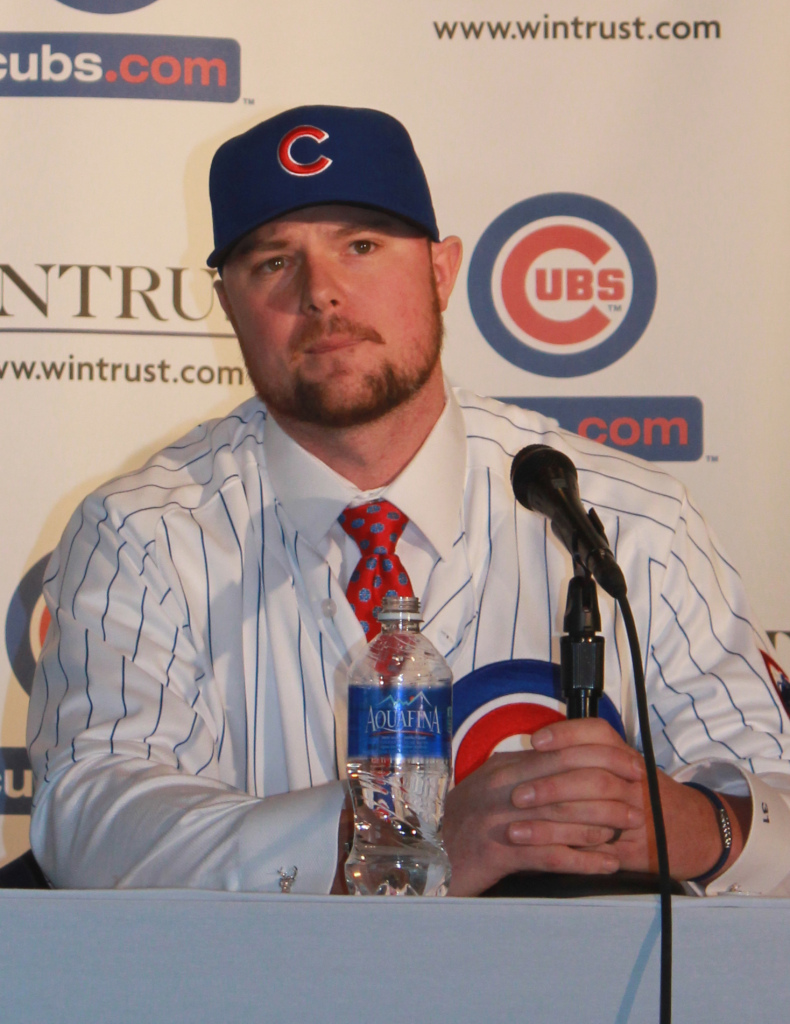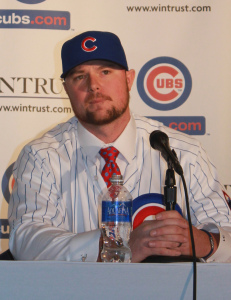 According to Epstein, the ability to contend for Lester's services was a culmination of "a pretty quick rebuild" due to the hard work of the Cubs' scouting and player development people.  The Cubs now possess a trove of young position player talent, including Anthony Rizzo, Starlin Castro, Jorge Soler, Kris Bryant, Javier Baez, Addison Russell, and Kyle Schwarber.  Epstein considers the Lester signing a transition to a point where the team is "clearly very serious about winning a World Series." Lester agreed, telling the crowd,"I can tell you honestly, I wouldn't be here if I didn't think they were going to win in 2015."
Lester said the chance of winning a World Series with a team that hasn't done so since 1908 "just adds that little extra for me."  Questioned on the topic later, Epstein admitted the team's long history of losing actually helped them sign Lester.  "We're not hiding the ball. The fact that we haven't won in so long helps define who we are. It adds meaning and resonance to what we're trying to accomplish here, and I think it attracts players who aren't afraid of that challenge and want to be here for the right reasons and it definitely attracted Jon Lester."
The Cubs' front office and ownership gave Lester the largest contract in franchise history, a reported $155MM deal with a seventh-year vesting option and a full no-trade clause.  It didn't take long for Epstein to concede to the no-trade clause, a rarity for him.  "I don't usually like those, but when you're talking about a free agent of this caliber who had just gotten traded to Oakland as a result of having a team that relied on some young players and ended up with a disappointing performance, it would have been really hard to sign him without a no-trade given the unique circumstances involved here. In the spirit of the negotiation, it was something that we initially objected to but didn't keep the fight up too long because it was outside the spirit of the connection that we were trying to make."
Epstein went up against his and Lester's former employer, the Red Sox, in negotiations that went down to the wire at the Winter Meetings in San Diego.  The Red Sox topped out at a reported $135MM offer, though they didn't help their cause four months earlier by trading Lester, Jonny Gomes, and cash to the Athletics for Yoenis Cespedes and a competitive balance pick.  When Bob Nightengale of USA Today asked Lester whether it would have been a lot harder to leave Boston had he not been traded, the lefty replied, "Yeah, I think so. I think there's always that unknown when you are traded. Obviously that's the unknown of going to a whole different coast, a whole different organization, a whole different philosophy. I think going there prepared us for this time. I think if you finish out the year in Boston and you get down to this decision, I think it would be a lot harder. Not to say it wasn't hard as it was. But I feel like that broke that barrier of, 'Well, I wonder if I can play for another team.' And I think we answered those questions."
Though Lester's deal with the Cubs was consummated at last week's Winter Meetings, it was the product of more than a month's worth of courting.  The Cubs sent Lester a 15-minute video on the first day of free agency, talking about the team's future.  Epstein and company experienced a turning point in a mid-November meeting, after which they felt "unmistakable momentum."  That momentum never waned, even through tense late night negotiations with Lester's agents at ACES.
For his part, Lester said he enjoyed initial meetings with teams, but the second phase of actually making a decision was not fun.  Much has been made of Lester's long relationship with Epstein and Cubs GM Jed Hoyer, dating back to the pitcher being drafted out of high school in '02.  Both sides agreed that the comfort level and trust helped.
Does the Lester signing mean the Cubs are all-in for 2015?  As Epstein described it, "We're very much all-in for our future, and the future starts in 2015."  Asked whether the team is interested in trade targets with only one year of remaining control, Epstein answered, "Yeah, if they were priced accordingly. Obviously those players carry less value in our minds than players you can control going forward."
The Cubs have already spent almost $180MM on free agents Lester, Jason Hammel, Jason Motte, and Tsuyoshi Wada, and they also traded for Tommy La Stella and well-paid catcher Miguel Montero.  I talked to Hoyer about remaining potential areas for upgrade, and he said the Cubs may attempt to add an outfield bat, given the youth of the team's current group.  Asked if there's room for another starting pitcher, Hoyer replied, "Potentially. We're not going to sit here and say we're done. I think we're very comfortable going forward right now with what we have, but obviously the winter's not over yet, there's a lot of guys out there and we'll certainly be engaged on some of those guys."
The Epstein rebuild has taken three years to reach this point, and the team's president said today that the Cubs' "incredibly patient" fans "truly deserve a pitcher and a person of this caliber to call their own."  Lofty expectations have been set for Lester, who appears ready for the challenge.