1:29pm: Jon Heyman of CBS Sports tweets that Hochevar can earn $500K worth of incentives for non-closing relief work, $500K of incentives for closing work and up to $2MM for starting.
DEC. 5, 12:35pm: The Royals officially announced Hochevar's return yesterday, including the fact that it contained a 2017 mutual option. Today, SB Nation's Chris Cotillo reports the breakdown of his contract (Twitter links). Hochevar will earn $4MM in 2015 and $5.5MM in 2016. The deal contains a $7MM mutual option with a $500K buyout as well as performance escalators that can boost his salary from $5.5MM to $6.5MM. Interestingly, the triggers for that $1MM increase is either 23 games started or 150 innings pitched, so it seems that the Royals are at least open to letting Hochevar work as a starter, though perhaps only if they're unable to supplement their rotation this offseason.
DEC. 3:The Royals have reached an agreement with reliever Luke Hochevar on a two-year, $10MM deal, according to Jon Heyman of CBS Sports.  The signing further deepens the best bullpen in the Majors.  Hochevar is represented by the Boras Corporation.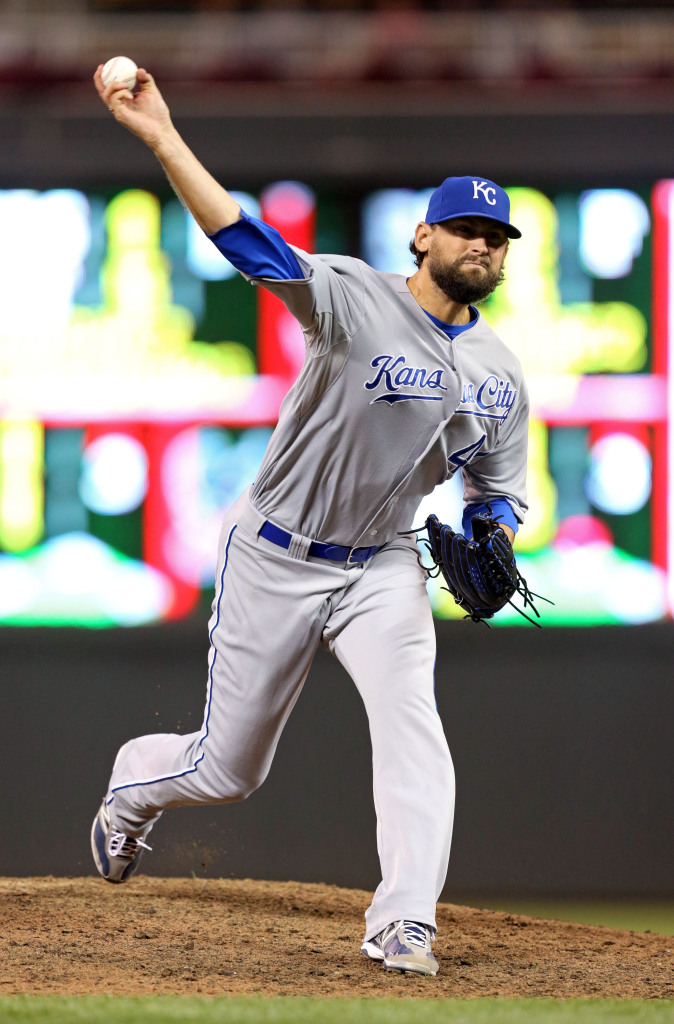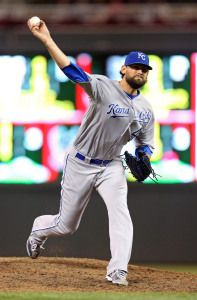 Hochevar, 31, switched to the bullpen in 2013 and turned in a dominant season with a 1.92 ERA and 10.5 K/9.  However, he went under the knife for Tommy John surgery in March of this year.  Some pitchers are able to fully recover in one year, though many require several months beyond that.  Hochevar has spent his entire pro career with the Royals after being drafted first overall in 2006.  He had been rated as a top five draft prospect the year prior but fell to the Dodgers at 40th overall due to his bonus demands and affiliation with Boras.
The trio of Greg Holland, Wade Davis, and Kelvin Herrera turned in dominant seasons for the Royals, including a 1.12 ERA in 40 1/3 postseason innings, and all three remain under team control.  The Royals also re-signed veteran Jason Frasor five days ago, so they're very deep in right-handed relief pitching.  They could stick with this unit and continue to shorten games, or entertain trading one of Holland, Davis, or Herrera as their salaries grow.  Kansas City has already traded Aaron Crow to the Marlins in exchange for lefty Brian Flynn and minor leaguer Reid Redman, the former of whom could theoretically jump right into the bullpen or work as a starter in the minors.
Hochevar's contract is the third significant multi-year deal scored by a reliever since the World Series concluded, and all have come at a relatively significant price.  Zach Duke nabbed a three-year, $15MM contract, and Koji Uehara signed on for two more years in Boston at a total of $18MM.  This signing is a bit more expensive than that of Eric O'Flaherty's with Oakland last offseason, but the two are largely similar. O'Flaherty inked a two-year, $7MM contract with the A's after undergoing Tommy John surgery on May 21, 2013.  Hochevar's Tommy John came prior to the regular season, so it stands to reason that he could return to the Majors earlier in the 2015 season than O'Flaherty was able to in 2014.  That difference is likely a contributing factor to the additional $3MM on Hochevar's guarantee.
Photo courtesy of USA Today Sports Images.