7:10pm: Corey Brock of MLB.com reports that the $63MM Shields will earn over the final three seasons of the deal will be spread out in equal $21MM increments (Twitter link). That would make the overall structure $10MM in 2015, $21MM each year from 2016-18 and a $2MM buyout on the 2019 option.
3:39pm: The Padres have officially signed free agent starter James Shields to a four-year contract that includes a club option for 2019. Shields, a client of PSI Sports Management, will reportedly receive a $75MM guarantee, with the option valued at $16MM.
Shields will earn just $10MM in 2015 before taking home $63MM over the following three seasons, a front-loaded structure that accounts for the team's rising payroll this year. The final $2MM guarantee comes in the form of a buyout on the option. The deal does not include a no-trade clause.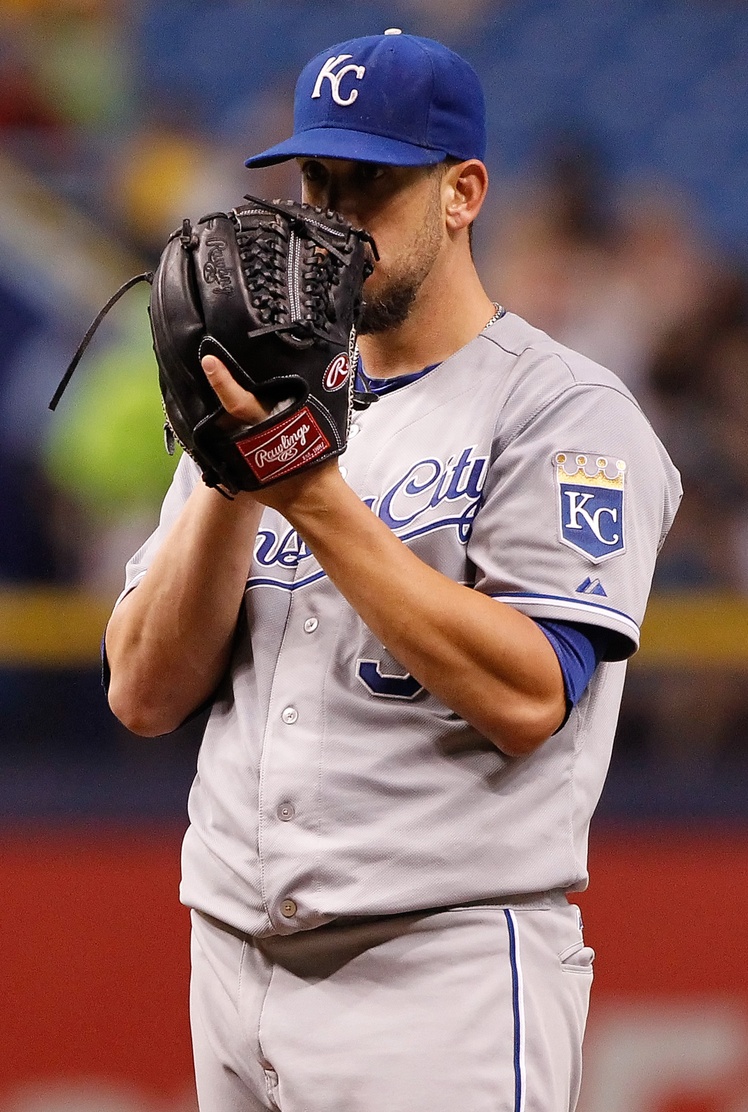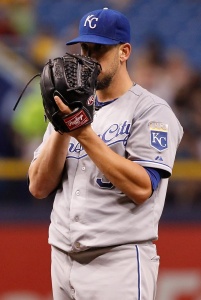 This weekend, it emerged that the Padres had offered Shields a deal similar to what he'll evidently receive, with other reporting indicating that Shields, a California native, was interested in pitching in San Diego. The Cubs, Marlins and Blue Jays had also recently been connected to Shields.
The deal continues an enormous offseason makeover for the Padres, who have added Matt Kemp, Justin Upton, Wil Myers, Derek Norris and Will Middlebrooks to boost their offense. Shields will head a rotation that was already fairly productive in 2014, when the Padres enjoyed good seasons from Andrew Cashner, Tyson Ross, Ian Kennedy and Odrisamer Despaigne. Shields also improves their pitching for the future, as Kennedy will be eligible for free agency following next season and Cashner can become eligible after 2016.
Shields has excelled at or near the top of the rotations of the Royals and Rays for the better part of the past four seasons, working to a 3.17 ERA with 8.0 K/9, 2.3 BB/9 and a 46.3 percent ground-ball rate. Though Shields has seen his K/9 rate dip from 8.8 to 7.1 over the past few seasons, he also showed some of the best control of his career in 2014 (1.7 BB/9) and maintained his fastball velocity (92.4 mph average). Shields has been the epitome of a workhorse in Kansas City and St. Pete, topping 200 innings in eight straight seasons, including a four-year average of 233 frames.
Much has been made of Shields failing to live up the moniker by which he is perhaps better known — "Big Game James" — in the postseason. While Shields does indeed sport an unsightly 5.46 ERA over 59 career playoff innings, a sample of that size would likely be written off in a regular-season setting and isn't large enough to use as a significant basis for judgment.
Rather, as MLBTR's Tim Dierkes suggested in his free agent profile of Shields, the better question is likely whether or not Shields is truly deserving of the "ace" label that many have placed upon his shoulders. Earlier in his career, particularly in 2011, Shields looked to be just that, but his recent work — and really, his overall body of work in the Majors — is perhaps more indicative of a durable, but not-quite-elite arm that can be slotted into the "No. 2" or "No. 3" slot in a rotation. Looking at ERA estimators such as FIP, xFIP and SIERA, Shields typically falls into the mid-3.00 range that one would expect of a very quality but not front-line arm.
Of course, because he will be moving to the National League for the first time in his career and benefiting from the spacious Petco Park, it's certainly possible that Shields will see an uptick in his strikeout rate and again produce the ace-caliber bottom-line results of which he has proven capable in the past. However, he'll also be losing the aid of arguably baseball's best defense and shifting to a team that has a deteriorated Kemp and an out-of-position Myers in his outfield, which could be problematic, even if he tends to induce a slightly above-average number of grounders.
Regardless of whether or not one considers Shields an ace or merely an upper-echelon starter, a pitcher of his quality was a lock to receive and reject a qualifying offer, which is precisely what happened. As such, the Padres will pay the steep price of surrendering their first-round pick — the 13th overall selection and one of the best non-protected picks in the draft. Unlike previous iterations of draft-pick compensation, the newest form, established in the 2012 collective bargaining agreement, calls for the Royals to receive a compensation pick at the end of the first round.
In the grand scheme, however, the Padres have added an impact player at a reasonable price. MLBTR ranked Shields the third-best free agent available this offseason, and yet his total price will be a bit more than a third of Max Scherzer's and about half of Jon Lester's. That's partly a function of their respective ages and the structures of their contracts, but regardless, the Padres' financial commitment to Shields should be relatively bearable even if Shields is a disappointment. The addition of a club option with a marginal buyout is also a nice feature for San Diego.
And yet, while Shields' price tag is reasonable, it's also a noteworthy accomplishment for agent Page Odle and PSI Sports Management at this stage of the offseason. No free agent has ever signed a deal of this magnitude after Feb. 1. As MLBTR's Jeff Todd recently noted, J.D. Drew held the previous record for a post-Feb. 1 contract at five years and $70MM, though that contract was reportedly agreed to months prior and slowed by medical concerns. Ubaldo Jimenez inked a four-year $50MM pact around this time last year, but Shields' overall guarantee trumps that figure by a significant margin.
SB Nation's Chris Cotillo reported the deal and option value (Twitter links). Jon Heyman of CBSSports.com reported the guaranteed value of the deal on Twitter and lack of a no-trade clause (Twitter link). Ken Rosenthal of FOX Sports reported the annual breakdown on Twitter.
Photo courtesy of USA Today Sports Images.