Front office controversy generated more headlines in Baltimore than any of the Orioles' winter moves, as the team had one of the quieter offseasons of any contending team.  The O's will rely on some lower-profile transactions and a return to form from injured stars as they look to defend their AL East crown.
Major League Signings
Wei-Yin Chen, SP: One year, $4.75MM (club option exercised)
Darren O'Day, RP: One year, $4.25MM (club option exercised)
Everth Cabrera, SS: One year, $2.4MM
Delmon Young, OF/DH: One year, $2.25MM
Wesley Wright, RP: One year, $1.7MM
Rey Navarro, MI: One year, $550K (split contract)
Eddie Gamboa, RP: One year, $525K (split contract)
Oliver Drake, RP: One year, $508K (split contract)
Total spend: $17.68MM (counting the three split deals)
Notable Minor League Signings
Trades And Claims
Extensions
Notable Losses
Needs Addressed
Several of the Orioles' most notable offseason moves were completed before October was even finished.  Exercising 2015 options for Wei-Yin Chen and Darren O'Day were virtual no-brainers given how well both men pitched last year, and the O's kept J.J. Hardy off the free agent market by signing him to a three-year extension before their postseason run was even over.
The outfield and DH spots became major needs for the O's once Nelson Cruz and Nick Markakis signed elsewhere.  The team explored signing or trading for several candidates to fill those spots, ranging from big-name everyday options as Matt Kemp, Justin Upton, Marlon Byrd, Michael Morse and Colby Rasmus, to players better suited for a platoon role, i.e. Jonny Gomes or Chris Denorfia.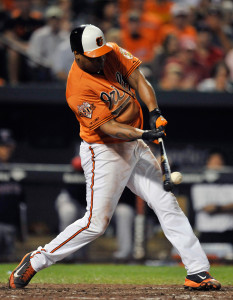 In the end, the Orioles brought back a familiar face in Delmon Young and acquired an intriguing piece in ex-Pirates outfielder Travis Snider.  Young hit well (.302/.337/.442 over 255 plate appearances) in a part-time role for the O's last season and he can play either corner outfield spot, though defensive metrics suggest he's a better fit for a DH spot.  Snider was rated as one of baseball's top-10 prospects in his days as a Blue Jays minor leaguer, though he never gained a solid foothold in the majors until he posted a .776 OPS over 359 PA for the Pirates last season.  Snider is still just 27 and comes with two years of team control, so a breakout isn't out of the question, and at worst the O's should have a solid lefty bat.
Overall, manager Buck Showalter has lots of opportunity to mix and match his lineup when it comes to his corner outfield and DH positions.  He has Snider, David Lough and Alejandro De Aza as left-handed bats and Young and Steve Pearce hitting from the right side.  Pearce is the best bet for regular playing time given his huge 2014 numbers, though the O's have given themselves some depth should Pearce come back down to earth.
Though Wesley Wright is much more of a lefty specialist than a dominant bullpen southpaw like Andrew Miller, Wright's signing will help fill the left-handed hole left by Miller in the Orioles' bullpen.  There was speculation that Wright's signing could have also been made to account for a possible trade of Brian Matusz, though since no move materialized, Baltimore will go into the year with significant left-handed relief depth in Wright, Matusz, T.J. McFarland and closer Zach Britton.  Before landing Wright, the O's also looked into acquiring Antonio Bastardo from the Phillies before he was traded to the Pirates.
While Matt Wieters is expected to be recovered from the Tommy John surgery that cost him all but 26 games of the 2014 season, Baltimore added to its catching depth beyond Steve Clevenger and Caleb Joseph by signing J.P. Arencibia and Ryan Lavarnway to minor league deals.  (Michael Ohlman was also in the mix before being dealt to the Cardinals.)  Wieters is an important name to watch; not only will his health be a key factor in the Orioles' success, but he's also entering the final year of his contract.  A big year will make Wieters one of the top names in the 2015-16 free agent class, so his future in Baltimore will be one of the team's major ongoing storylines.
MLBTR's Matt Swartz projected that the Orioles would spend $56.9MM to cover the contracts for their whopping 11-player arbitration class.  The total ended up being $57.515MM, which included winning a hearing against Alejandro De Aza.
Questions Remaining
The general feeling going into the offseason was that of the Orioles' three biggest free agents, Miller was sure to leave, Cruz was 50-50 and Markakis was leaning towards re-signing.  As it turned out, all three players departed, leaving the O's with a particular need for lineup reinforcements.
As ESPN's Jayson Stark recently pointed out, those reinforcements could already be on the roster if Wieters, Manny Machado and Chris Davis are all healthy and productive.  Relying on those three, however, is no sure thing.  Wieters was already in need of a rebound after a sub-par 2013 season, Machado has now undergone two knee surgeries in as many years and it's hard to know what to expect from Davis, who went from a 53-homer year in 2013 to being barely above replacement level (0.5 fWAR) in a 2014 season plagued by injuries and a suspension for using Adderall.
It remains to be seen if the platooning rotation at LF/RF/DH can work, as a lot rides on whether Pearce, Young and Snider can continue to hit as well as they did in 2014 rather than struggle as they have in previous seasons.  An everyday option like Upton or Byrd would've provided more stability, though the Orioles were leery of parting with any significant minor leaguers.  In my opinion, this is where you can second-guess Baltimore's decision to deal Eduardo Rodriguez for Miller at the trade deadline.  While Miller undoubtedly helped the O's win the East, a top-60 prospect was a stiff price to pay for two-plus months of a relief pitcher, and Rodriguez could've perhaps been better served as trade bait for a bigger roster piece this offseason.
It seemed as if the Orioles were constantly on the verge of a major move this winter, as in addition to being linked to those notable outfielders and Bastardo, there were also rumors of a Chen-for-Howie Kendrick trade with the Angels.  Chen and Bud Norris drew some trade interest, though the Orioles decided to hang onto their starting pitching depth; a wise move in my view given how Ubaldo Jimenez struggled last year.
The biggest development of the Orioles' offseason (and one that could have ramifications for seasons to come) was the Blue Jays' pursuit of Dan Duquette to be their new team president and CEO.  After roughly six weeks of speculation and negotiations between the two clubs, talks finally ended with the Jays walking away due to Baltimore's demand for multiple top prospects as compensation for Duquette's services.
The relationship between Duquette and the Orioles was thought to be as solid as could be, given the team's two postseason appearances in Duquette's three seasons as the executive VP of baseball operations and the fact that Duquette had signed an extension that keeps him with the O's through the 2018 campaign.  After this winter, however, questions have to be asked about Duquette's long-term future in Baltimore, especially given how owner Peter Angelos was reportedly very upset about the situation.  For now, it's a situation to keep an eye on.
Deal Of Note
Since being named to the 2013 All-Star team, Everth Cabrera's career has taken a turn for the worse both on and off the field.  Cabrera served a 50-game suspension for PED use, posted only a .572 OPS over 391 PA last season and is facing charges for resisting arrest stemming from a suspected DUI last September.
Given all of these recent troubles, it's no surprise that the Padres non-tendered Cabrera last December.  That said, if Cabrera can put his troubles behind him, then he could be yet another unheralded Duquette signing that pays big dividends for the Orioles.  Cabrera is controllable through the 2016 season and he still has a minor league option remaining, making his one-year, $2.4MM contract even less of a risk for the team.  He's seen time all around the diamond during Spring Training camp, so the O's could employ him as a switch-hitting supersub, or they could focus on him as a backup or even a platoon mate for Jonathan Schoop at second base.
Overview
While some fans and pundits think the Orioles' quiet offseason will lead to a step back in the AL East, it's worth noting that Duquette's three previous offseasons running the Orioles were also not particularly newsworthy on paper.  It was only in hindsight that some of those under-the-radar moves stood out, ranging from claiming O'Day off waivers or getting good contributions from Jason Hammel or Nate McLouth, to the admittedly more notable steal of Cruz's 40-homer season on only a one-year, $8MM contract.
In those past offseasons, however, Duquette's strategy was to tinker around an already-solid core of players.  This is the first time Orioles have had to deal with some major losses to that core, as Cruz immediately became a key part of the lineup and Markakis had been a staple for years.  That said, the club still has Adam Jones, Hardy, the returning trio of injured stars, an underrated bullpen led by Britton and a solid starting rotation that could get a boost if Kevin Gausman takes a step forward or if Jimenez gets back on track.
While winning the division by 12 games again may be a stretch, it isn't hard to see the Orioles in playoff contention again.  The pressure is on, however — with a whopping 12 players set to hit free agency next winter, this may be this roster's last chance at a pennant before some inevitable reshuffling for 2016.
Photo courtesy of Joy R. Absalon/USA Today Sports Images