The Orioles and Dodgers announced that Baltimore has traded right-hander Ryan Webb, Minor League catcher Brian Ward and a Competitive Balance (Round B) draft pick to Los Angeles in exchange for right-hander Ben Rowen and Minor League catcher Chris O'Brien.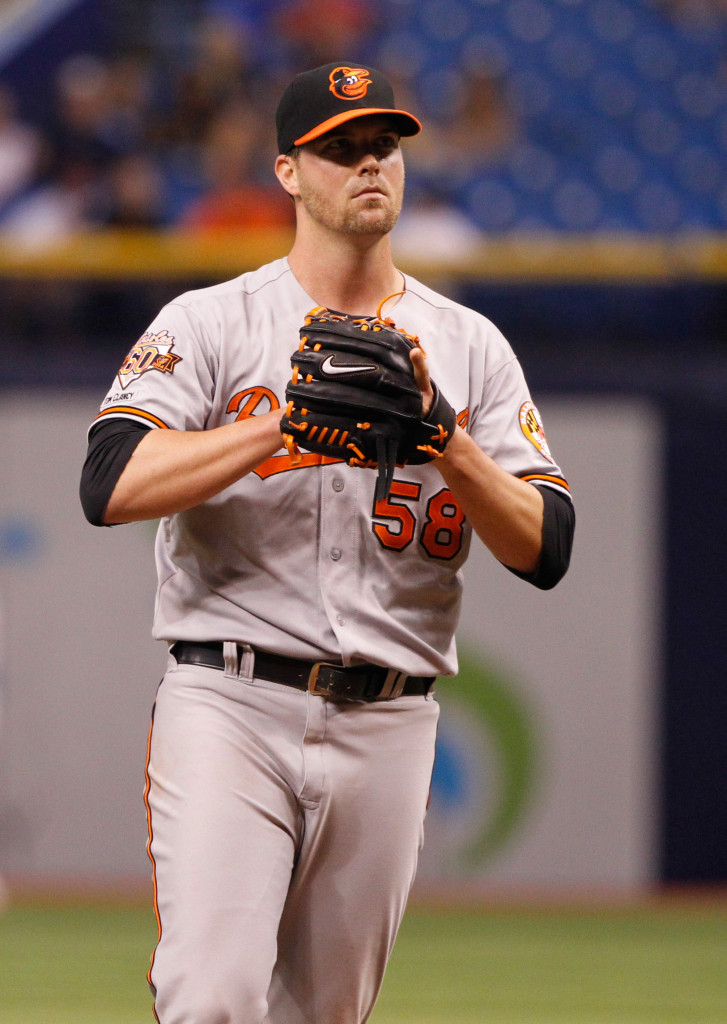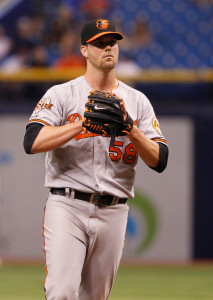 Webb, 29, was removed from the Orioles' 40-man roster this week and is slated to earn $2.75MM in the second season of a two-year, $4.5MM contract this year. The former Marlin was solid, if unspectacular in his lone year with Baltimore, working to a 3.83 ERA (101 ERA+) with 6.8 K/9, 2.2 BB/9 and a 48.7 percent ground-ball rate. The ground-ball rate is above the league average but checks in well below Webb's career mark of 56.1 percent.
The Dodgers will hope for a return to form not only in terms of ground-ball rate, but also in ERA. The durable Webb notched a 2.91 mark in 2013 but struggled to repeat that mark in 2014. Webb gives the Dodgers another relief arm to step into an injury-plagued bullpen that has seen both Kenley Jansen and Brandon League sidelined by early-season injuries. Webb's ground-ball skill set would seem highly similar to that of League, who rebounded from a dreadful 2013 season to serve as a very useful reliever in L.A. last year during the regular season.
The Dodgers will also take on Webb's entire salary, which was likely a condition required in order to coerce the Orioles to part with the Competitive Balance pick. Baltimore will send the No. 74 pick in the 2015 draft to the Dodgers to help facilitate the deal. That pick comes with a slot value of $827K, which the Orioles will lose from their pool and the Dodgers will add to their pool. The Orioles' draft pool will drop from $7,677,400 to $6,850,400, while the Dodgers' pool will rise from $6,954,700 to $7,781,700.
Ward, also 29, has never cracked the Major Leagues. Signed as a 23-year-old undrafted free agent in 2009, he's worked his way to Triple-A and batted .227/.330/.286 at that level in parts of the past two seasons. While he clearly doesn't offer much in the way of upside with the bat, Baseball America did rank Ward as the best defensive catcher in Baltimore's Minor League system heading into the 2013 season.
The 26-year-old Rowen is an extreme side-arm pitcher that generates a huge amount of ground-balls and has been tough to hit for opposing batters throughout his Minor League career. Rowen has held opponents to just 6.9 hits per nine innings in the Minors and worked to a 3.45 ERA with 5.9 K/9 and 1.7 BB/9 in 47 Triple-A innings last year. In 2013, Rowen posted a ridiculous 0.69 ERA in 65 2/3 innings between Double-A and Triple-A, averaging 7.9 strikeouts and 2.3 walks per nine innings.
O'Brien, 25, ranked as the Dodgers' No. 26 prospect and profiles as a backup catcher, per Baseball America's Ben Badler (on Twitter). The former 18th-round draft pick (2011) spent the 2014 season with the Dodgers' Double-A affiliate, slashing .266/.341/.438 in 407 plate appearances.
Roch Kubatko of MASNsports.com reported that Webb and Ward were headed to the Dodgers (Twitter links). FOX Sports' Ken Rosenthal tweeted that Rowen and O'Brien were on their way to the Orioles, and Eduardo A. Encina of the Baltimore Sun tweeted that the Comp Pick was going to the Dodgers.
Photo courtesy of USA Today Sports Images.