Signing young players to extensions has been the backbone of John Hart's long career as a baseball executive.  Since taking over the Braves last year, Hart has primarily focused on acquiring new young talent for the rebuilding club rather than locking up existing players. Now that some new pieces are in place, though, Hart and GM John Coppolella will surely look into extending some players that project to be part of the next Braves winning team.
Shelby Miller may well be at the front of that list, as the right-hander is coming off a very solid (albeit unusual) 2015 season.  Miller posted a 3.02 ERA, 7.5 K/9 and 2.34 K/BB rate in his first year in Atlanta, tossing a career-high 205 1/3 innings and reaching his first All-Star team.  Unfortunately for Miller, these numbers didn't translate into many wins since he received a near-record low amount of run support (2.64 runs per game) from the anemic Braves offense.  This lack of support culminated in an astounding 24-start winless stretch that saw Miller go 0-16 despite a solid 3.83 ERA over that stretch.
While "baseball card stats" are a big part of the arbitration process, Miller's rough 6-17 record shouldn't hurt him too much as he enters his first year of eligibility this offseason.  MLB Trade Rumors projects Miller will earn a healthy $4.9MM salary in 2016, and the Braves could look to get some cost certainty over Miller's two arb years and possibly even a free agent year or two.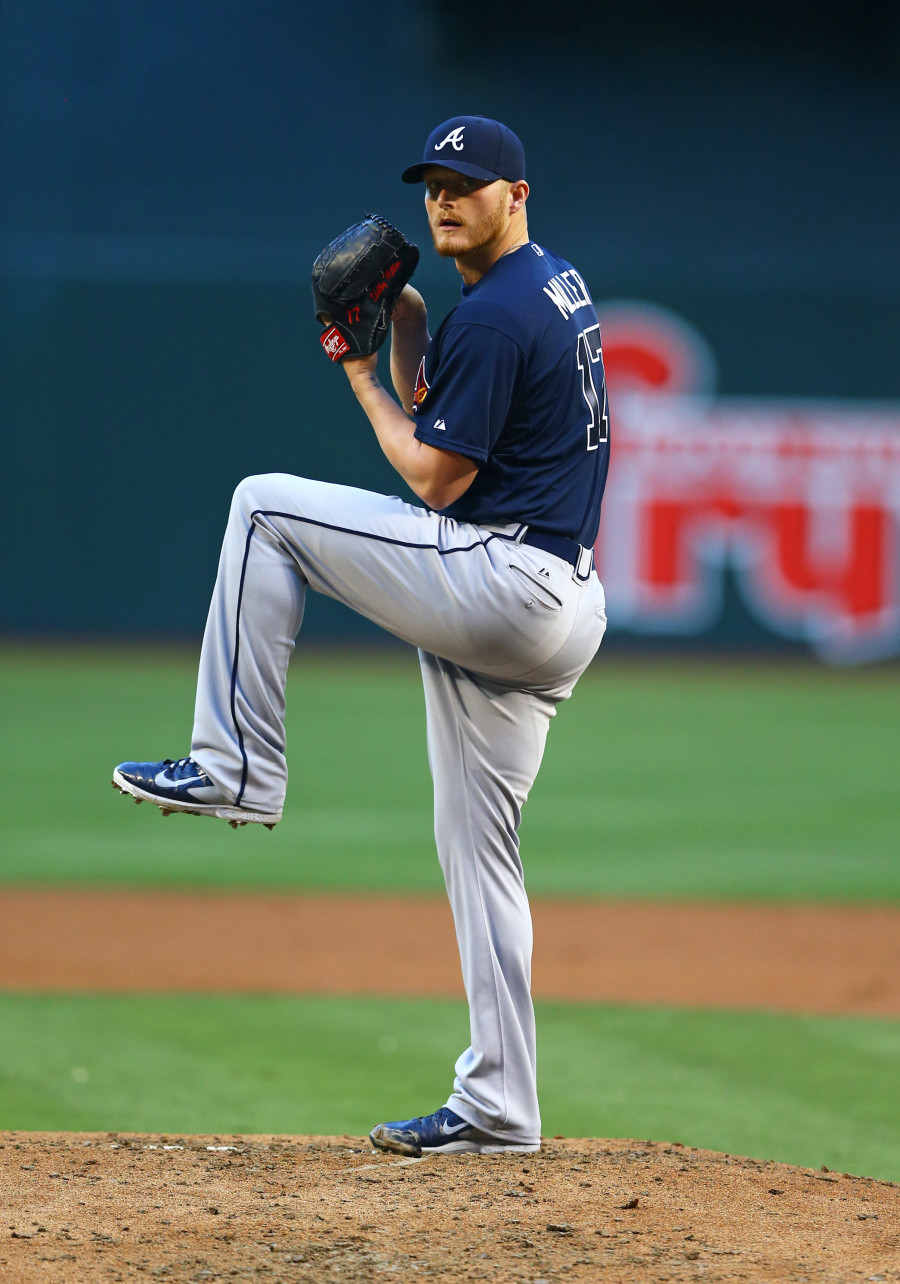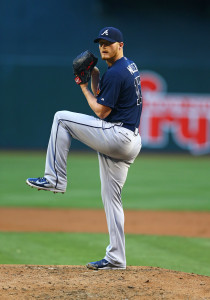 A note about that $4.9MM figure: it would actually set a new record for a starting pitcher in his first year of arbitration eligibility, topping Dontrelle Willis' $4.35MM figure from 2006.  Last year, Matt Swartz wrote about how that $4.35MM record has somewhat unexpectedly stood the test of time, though MLBTR's projections have three pitchers beating the mark this winter — Matt Harvey at $4.7MM, Miller at $4.9MM and Dallas Keuchel at $6.4MM.
As we see from the MLBTR Extension Tracker, four starters with 3+ years of service time have signed extensions since the end of the 2012 season.  (I feel comfortable cutting it off there since Kyle Kendrick and Clayton Kershaw aren't ideal comparables as, respectively, a Super Two player and a reigning Cy Young Award winner.)  Let's see how Miller compares to these four pitchers using extension size, their MLBTR arbitration projection, notable stats and ERA predictors…
Mat Latos:  Two years/$11.5MM before age-25 season, $4.6MM arbitration projection.  639 IP, 3.41 ERA, 8.42 K/9, 2.8 BB/9, 43.7% ground ball rate, 11.5 fWAR (3.47 FIP, 3.60 xFIP, 3.59 SIERA)
Wade Miley: Three years/$19.25MM (with $12MM option for 2018) before age-28 season, $4.3MM projection.  638 2/3 IP, 3.79 ERA, 7.03 K/9, 2.76 BB/9, 48.6% ground ball rate, 7.4 fWAR (3.80 FIP, 3.72 xFIP, 3.90 SIERA)
Lance Lynn: Three years/$22MM before age-28 season, $5.4MM projection but it was an unusual situation, as noted earlier in Matt Swartz's piece.  616 IP, 3.46 ERA, 8.75 K/9, 3.26 BB/9, 44.4% ground ball rate, 10.5 fWAR (3.34 FIP, 3.64 xFIP, 3.65 SIERA)
Miller: Heading into age-25 season, $4.9MM projection.  575 1/3 IP, 3.22 ERA, 7.56 K/9, 3.24 BB/9, 42.3% ground ball rate, 6.9 fWAR (3.82 FIP, 4.07 xFIP, 4.16 SIERA)
Jhoulys Chacin: Two years/$6.5MM before age-25 season, $1.6MM projection.  411 1/3 IP, 3.68 ERA, 7.57 K/9, 4.18 BB/9, 49.7% ground ball rate, 5.0 fWAR (4.17 FIP, 4.06 xFIP, 4.17 SIERA)
Miller just turned 25 last week, putting him in the Latos/Chacin age bracket.  Miller is clearly a step behind Latos and Lynn WAR-wise (they have an edge in strikeouts and innings) and you can make a case that Miley was also a better pitcher than Miller at this stage of both pitchers' careers.
Since Miller is three years younger than Lynn and Miley were at the time of their extensions, however, his ultimate price tag is going to be bigger.  If he keeps up his current form through his arbitration years, hitting the open market as a durable and productive 28-year-old arm could mean something in the range of five (or even six) years in the $85MM range.
With this in mind, would Miller even be interested in an extension?  He already banked one nice payday when he signed for a $2.875MM bonus with the Cardinals after being drafted in 2009, and he'll earn something in that $4.9MM range next year.  Miller is on pace to get healthy raises in his final two arbitration years anyway, so he could very well decide to bet on himself with an eye towards free agency and avoid a long-term commitment.  If the CAA client betters his current form and makes the leap from very good pitcher to full-blown ace, Miller would be costing himself some money by locking himself into an extension now.
The Braves would have to make it worth Miller's while, therefore, for him to sign away one or two of his free agent years.  A straight club option for 2019 likely wouldn't be enough unless it had an easily-reachable vesting option.  Corey Kluber's extension with the Indians could be a model in this regard.  The two club option years that cover what would've been Kluber's first two free agent seasons can rise in value by up to $4MM based on performance escalators, turning a potential extra $27.5MM for Kluber into as much as $35.5MM over those two seasons.
Lynn's extension paid him $7MM in 2015 and he's owed $7.5MM in each of the next two years, while Miley's deal escalated from $4MM last season to $6MM in 2016 and $8.75MM in 2017.  If we mark Miller for $4.9MM this season, it would make sense for Atlanta to boost his salary in 2016-17 once Nick Swisher and Michael Bourn are (in all likelihood) fully off the books.  So at something like $4.9MM in 2016, $7.4MM in 2017 and $9.5MM in 2018, that gets Miler to $21.8MM over three years.  If there's a 2019 club option, I would guess it would have to be in the $13MM range and, like Kluber's contract, subject to rise via escalator bonuses.
Unlike Keuchel and Harvey (his fellow would-be arbitration record-breakers), Miller hasn't quite shown that he's a frontline ace.  Don't forget, however, that Miller is just a few years removed from being a consensus top-10 prospect, so it's very possible that his best is yet to come.  Even at Miller's current level of production, a four-year deal that could max out in the $38-$39MM ballpark isn't a bad price to pay for a 25-year-old who's averaged 187 innings a year since 2013.  It could end up being yet another canny John Hart extension if and when the Braves begin to turn things around.
Image courtesy of Mark J. Rebilas/USA Today Sports Images