This is the latest entry in MLBTR's Offseason In Review series. The full index of Offseason In Review posts can be found here.
The Angels made a couple of big trades to shore up the infield, but a payroll crunch led new GM Billy Eppler to address other roster holes in a more cost-conscious way.
Major League Signings
Cliff Pennington, IF: Two years, $3.75MM
Geovany Soto, C: One year, $2.8MM
Daniel Nava, OF: One year, $1.375MM
Al Alburquerque, RP: One year, $1.1MM base salary (only around $275K is guaranteed if Alburquerque is cut before Opening Day)
Craig Gentry, OF: One year, $1MM (split contract, salary only guaranteed if Gentry makes the MLB roster)
Rafael Ortega, OF: One year, $525K
Total spend: $8.45MM guaranteed ($10.5MM with Alburquerque and Gentry on the MLB roster)
Notable Minor League Signings
Trades
Claims
Extensions
Notable Losses
Chris Iannetta, David Freese, David Murphy, Cesar Ramos, Shane Victorino, Matt Joyce, Mat Latos, Dan Robertson, Aybar, Gott, Cowgill, Navarro, Featherston
Needs Addressed
The offseason was only a couple of weeks old when Eppler made his first big splash, landing Andrelton Simmons in a deal that saw longtime shortstop Erick Aybar and top pitching prospects Sean Newcomb and Chris Ellis go to Atlanta.  While the Halos were criticized for an overall lack of spending this winter, acquiring Simmons required a significant financial commitment given that he's owed $53MM through the 2020 season.
At that price, the Angels now have not just baseball's top defensive shortstop, but perhaps its top defender at any position — Simmons' career 21.4 UZR/150 is the best of any player from 2002-15.  While any team would benefit defensively by adding Simmons, he's a particularly big upgrade for the Halos given that Aybar posted below-average defensive metrics over the last three seasons.  Simmons has shown flashes of hitting potential over his career and he's still only 26, though he's so spectacular in the field that he'll be a valuable asset even if he continues to be a subpar hitter.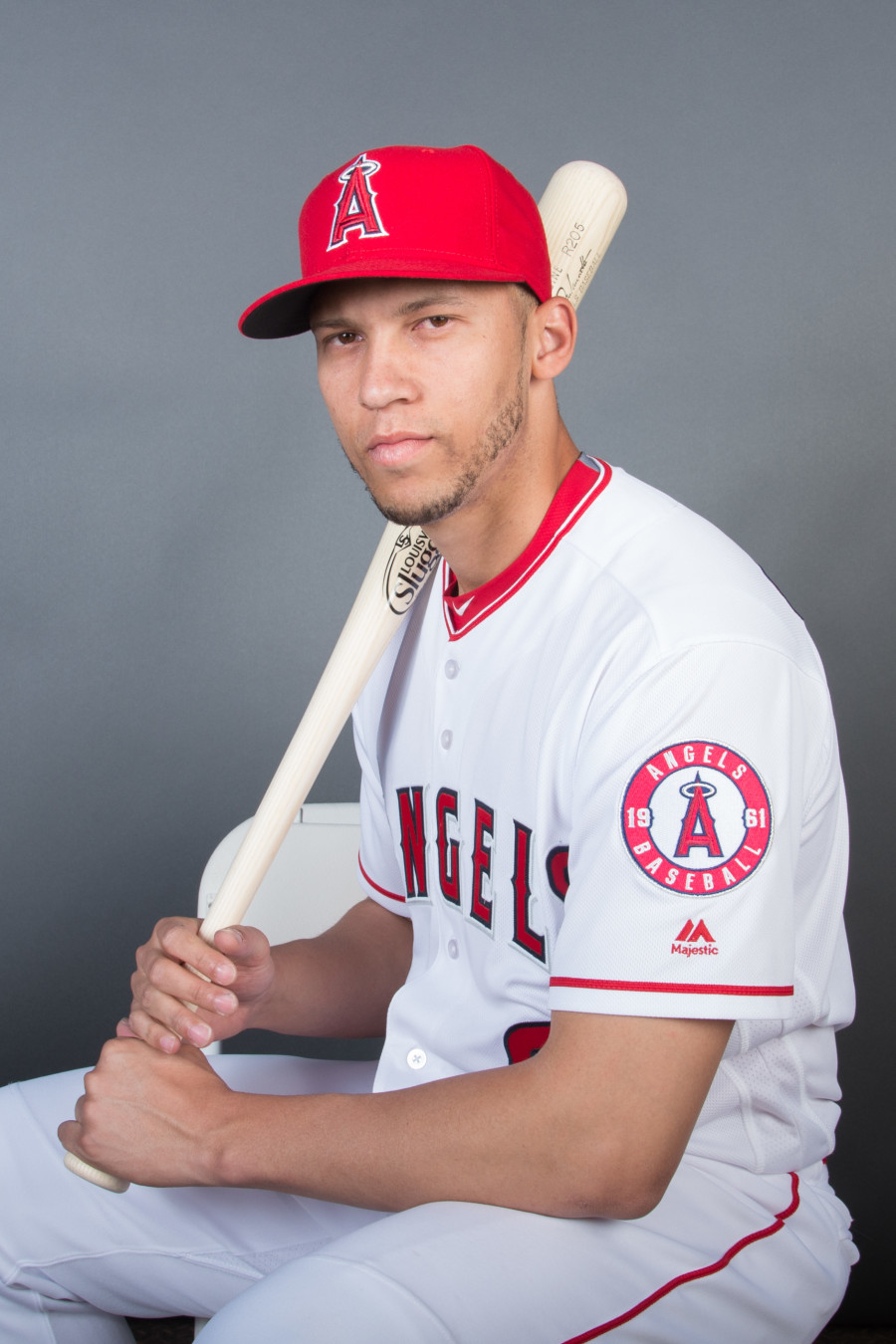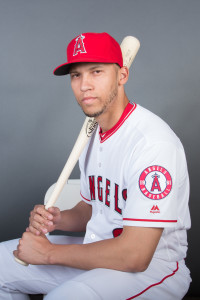 The acquisitions of Cliff Pennington and Rey Navarro added to the theme of defense up the middle.  Pennington has shown some good glovework at second over his career, while Navarro (who made his MLB debut in 2015) has been regarded as an excellent defensive middle infielder over his nine-year pro career.  They'll be backup options in the middle infield or perhaps even platoon options for Johnny Giavotella at second, who struggled defensively in 2015 and didn't show too much at the plate.
There's a chance Yunel Escobar could end up at second if once-touted prospects Kaleb Cowart or Kyle Kubitza emerge, though in all likelihood, the Angels will stick with their plan of using Escobar as the everyday third baseman.  After talks of a reunion with David Freese didn't develop, Anaheim dealt hard-throwing ground ball specialist Trevor Gott to Washington for Escobar and $1.5MM to go towards covering part of the veteran infielder's $7MM salary.
Escobar was a defensive liability at third last season, though it was his first time playing the hot corner since 2007.  Having Simmons play next to him should help in that regard, though the Angels are mostly hoping Escobar can add some pop to the lineup.  In his age 32-season, he hit .314/.375/.415 (his highest totals in all slash line categories since 2009) with nine homers over 591 plate appearances for the Nats.  Escobar did benefit from a .347 BABIP, however, so it remains to be seen if he can come close to replicating that performance in pitcher-friendly Angel Stadium.
Losing Gott isn't too big a blow to a fairly deep Angels bullpen, but the club did go on to acquire some low-cost depth in Al Albuquerque, Javy Guerra and a few other notable veteran names on minor league deals.  Right-hander and Rule 5 Draft pick Deolis Guerra will also have to stay on the 25-man roster all season or else Los Angeles will lose him back to Pittsburgh.
With Chris Iannetta gone to the Mariners in free agency, the Angels signed Geovany Soto to handle most of the catching duties, though Carlos Perez could end up receiving as much as half the playing time behind the plate.  Soto brings the type of defense (particularly in pitch-framing and throwing out baserunners) that manager Mike Scioscia always looks for in his catchers, so he could up being a very good value on his one-year, $2.8MM contract.
Speaking of value, veterans Craig Gentry and Daniel Nava are slated for a left field platoon at the combined price of $2.375MM.  On paper, this combo could work quite well — Gentry is a career .274/.354/.366 hitter against lefties while Nava has a .281/.377/.409 slash line against righties.  The problem is that neither player has hit much of anything over the last two seasons, so there's plenty of room for the likes of newcomers Rafael Ortega, Todd Cunningham, Quintin Berry or Gary Brown to earn playing time.
Continue reading after the page break for more analysis …
Questions Remaining
While owner Arte Moreno insisted that he's willing to go over the $189MM luxury tax threshold in the right circumstance, it seems that this offseason didn't fit that criteria.  Moreno said last month that his team is only about $2MM short of the $189MM limit, as luxury tax payroll is based on average annual value of contracts and bonuses, rather than straight dollar amounts.
Going over the $189MM limit would trigger a 17.5% penalty on the overage, though since the tax rate jumps to 30% for a second year over the threshold, Moreno's concern was that the Angels wouldn't be able to avoid a repeater tax in 2017 if they exceeded the limit in 2016.  Several big contracts (C.J. Wilson, Jered Weaver, Joe Smith) come off the books next winter, though those savings could be partially offset by large arbitration raises for Garrett Richards and Kole Calhoun, a $2MM salary bump for Simmons and a $4MM bump for Mike Trout.
In summation, Eppler didn't have much money to spend this winter.  Attempts to trade Wilson and his $20.5MM salary for 2016 were unsuccessful, as the Angels weren't willing to sell low on the lefty just for the sake of unloading him.  Hector Santiago and Matt Shoemaker were also the subject of trade speculation, with Santiago seemingly coming close to being dealt to Baltimore in November.
Ultimately, the Angels decided to hang onto all of their notable Major League arms and perhaps with good reason, given that the L.A. rotation has its share of issues.  Beyond Richards and Andrew Heaney, the 33-year-old Weaver is battling a bulging disk in his neck and trying to rebound from a few years of injuries and declining velocity.  Wilson is dealing with shoulder problems and is facing the possibility of beginning the season on the DL.  Santiago, Shoemaker and Nick Tropeano are all battling for a rotation spot.  Tyler Skaggs will also return at some point this season (maybe even by late April), though his effectiveness and durability in the wake of Tommy John surgery is unknown.
It's a rotation that would've certainly been helped by one of the notable names in this winter's free agent pitching market but, again, the Angels' lack of available spending was a roadblock to any major signings.  This was especially true as the Halos looked at ways of filling their holes at second and left field — while they at least touched base with names like Howie Kendrick for second and some of the top-tier outfielders available (Justin Upton, Yoenis Cespedes, Alex Gordon, Jason Heyward), those names weren't realistic unless Moreno was willing to bite the luxury tax bullet.  Kendrick came at a much lower price tag than the outfielders, though he would've come at the notable cost of the Angels' first round draft pick, which now sits at 16th overall now that Kendrick and the other qualifying offer free agents have all signed.
That first rounder is of particular importance given how the Angels essentially cleaned out what was left of their minor league system to land Simmons.  When the 2016 Baseball America Handbook not only ranks your farm system last in the league but also adds a joking disclaimer to the listing ("Side effects of reading through the entire Angels Top 30 may include drowsiness and an upset stomach"), one has to question whether dealing Newcomb and Ellis was a wise move.  As great as Simmons is with the glove, if Anaheim was willing to deal its two best young arms for a long-term Major League chip, it could be argued that the club should've pursued a proven hitter instead.  The alternative would've been to hang onto Aybar for the last year of his contract and then look for a new long-term shortstop next winter.
Eppler connected on the trades for Simmons and Escobar, though other possibilities were explored on the infield trade market.  L.A. was rumored to be interested in Twins third baseman Trevor Plouffe and ex-Pirates second baseman Neil Walker at various points this offseason, though Plouffe stayed put in Minnesota and Walker was dealt to the Mets.  On the outfield front, the Angels were one of many teams who called about the Rockies' outfielders, with Charlie Blackmon being of particular interest to Anaheim.  Colorado ended up dealing Corey Dickerson to the Rays, however, so they're probably done shopping their outfielders for now.
The biggest trade that went by the boards, of course, was the proposed three-team deal with the Blue Jays and Reds that would've seen Jay Bruce go to Toronto and Michael Saunders on the move to Anaheim.  Saunders would've provided more upside in left field than the Gentry/Nava combo, but he would've been far from a sure thing given that he missed all but nine games last season due to knee injuries.  Speaking of Bruce, there was some speculation earlier this winter that he would've been a fit for the Angels, though there wasn't any indication that L.A. was actually interested.
It wouldn't surprise me if the Angels still made a move to address left field before Opening Day, since as it stands, the club is really no better off at left or at second now than they were when last season ended.  The same could also be said of catcher and third base, as the Halos were content to essentially just match Freese and Iannetta's production rather than look for substantial improvements.
It all adds up to more or less a treading-water type of offseason for a club that could've used some upgrading around the diamond.  If the Angels do end up essentially breaking even at catcher, left, second and third, that means the club is relying on C.J. Cron to break out as a consistent power bat, Albert Pujols to recover from offseason foot surgery and return to the lineup as soon as possible, and Calhoun to rebound at the plate.  The only sure things Anaheim can truly count on in its lineup are Trout's continued all-around excellence and great glovework from Simmons and Calhoun.
Deal Of Note
As mentioned earlier, BABIP played a role in Escobar's big season at the plate.  Despite Escobar's good numbers, however, Freese was actually the slightly more valuable of the two players (2.2 fWAR to 2.1 fWAR) since Freese held a big advantage on defense and was only a bit less productive on offense.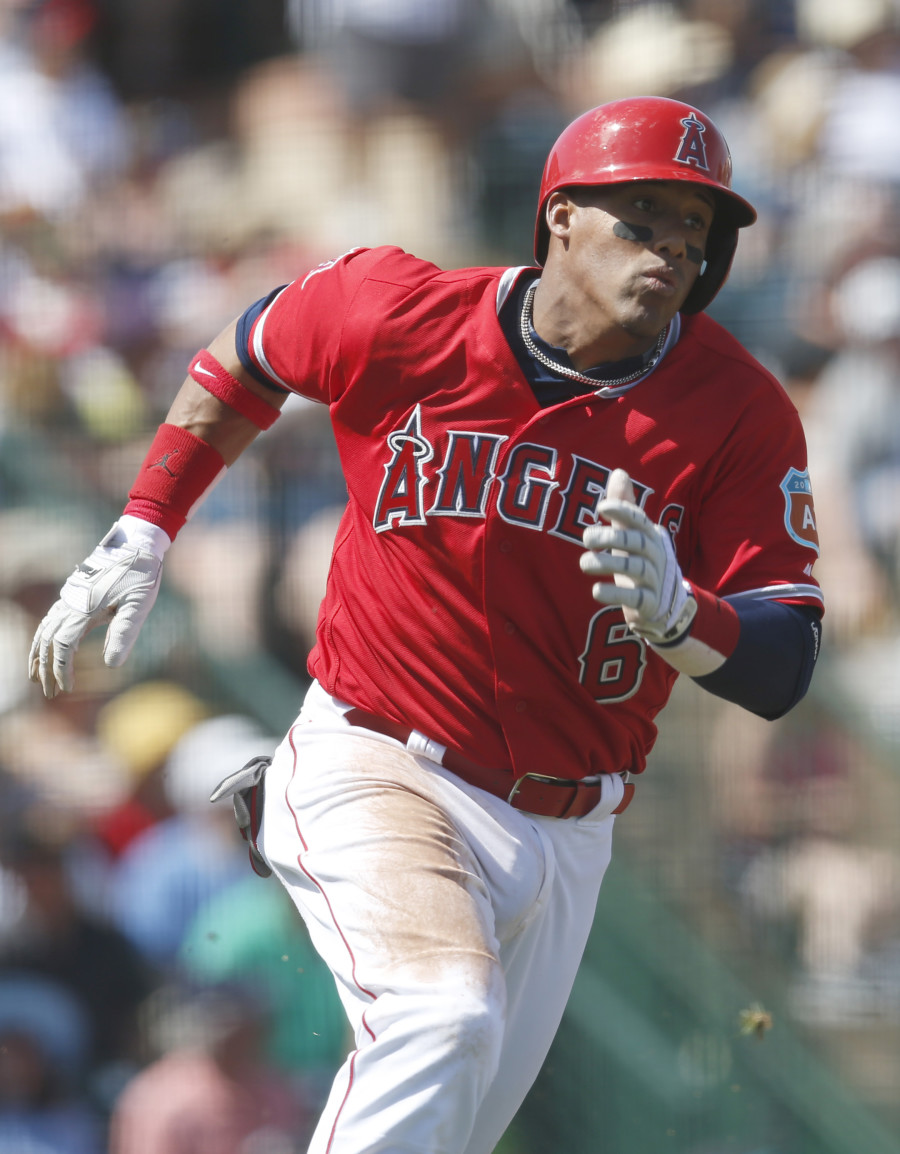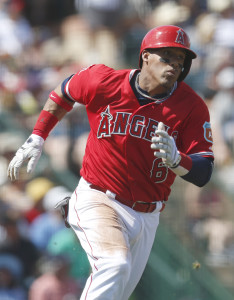 MLBTR predicted Freese would find a three-year, $30MM deal in a very thin third base market this offseason, though interest was scarce and he had to settle for a one-year, $3MM deal with Pittsburgh.  I wonder if the Angels have had any second thoughts about obtaining Escobar and paying him $5.5MM for 2016 when they could've waited a bit longer and potentially brought back Freese at a lesser price.  In fairness to the Halos, Freese's asking price early in the offseason was undoubtedly a multi-year deal in the neighborhood of $10MM per year, so that early-December trade for Escobar seemed at the time like the thriftier option.  The team hardly could've imagined that Freese would still be available in March, though by waiting even into January to address third base, Anaheim could've landed Freese or perhaps another third baseman (Juan Uribe?).  That might've both saved the team some money and allowed it to keep Gott (who also could've been dealt elsewhere to fill another need).
Freese has his share of question marks as well, so the choice between he and Escobar performance-wise could at best be a wash.  (Freese had a slightly elevated .310 BABIP himself last year, it's worth noting.)  The Angels have a $7MM club option on Escobar for 2017 with a $1MM buyout, so if L.A. chooses to part ways with him, it'll work out to a total price tag of $6.5MM, or more than twice what the Pirates are paying Freese.  In an offseason when every dollar counted for the Angels, that extra $3.5MM could've been very helpful in going towards other roster needs.
Overview
With the Angels so close to the luxury tax line and with virtually no minor league trade chips left to move, Eppler will have to be very creative in order to make any notable roster adds at the trade deadline.  (Though if the team is in contention at midseason, Moreno may decide paying the tax is worth it to chase a pennant.)  The team's long list of waiver claims and minor league signings indicate that Eppler is leaving no stone unturned in search for ways to improve his team, so it wouldn't be surprising to see the Angels continue to be very active on the waiver wire all season long.
The Angels were 85-77 last season and a league-best 35-17 in one-run games, which overshadowed the fact that the club actually had a negative (-14) run differential.  Was it just a relatively off-year for a core that won 98 games in 2014, or were the Halos simply fortunate to be in the playoff hunt (or even a winning team) whatsoever?  With this uncertainty about the Angels' true talent level in mind, it's understandable why Moreno may have been unwilling to splurge this offseason after being such an aggressive spender in past years.  It could be that Moreno felt this roster was more than one or two big contracts away from contending, or he simply showed some restraint after past big-ticket acquisitions like Pujols, Vernon Wells or Josh Hamilton ranged from disappointing to disastrous.
It wouldn't be surprising to see Eppler try to move Wilson, Weaver, Smith or even Escobar as the season goes on in order to free up payroll space, even if the Angels are in contention.  (Assuming both starters are healthy, of course; it's also worth noting that Weaver has a full no-trade clause and Wilson can block deals to eight teams.)  L.A. could use that saved money to address other needs at the trade deadline, for instance.  For such moves to happen, however, Anaheim needs some young players to move from question marks to consistent producers.  Shoemaker returning to his 2014 form, Skaggs returning healthy or Tropeano emerging would be hugely helpful to the Angels both for the sake of this season and in the big picture.
Expect the Angels to return to their usual aggressive selves next winter once they get some payroll breathing room and they have a better sense of what they have in several of their young players.  As for 2016, they'll need a few breaks to challenge for a postseason spot in a very competitive American League, though there's certainly enough talent on board to make it happen.
How would you grade the Angels' offseason? (link to poll for mobile app users)
Photos courtesy of USA Today Sports Images.