This is the latest entry in MLBTR's Offseason In Review series. The full index of Offseason In Review posts can be found here.
Two major pitching additions have the Red Sox hoping for a return to contention in David Ortiz's final season.
Major League Signings
David Price, SP: Seven years, $217MM
Chris Young, OF: Two years, $13MM
Sandy Leon, C: One year, $534K ($273K if he remains in the minors)
Total spend: $230.273MM guaranteed
Trades And Claims
Notable Minor League Signings
Extensions
Notable Losses
Needs Addressed
Basically from the moment Jon Lester was traded to Oakland in a 2014 deadline deal, Boston fans and media have been clamoring for the Red Sox to acquire a new ace.  That box can be officially checked now that the Sox have landed one of the game's best pitchers in David Price.  There was little doubt headed into the winter that the Sox would pursue a front-of-the-rotation arm, with the real question being whether the team would trade for an ace or sign one.  The latter option wasn't a given considering how the organization had a well-publicized hesitation to signing pitchers to big contracts through their 30s.
Needless to say, that hesitation is no more since the Red Sox signed Price to the largest contract ever given to a pitcher.  Price's track record of durability undoubtedly factored into Boston's willingness to make a deal, and it's possible the team could avoid paying Price into his late 30s altogether if he exercises the opt-out clause in his deal after the 2018 season.  An opt-out would turn the contract into "only" a three-year/$90MM commitment over Price's age 30-32 seasons.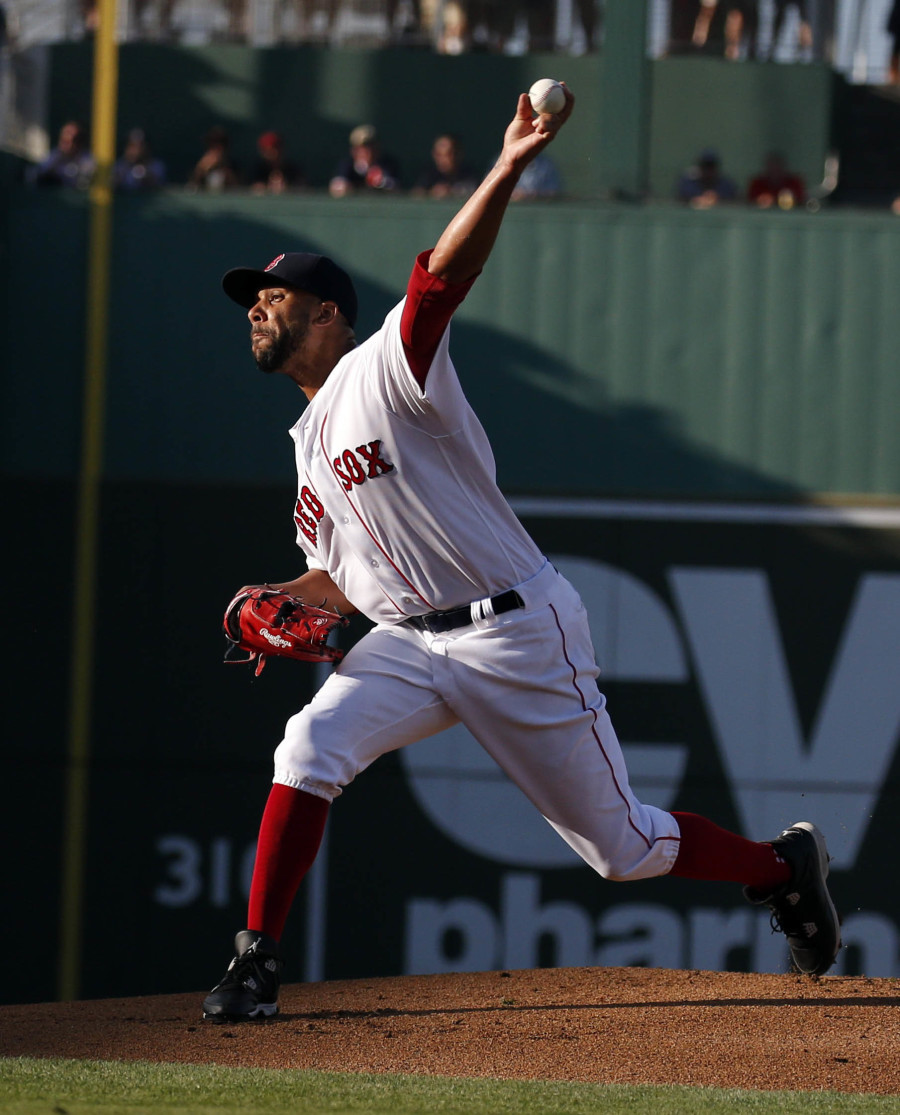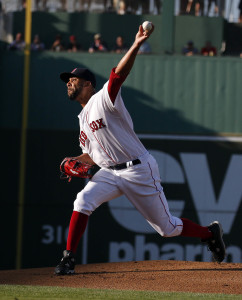 Price will headline a rotation that includes Clay Buchholz (whose $13MM club option for 2016 was unsurprisingly exercised by the team), Rick Porcello, Eduardo Rodriguez and Joe Kelly.  Rodriguez will likely miss the first few weeks of the season recovering from a dislocated kneecap, so new acquisition Roenis Elias or knuckleballer Steven Wright will compete to be Rodriguez's fill-in or even push Kelly for the fifth spot.
The Sox had something of a rotation surplus even before Price signed, so the team was comfortable letting late-season surprise Rich Hill leave in free agency.  After Price joined the club, Boston made room by dealing Wade Miley to Seattle in exchange for Elias and righty reliever Carson Smith.
While the rotation took the brunt of the criticism last year, Boston's bullpen was actually the worse (by far) of the two pitching units and perhaps even more in need of an overhaul.  President of baseball operations Dave Dombrowski and GM Mike Hazen addressed this need in a major way early in the offseason by acquiring Craig Kimbrel from the Padres for a very significant prospect package.
It's a sign of just how dominant Kimbrel has been over his career that 2015 was easily his worst overall season, despite posting a 2.58 ERA, 13.2 K/9 and 3.95 K/BB ratio.  In adding arguably baseball's best closer, the Red Sox now have a more stable answer in the ninth inning than Koji Uehara, who suffered a fractured wrist last season and turns 41 in April.  This being said, Uehara did nothing performance-wise to merit the demotion, so he projects as a very dangerous setup man.
Kimbrel and Smith (if healthy, as we'll address later) stand as huge upgrades to a relief corps that includes Uehara, Junichi Tazawa and lefties Robbie Ross and Tommy Layne, with Elias likely to figure in as additional southpaw depth.  The wild card is Carlos Marmol, signed to a minor league deal so the Sox can see if they can solve Marmol's long-standing control issues and revive his career.
Veteran Chris Young was signed to provide some outfield depth in left and center, and Young also provides a lefty-mashing bat that could make him a natural platoon partner with the left-handed hitting Jackie Bradley.  Boston also landed more veteran depth in the form of David Murphy, who could be a bargain on a minor league contract provided that he doesn't opt out at the end of Spring Training.
Questions Remaining
The biggest issue facing the Red Sox as they head into the 2016 season is that they're still not sure exactly what they have in four projected regulars — Bradley, Rusney Castillo, Pablo Sandoval and Hanley Ramirez.  It's still an open question as to whether Bradley or Castillo can consistently hit Major League pitching, though the Sox have enough invested in both players (Bradley as a prospect and Castillo because he's owed $56.5MM through 2020) that they'll continue to get chances.  Boston has enough confidence in Bradley, in particular, that they held onto him despite quite a bit of trade interest.  Young, Murphy and Brock Holt are on hand as platoon partners or even replacements should Bradley and/or Castillo struggle, though if either player can provide even average production at the plate, their outstanding defense will generate a lot of value.
As for Sandoval and Ramirez, the Sox have to hope that the two high-priced veterans rebound after hugely disappointing debut seasons in Boston.  It's no shock that Ramirez was shopped this offseason, and it's equally unsurprising that the Red Sox were unable to find a trade partner given Ramirez's tough 2015 campaign.  Had Ramirez been dealt, the Sox were rumored to have been interested in signing Chris Davis, who would've provided a more solid answer at first base than Boston's current plan of having Ramirez learn his second new position in as many years.  Moving to first should be an easier transition for Ramirez than moving to left field, though beyond just defense, the Sox have to hope his bat awakens after he posted only a .717 OPS in 430 plate appearances.
Sandoval has been hampered by a sore back this spring and is facing a threat to his playing time in Travis Shaw.  The sophomore Shaw is enjoying a huge Spring Training and his ability to play both third and first will probably make him Boston's top option if Sandoval or Ramirez struggle again (or if Sandoval's back causes him to miss time).  Would the Red Sox actually bench either veteran to start Shaw or Holt?  Despite what Dombrowski has said about contracts not dictating playing time, you'd have to think the Sox would give Sandoval and Ramirez an extended opportunity to get back on track.
The Sox have quite a bit of homegrown position player depth to fall back on, though some cracks in the armor will quickly become apparent if (as in 2015) multiple regulars are injured or struggling.  It puts even more pressure on the members of the Red Sox lineup who did play well last year (i.e. Ortiz, Mookie Betts, Xander Bogaerts, Dustin Pedroia) to keep producing and carrying the club.
While the Red Sox had minor league depth to spare, they still gave up quite a bit to land Kimbrel from San Diego.  In addition to absorbing the $25MM remaining on Kimbrel's contract, the Sox also parted ways with two consensus top-60 prospects (Manuel Margot and Javier Guerra) and two more well-regarded youngsters (Carlos Asuaje and Logan Allen).  That's a hefty price tag for any reliever, even an elite closer.  This is just my speculation, but I wonder if the Sox would've been better served by adding Margot or Guerra to a Hanley Ramirez trade package to try and entice a suitor to take Ramirez off Boston's hands.
Price on the mound every fifth day is a big help, though given how many question marks remain on the pitching staff, adding another proven hurler would've done a lot of solidify the rotation.  The Red Sox now have to hope that Porcello and Kelly pitch as they did late in the season as opposed to their rough early outings, Rodriguez continues to develop into a quality starter once he returns from the DL, and Buchholz can stay healthy.
Catcher is also an interesting position for the 2016 Red Sox, as former top prospect Blake Swihart will start after a solid rookie season.  Swihart got the call perhaps a bit earlier than expected last season when Christian Vazquez (himself a highly-touted prospect) underwent Tommy John surgery.  If Vazquez is able to return in good health and good form, the Sox could use him or veteran Ryan Hanigan as a trade chip at the July trade deadline.  Vazquez could also simply be kept at Triple-A to get him fully re-acclimated to regular playing time, and Boston could revisit the catching question next winter when the team holds a $3.75MM option on Hanigan for 2017.
Deal Of Note
Smith will begin his Red Sox career on the disabled list due to a strained flexor mass in his right forearm, and while there isn't yet a timetable for his return, the Sox don't believe Smith's injury is a long-term problem.  Since any forearm injury raises the specter of Tommy John surgery, Smith and the Red Sox can perhaps already feel fortunate about what seems to be a lesser injury.
Losing Smith for an extended period of time, of course, would greatly impact Boston's bullpen and its net return on one of the winter's more intriguing under-the-radar trades.  In his rookie year, Smith quietly delivered one of the best seasons of any reliever in 2015.  The 26-year-old posted a 2.31 ERA that was more than backed up by ERA predictors (2.12 FIP, 2.36 xFIP, 2.04 SIERA), as well as a 64.8% ground ball rate, 11.8 K/9 and 4.18 K/BB rate over 70 innings of work.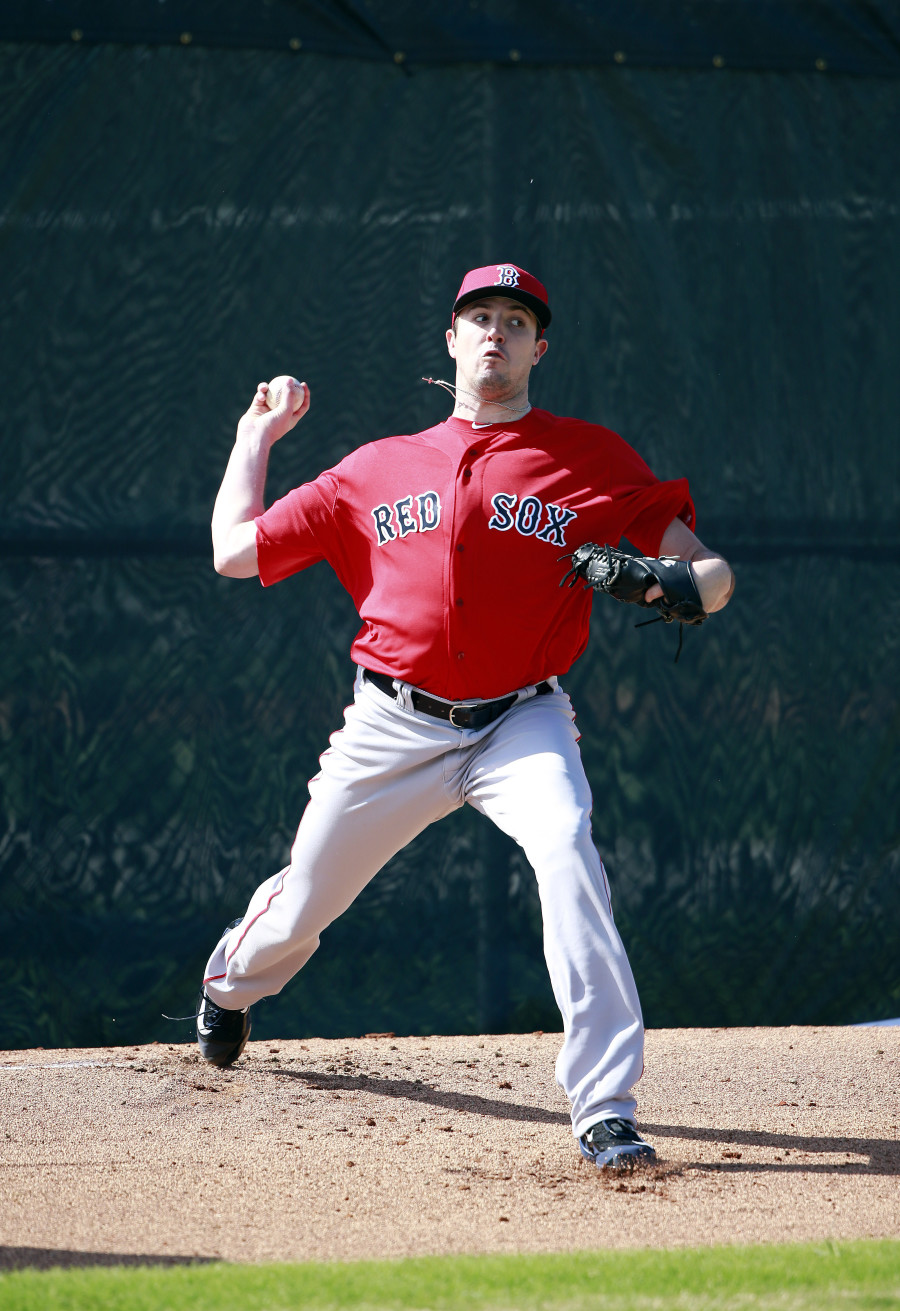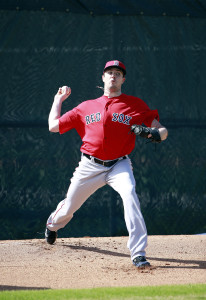 For comparison's sake, Smith topped Kimbrel in ERA, FIP, xFIP, SIERA, ground ball rate, homer rate, walk rate, innings and games pitched last season, while Uehara only came ahead of Smith in ERA, homer rate and walk rate.  Looking at other notable relievers who switched teams this winter, Smith also bested Ken Giles in most of those statistical categories.  While Smith is a year older than Giles and has one fewer season of MLB domination, the Sox gave Seattle much less for Smith than the prospect haul the Astros needed to acquire Giles from the Phillies.
An eighth-round pick for the Mariners in 2011, Smith has pitched exclusively out of the bullpen, racking up big strikeout totals in the minors and showing a career-long propensity for keeping the ball in the ballpark.  Smith has allowed just eight homers in 253 1/3 professional innings (including two last season), a talent that will come in handy at Fenway Park.
While Miley's ability to eat innings is no small feat, he was an expendable piece in Boston and his 2016 role could perhaps more or less be filled by Elias, a lefty swingman who dominates left-handed hitters.  Jonathan Aro is a promising young relief arm, though Smith has already delivered in a big way on the Major League stage.
It may well be that Smith regresses a bit after the league gets more looks at him, though if he's healthy and even close to his 2015 form, the Kimbrel/Uehara/Smith combination could be as dominant a late-inning trio as any in baseball.  Kimbrel is under contract through 2017 with a club option for 2018, so it's possible the Red Sox could even see Smith as an eventual long-term replacement at closer.  Smith (and Elias) are controlled through the 2020 season and aren't even eligible for arbitration until 2018.
Overview
The Price and Kimbrel acquisitions were two of the offseason's biggest moves, though in terms of sheer volume of transactions, it was a relatively quiet winter by Red Sox (or Dombrowski) standards.  The Sox offseason had the feeling of a team adding some finishing touches to a contender rather than looking to overhaul a last-place unit.  The Sox clearly seem to think they're closer in form to the everything's-clicking team that went 34-26 down the stretch in 2015 rather than the struggling unit that began the year with a 44-58 record.  If another piece is needed during the season and the Sox are in contention, Dombrowski is no stranger to making a big deadline trade for additional upgrades.
There's certainly enough talent on Boston's roster to make a quick turnaround very feasible…though the same thing could've been said last offseason when the Sox were coming off another last place finish.  An ace in the rotation and an ace in the bullpen can only do so much if multiple key members of the roster continue to underachieve.
How would you grade the Red Sox offseason?  (Mobile app users, click here to access the poll)
Photos courtesy of USA Today Sports Images