We'll be reviewing the offseason moves of all thirty teams over the next several weeks. First up: the Cincinnati Reds.
After winning just 64 games in 2015, the Reds spent the winter continuing their rebuild, with what appear to be tepid results.
Major League Signings
Notable Minor League Signings
Trades And Claims
Extensions
Notable Losses
Needs Addressed
After an ugly 2015 campaign, the Reds faced the likelihood of another bleak year in the tough NL Central, so with a negligible chance of contending, they opted to continue trading veterans. They had already dealt Mat Latos and Alfredo Simon prior to the 2015 season and Johnny Cueto, Mike Leake and Marlon Byrd after they fell out of contention, so their efforts this winter hardly were new territory.
In filling out their 2016 team, then, the Reds mostly focused on acquiring ready or nearly-ready youngsters, as well as a handful of cheaper veterans. Of the players acquired in their two significant trades this winter, Jose Peraza, Scott Schebler and Caleb Cotham appear likely to contribute in 2016, with others potentially entering the picture near the end of the season.
The Reds also grabbed a variety of low-cost arms to fill out a bullpen that will be without star closer Aroldis Chapman and 2015 contributors Burke Badenhop and Manny Parra — they re-signed low-wattage arms Ryan Mattheus and Pedro Villarreal, and added Blake Wood on their only big-league deal of the offseason. Wood pitched the 2015 season in the Pirates' Triple-A bullpen and hasn't appeared in the Majors since April 2014, but he might be more interesting than his modest pedigree suggests. He's a very hard thrower who took a step forward with his control last year, with a 3.8 BB/9 that was better than his career marks in that category in the Majors or Triple-A. In any case, with Chapman gone, the Reds will go forward with a weakened bullpen built around J.J. Hoover, Jumbo Diaz and Tony Cingrani.
Questions Remaining
There's plenty for the Reds to sort out in their rotation. Homer Bailey (elbow) and John Lamb (back) won't be ready to start the season, but manager Bryan Price still recently named nine potential rotation candidates — Anthony DeSclafani, Raisel Iglesias, Jon Moscot, Michael Lorenzen, Cody Reed, Robert Stephenson, Brandon Finnegan, Tim Melville and Jonathan Sanchez. DeSclafani and Iglesias appear very likely to win spots, but that still leaves three more. Of the remaining contenders, top prospect Stephenson is the most interesting, although he walked 27 batters in his first 55 2/3 innings at Triple-A last season, so there's little reason for the Reds to rush him to the big leagues. The same goes for Reed, who pitched well at Double-A Pensacola after arriving in the Cueto trade last summer but hasn't even appeared at Triple-A yet. Finnegan, a key to the Cueto trade, is perhaps a more realistic bet to win a spot (although he could also wind up in the bullpen).
Aside from Finnegan and Iglesias, who's a strikeout pitcher who quietly had a strong rookie season in 2015 and could take a step forward this year, the Reds' likely April rotation doesn't look like anything special. (Perhaps one could include DeSclafani with Finnegan and Iglesias, since DeSclafani notched a remarkable 65 strikeouts and nine walks from the beginning of last August through the end of the season.) In fact, one could argue that the Reds should have added a starting pitcher on a one-year deal to fill a rotation spot for a few months and hopefully land a prospect at the deadline. But the Reds' starting pitching could get downright interesting by the summer, with the returns of Bailey and Lamb and the potential promotions of Stephenson and/or Reed.
It is, unfortunately, harder to see similar upside among the Reds' young position players (although it's possible top prospect Jesse Winker could join the team's outfield late in the season). The Reds' offense will again be anchored by Joey Votto, one of the best in the game at controlling the strike zone. Votto, though, appears likely to take a step back after a monster 7.4 fWAR season in 2015, and the Reds are also subtracting Todd Frazier from a collection of position players that finished 20th in the Majors in fWAR last season.
Some of Frazier's loss could be balanced by the return of catcher Devin Mesoraco, who missed most of last season. Brayan Pena and Tucker Barnhart were capable, but little more, in Mesoraco's absence, and Mesoraco's bat could be a big help. His ability to return to health and productivity behind the plate could be a key factor in the team's contention timeline.
The problem is that the position players now slated to join the Reds' once-mighty lineup — Schebler, Adam Duvall, Peraza — appear to have limited upside. Schebler had two very good years in the minors in 2013 and 2014 but had a pedestrian 2015 at Triple-A; he looks like he'll have enough power to stick in the big leagues, but he might be a little stretched as a regular. Duvall could have 30-homer power, but with plenty of strikeouts and a low batting average, and he's already 27. And Peraza possesses obvious tools but is very hard to get a read on — he has plenty of baserunning and defensive ability, but his complete lack of power figures to hold him back offensively.
These are, perhaps, glass-half-empty evaluations of these players, but it wasn't long ago that the Reds had a fair number of valuable veterans, and so far, it appears they haven't gotten much for them (with the possible exception of their return in the Cueto trade). They'll now spend the next couple years giving tryouts to various players acquired in those underwhelming deals.
Some of that state of affairs isn't really the club's fault. Chapman's domestic violence allegations reduced his trade value to pennies on the dollar, and the Reds also had offseason trades scuttled when Brandon Phillips refused to waive his no-trade rights and when medical issues derailed a deal that would have sent Jay Bruce to Toronto.
The real victim of Chapman's alleged actions, of course, was his girlfriend. But looking at the matter from a team perspective, the situation had to have been frustrating for the Reds. They had previously had a deal in place that would have sent Chapman to the Dodgers for two top prospects. Reports indicated that neither of those were among the Dodgers' best, but Peraza's name repeatedly came up. Peraza, despite his flaws, is clearly a more interesting prospect than any of the four the Reds ultimately acquired for Chapman, and getting Peraza in the Chapman deal would have allowed the Reds to try to acquire other talent in return for Frazier. Instead, the Reds got Caleb Cotham, Rookie Davis, Eric Jagielo and Tony Renda in return for Chapman, getting only a ready-now reliever (Cotham), a mid-grade starting pitching prospect (Davis) and two somewhat fringy position players in return for perhaps the game's most dominant closer. There are scenarios in which the deal turns out well for the Reds — maybe Davis will improve his command and blossom into a good starter, or maybe Jagielo's above-average power will translate better than expected against advanced pitching. Overall, though, it looks like the Reds came up far short of what might have been expected heading to the offseason.
Deal Of Note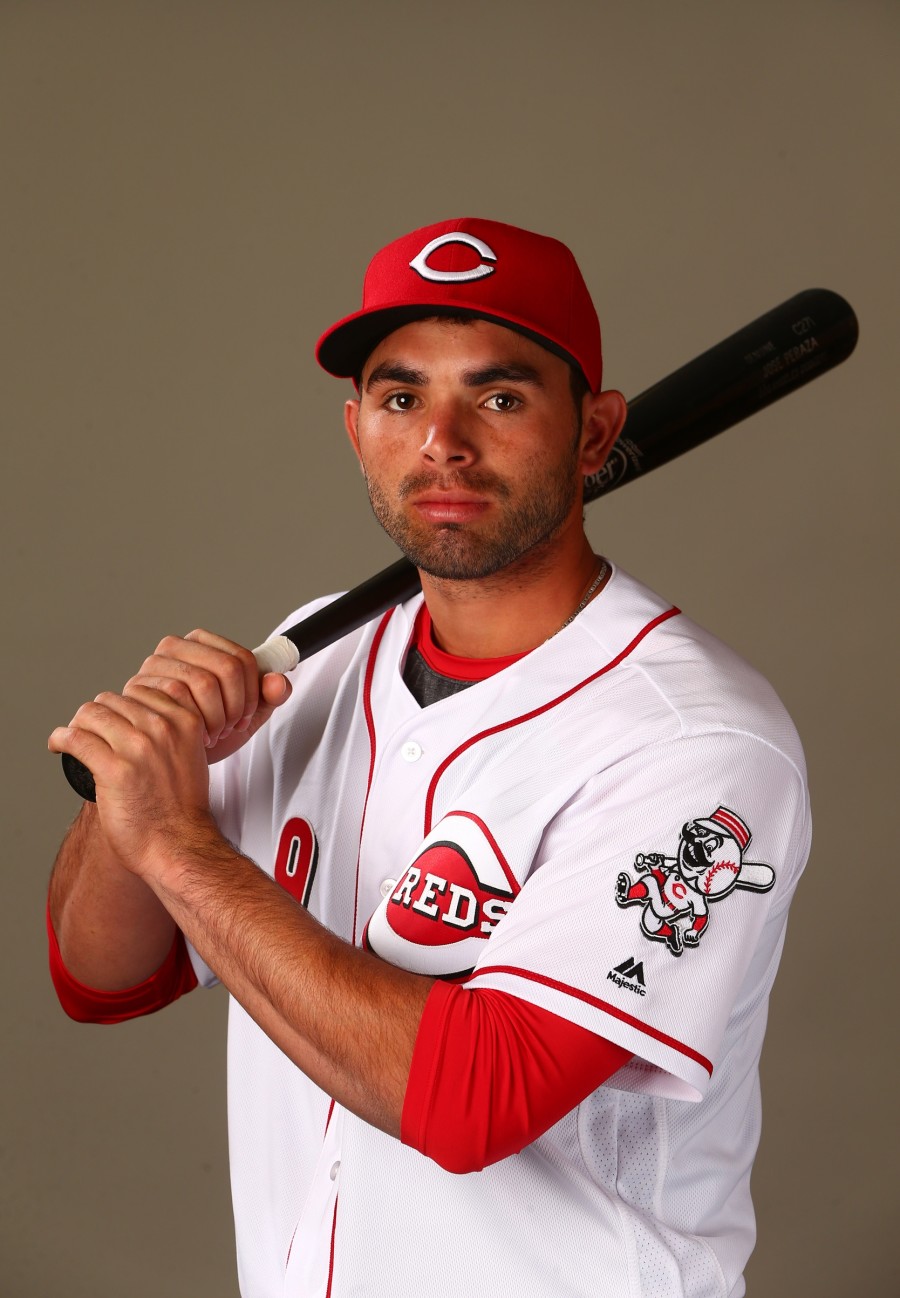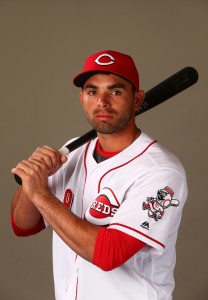 Perhaps the Reds' most disappointing deal, though, was the three-team trade that sent Frazier to the White Sox. This time, there were no obstacles standing in the way of the Reds trading their star, and unlike Chapman (who will, even with his recent suspension, still be eligible for free agency after 2016), Frazier still has two years of control remaining. Given his plus power, strong defense and reasonable contract situation, there was no reason for the Reds not to get good value for Frazier. It appears, however, that they didn't. Peraza (pictured) is certainly a strong prospect and could ultimately become a fixture at second base once Phillips departs, but he's limited by his extreme lack of power and inability to draw walks. There is precedent for a player like Peraza having lots of success — perhaps he could become the next Dee Gordon. But that outcome, or anything close to it, may be optimistic.
It's the other two players in the deal, though, who are the head-scratchers. Schebler's future likely is in left field, but the evidence of whether he can hit enough to stick at that position is mixed. And Brandon Dixon's inclusion in the trade was strange, since he's been unimpressive at every minor-league stop other than a brief outburst at Class A+ Rancho Cucamonga early last season, and he turned 24 shortly after the deal. Strangely, the Dodgers, who essentially sent three of their own young players to Cincinnati in exchange for three more youngsters from the White Sox, appear to have done significantly better than the Reds did, getting a hard-throwing and advanced starting pitching prospect in Frankie Montas (although Montas is now set to miss the beginning of the season after having rib surgery), plus young second baseman Micah Johnson (who has better power and plate discipline than Peraza, though he doesn't profile as well defensively) and outfielder Trayce Thompson (who has struggled to make headway in the high minors but had a good big-league debut last year and looks like a much better talent than Dixon). Time will tell whether the Reds got the right players, but the consensus seems to have been that their return was underwhelming, and that they might have done better by cutting out the Dodgers and dealing with the White Sox directly.
Overview
The Reds didn't figure to contend in 2016, and they'll spend it as rebuilding teams traditionally do — sorting through young talent, enjoying the rights to a plum draft pick (No. 2 overall), and setting their sights on the future. Given that they were built around an aging and increasingly expensive core, it's hard to argue with that plan. What is debatable is whether they're implementing it well, and as enthusiastically as they should. The returns from their trades so far are likely to produce some solid contributors, but perhaps not as much value as Reds fans might have hoped, given Chapman and Frazier's obvious value on the field. The Reds have, to some degree, been victims of circumstance, and it's not easy to get teams to give up top prospects these days. Still, they probably haven't gotten enough.
Meanwhile, there will still be several key veterans left on the 2016 team. The Reds could hardly have been expected to trade Bailey while he was injured, and Phillips and Bruce, even if their deals had gone through, probably would not have returned significant talent anyway. But there's been virtually no discussion of a trade involving Votto. In fact, prior to a brief update on Votto in late February, there hadn't been an update at MLBTR in over four years regarding the possibility of a Votto trade.
If the Reds are rebuilding, perhaps a deal involving Votto shouldn't be taken off of the table. Votto is now inarguably the face of their franchise, and he's under team control through 2024, so they might be planning on him still contributing when they're ready to compete again. Given that Votto is already 32, though, that seems like an overly ambitious plan. After Votto's monster 2015, he ought to have considerable trade value, despite his huge contract. There's also the possibility that the back end of that deal (which guarantees Votto $25MM per season through 2023, when he will be 39) could hamper the Reds' ability to compete in the future.
Of course, it's easy for an outsider to say that a rebuilding team should trade its superstar. The value Votto could bring to the 2016 Reds in terms of their marketability and watchability is much harder to quantify than his on-field value. But the Reds' situation with regard to Votto is typical of the plight many rebuilding teams face. The quickest path forward seems to be to turn their backs on the past, but refusing to turn around can be painful.
What do MLBTR readers think of the club's offseason? Weigh in on the poll below (link to poll for mobile app users)…