This is the latest entry in MLBTR's Offseason In Review series. The full index of Offseason In Review posts can be found here.
The Dodgers spread their cash rather than making a single splash, opting for roster and lineup flexibility over premium assets (at a premium cost).
Major League Signings
SP Scott Kazmir: Three years, $48MM (opt-out after first year)
SP/RP Yaisel Sierra: Six years, $30MM
SP Kenta Maeda: Eight years, $25MM + $20MM posting fee
2B Howie Kendrick: Two years, $20MM
SP Brett Anderson: One year, $15.8MM (accepted qualifying offer)
OF Yusniel Diaz: $15.5MM bonus (minor league deal)
2B Chase Utley: One year, $7MM
INF Omar Estevez: $6MM bonus (minor league deal)
RP Joe Blanton: One year, $4MM
SP Brandon Beachy: One year, $1.5MM
RP Louis Coleman: One year, $750K
Total spend: $193.55MM
Notable Minor League Signings
Corey Brown, Daniel Corcino, Charlie Culberson, Alex Hassan, Elian Herrera, Brandon Hicks, Chin Hui-Tsao, Jordan Schafer, Donavan Tate, Matt West, Jamey Wright (since retired)
Trades And Claims
Options Exercised
Extensions
Notable Losses
Needs Addressed
Even while failing to make any single commitment of $50MM, the Dodgers ran up a $193.55MM tab in open-market expenditures (including some bonuses to Cuban amateurs). That bought the club 36 years of control spread over 11 players.
Ironically enough, the division-rival D-Backs got six years of former Dodgers' sub-ace Zack Greinke for a guarantee that the union values at $193.85MM (after accounting for deferrals). Los Angeles pursued a reunion with Greinke after he made the easy decision to opt out of the final three years of his contract. Indeed, the club seemed all but certain to add him before Arizona swooped in with a dramatic offer that the Dodgers probably could have — but didn't — meet or exceed. While many have criticized the organization's decision not to chase the bidding, and there's certainly some risk in forgoing the chance to retain Greinke, it's not hard to see why the Dodgers felt uncomfortable making that level of investment in a pitcher who'll turn 33 in October and whose otherworldly 2015 results (a league-leading 1.66 ERA and 0.844 WHIP) were backed by merely excellent peripherals.
The departure of the excellent-but-aging righty set the tone for the rest of the winter, as it left the organization with yet more rotation needs and plenty of financial flexibility. Brett Anderson had already surprised, somewhat, by taking the club's qualifying offer. But he was one of several staff members who come with long-term injury questions, and he ultimately joined Hyun-jin Ryu and Brandon McCarthy in the rehab line. Anderson is questionable to return this year after back surgery, Ryu has recovered slower than hoped from his shoulder issues, while McCarthy won't be expected back from TJ surgery before the middle of the year.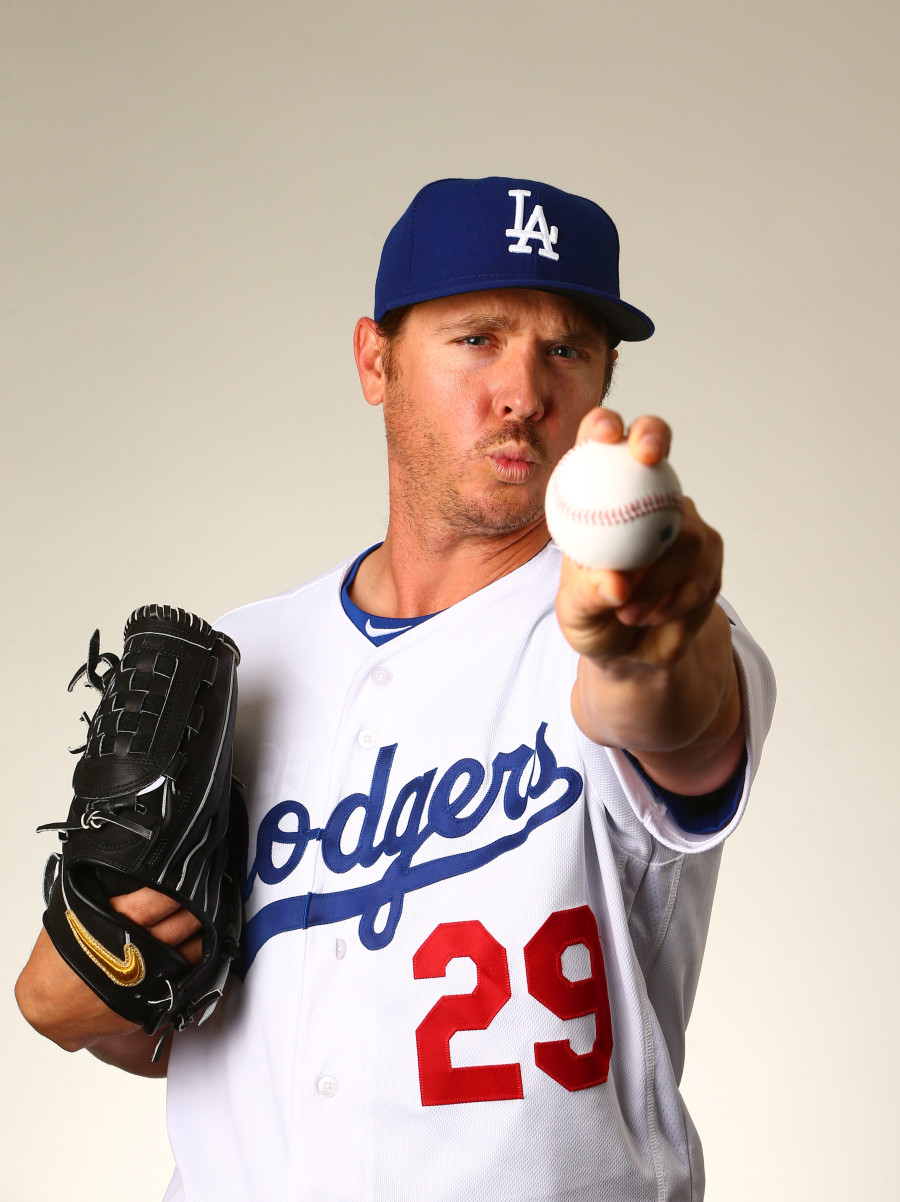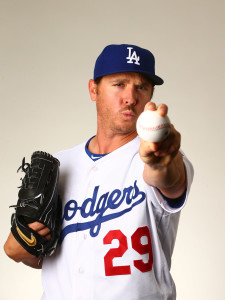 The Dodgers went on to pursue a veteran, mid-rotation arm in free agency. It seemed that Hisashi Iwakuma would fill that role after agreeing to terms, but his three-year deal was blown up after his physical. Los Angeles landed Scott Kazmir in his stead, promising three years and $48MM — just $3MM more than would've gone to Iwakuma — in a deal that also includes an opt-out after the first season. One-third of the cash is owed in the event that Kazmir departs. Interestingly, MLBTR contributor Matt Swartz values the opt-out at only $5MM, suggesting that's the approximate amount that the team saved by giving him the opportunity to re-enter the market.
Of course, Kazmir, too, is a pitcher who has a rather checkered medical history, so the Dodgers weren't done there. They gave a $20MM posting fee to land Japanese stalwart Kenta Maeda, ultimately agreeing to a unique deal after his physical, too, showed some signs of worry. He'll only be promised $25MM over an eight-year term, but incentives tied to starts and innings could boost its value to over $90MM. Soon to turn 28, Maeda isn't seen as possessing the same top-of-the-rotation stuff of prior cross-Pacific aces Yu Darvish and Masahiro Tanaka, but he could prove a nice value as a mid-rotation piece.
The Dodgers added yet another long-term, high-upside rotation piece in Frankie Montas, as the club parted with Jose Peraza on its end of the three-team swap that sent Todd Frazier from the Reds to the White Sox. That deal also landed Los Angeles a pair of future options in infielder Micah Johnson and Trayce Thompson, both of whom could impact the roster as soon as this year. Peraza remains an interesting talent, but the same could be said of all three players coming to the Dodgers, who received solid reviews for their side of that move. In addition to making that rare exchange of youngsters, the Dodgers continued to plunk down big money on the international amateur market, dedicating $51.5MM to a trio of Cuban ballplayers.
While president of baseball operations Andrew Friedman and GM Farhan Zaidi focused primarily on the rotation, they also saw work to do in the infield mix. Corey Seager is one of the game's most exciting players, and figures to hold down shortstop for years to come, while Justin Turner has turned into a highly-productive third baseman and Enrique Hernandez provided a super-utility option. But with Peraza on his way out, the Dodgers brought back August addition Chase Utley on a one-year deal. And with Howie Kendrick languishing on the market after declining his qualifying offer, he was also re-signed. Those two veterans provide a substantial upgrade to the overall infield mix, and free Hernandez to spend more time in the outfield.
The pen lost several oft-used members from the 2015 squad, and looked like it could use some supplementation, even after J.P. Howell exercised his player option at a fairly appealing rate for the club. The Dodgers initially aimed quite high, lining up a deal for Aroldis Chapman that was ultimately scrapped after his domestic violence allegations arose. Instead, the club went after Joe Blanton, who improbably turned himself from an innings-eating rotation piece to a relief ace last year. Brandon Beachy could also provide depth in the pen or the rotation, and Louis Coleman provides another depth piece.
Managing all the moving pieces will be new skipper Dave Roberts, who somewhat surprisingly emerged to run the dugout after the Dodgers mutually agreed to part ways with Don Mattingly.
Read more analysis after the break …
Questions Remaining
The rotation is still anchored by Clayton Kershaw, who is pretty clearly the best pitcher in baseball. And there's plenty of upside down the line if the Dodgers get some good health breaks; Ryu, McCarthy could provide a significant boost if they can get back to form. But there's uncertainty even in those arms that are currently in working order. Last summer's addition of Alex Wood looks all the more important in retrospect, as he'll hold down a slot — though he, too, is a pitcher who has often been cited as having questionable mechanics. (Even apart from that, he comes with a 72% above average Tommy John risk in 2016, according to the statistical research of MLBTR contributor Bradley Woodrum.)
After the names already mentioned, there are plenty of names but few with MLB track records. Ross Stripling was the surprise victor of a fifth-starter race that the Dodgers never hoped to host. Carlos Frias and Zach Lee were said to be the other finalists. There are other depth options in the form of Mike Bolsinger (when he's back from an oblique strain) and the re-signed Beachy (if he can stay healthy and return to effectiveness). And the club also has a variety of quality prospects rising up in the system — including young ace-in-the-making Julio Urias, the highly-regarded Jose De Leon, Jharel Cotton, Chris Anderson, and Montas (when he's back from his own injury). Needless to say, this is going to be a fascinating unit to watch as the season progresses, especially with the club staggering its innings-limited youngsters with a possible eye on maximizing their potential major league value without harming their development.
The bullpen was a source of some consternation last year, especially in the postseason, but was probably better than its run prevention numbers suggested. As with the rotation, you couldn't ask for a better primary piece; in this case, it's Kenley Jansen, who is in the conversation as the best reliever in baseball. He's entering his walk year with a potentially huge contract at stake, and is as sure a thing as you can have in his role. Blanton and Coleman are the two new names, with the latter beating out struggling southpaw Luis Avilan for the final Opening Day slot. If Avilan doesn't make it, then Howell will be the sole lefty in the pen, and he's been a reliable source of outs against opposing lefties. Otherwise, Chris Hatcher, Pedro Baez, and Yimi Garcia look to be the primary right-handed setup options. That group doesn't come with much name recognition, but all three power arms turned in rather strong campaigns in 2015; each averaged better than ten strikeouts per nine with 3.0 or fewer free passes per regulation game. Big-money Cuban free agent Yaisel Sierra could conceivably enter the picture at some point, as could several of the rotation options listed above, and southpaws Adam Liberatore and Ian Thomas remain available at Triple-A.
Unfortunately for the Dodgers, the health issues don't end with the pitching. The outfield depth was dealt a blow with the news that Andre Ethier will be sidelined for most or all of the first half with a fractured tibia. While he probably isn't worth his contract and has often been mentioned as a trade candidate, Ethier was set to receive semi-regular time after a strong performance at the plate in 2015. (It's worth noting that he's almost certain to reach ten-and-five rights while still on the DL.)
There's both upside and downside to be found across the rest of the unit. Yasiel Puig has played at a superstar level in the past, but came back down to earth last year while questions arose as to his conditioning and commitment. Joc Pederson looked like an emerging star in the first half of 2015 before struggling down the stretch; to reach his ceiling, he'll need to make strides against left-handed pitching, reduce his strikeout tallies, and improve his batted-ball results. (Pederson ended the year with a below-average 15.8% line-drive rate and above-average 20.4% soft contact rate, though he also made plenty of hard contact and had a strong 19.7% HR/FB rate.)
Los Angeles will also need contributions from a variety of role players in the outfield. Hernandez could spell Pederson in center against lefties, but it'll be a tall order for him to replace his productivity from a year ago. Left-handed-hitting veteran Carl Crawford will combine with righties Scott Van Slyke and Trayce Thompson to account for much of the remaining time. All have their function, and could combine to be plenty useful, but might need to produce without receiving consistent at bats. The club will eventually face a decision on Alex Guerrero, who'll open on the DL but could end up being traded or released.
The injury questions in the infield appear to be more of the short-term variety, but they'll play a role there, too. Seager, the all-world prospect who exploded on the major league scene late in 2015, has dealt with a balky knee this spring and still has to prove he's capable of high-end production over a full season in his age-22 campaign. Though Turner how now displayed a consistently excellent bat for the past two years, he's coming off of microfracture surgery to his left knee and may need to be spelled at times. Kendrick not only missed time late last year but now may need a DL stint with lingering calf problems. And the aging Utley was out for a long stretch in 2015 while battling an ankle injury. Hernandez, Johnson, minor league free agent Charlie Culberson, and perhaps even the enigmatic Erisbel Arruebarrena all represent part-time/fill-in possibilities.
At first base, Adrian Gonzalez produced at an .830 OPS clip last year, but was less effective against southpaws and fell off in the second half. He could yield some time to Van Slyke to stay fresh. The Dodgers go three deep behind the plate, with Austin Barnes joining Yasmani Grandal and A.J. Ellis. Grandal earned an All-Star nod but cooled considerably in August and September, and he's taking some time off early as a result of forearm issues. Ellis may take a step back at the plate after a strong 2015, but is as good a backup as you could hope for. As for Barnes, who's also capable of playing elsewhere in the infield, he still needs to prove he can hit at the major league level.
Deal of Note
The Dodgers, more than any other team, have exemplified the rise of creative player transactions in the game of baseball. Exercising the organization's financial muscle isn't just a matter of inking big-ticket free agents; far from it, in fact.
There are numerous examples that one could tick through, both before and since Andrew Friedman took over the front office. Indeed, the entire 2015-16 offseason spending strategy is worthy of a study in how nearly $200MM can be spread in so many different directions.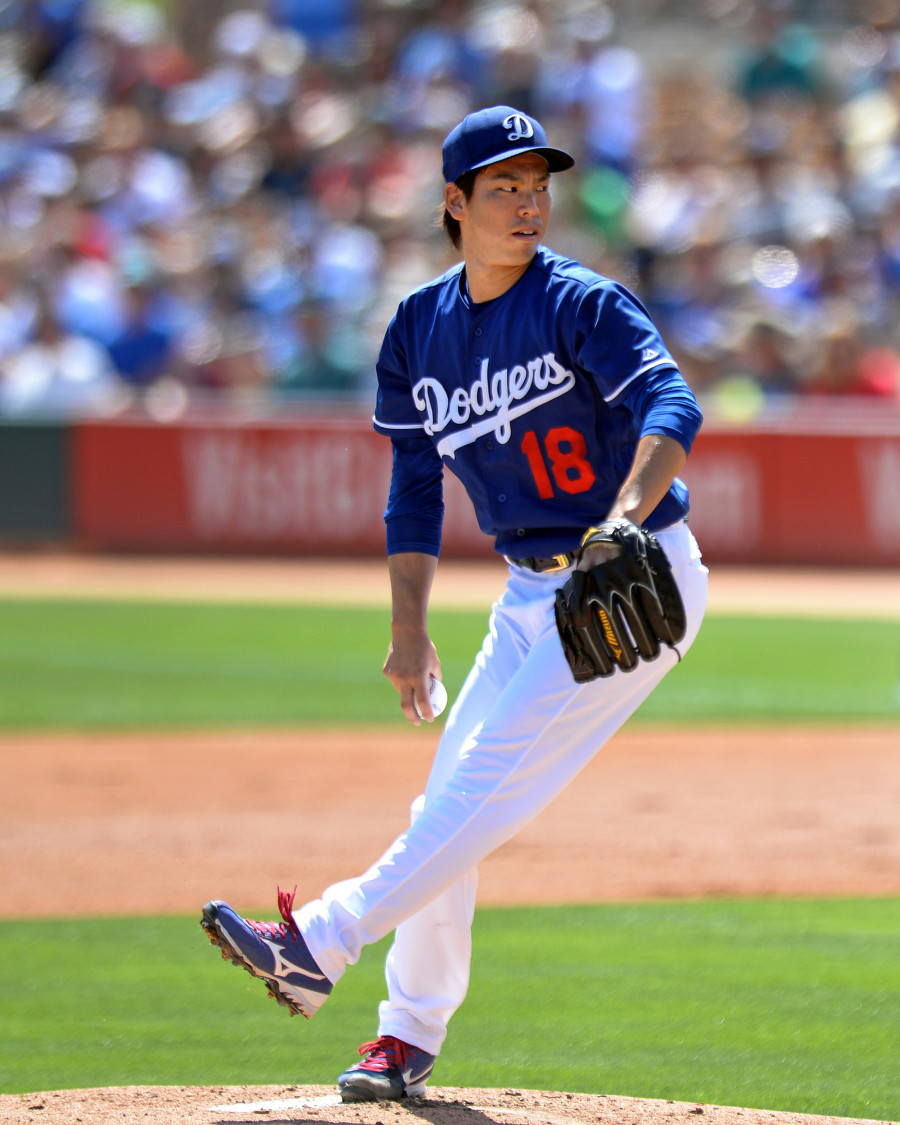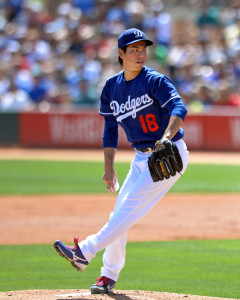 But the signing of Maeda, in particular, represents a whole new style of contract in baseball. With the changes to the posting rules that govern the transfer of players from Japan to the majors, Maeda was effectively a free agent who came with a $20MM tax that functions like the draft pick compensation attached to those who decline qualifying offers. Of course, rather than giving up the right to spend lots of money on a draft pick, a team signing a quality transferee is required to part with a big lump sum payment that can be difficult for many teams to cough up.
While many clubs would have been dissuaded from such an up-front payment for a player deemed to carry injury risk, the Dodgers have shown no such qualms. And rather than simply reducing the guarantee and/or years heading to Maeda to account for whatever it was that his medicals showed, Los Angeles instead presented a contract scenario that is more typical in other sports.
Maeda will be owed only $3MM annually over an eight-year term; if you spread the transfer fee over that span, for purposes of analysis, there's a $5.5MM guaranteed outlay from the Dodgers for each year of pitching that they acquired. That's the kind of annual value that many teams commit to back-of-the-rotation starters or good relievers on today's market, and by the end of the deal it could look like a pittance. Of course, Maeda can also tack on just over $8MM per season based on the number of starts he makes and innings he throws. That kind of financial uncertainty might wreak havoc on some payrolls, but is the kind of fluctuation that the Dodgers are apparently willing and able to absorb — if, of course, Maeda can prove his worth.
What's so unusual is to see that level of salary committed over such a lengthy timeframe, and for it come with such expansive performance bonuses. Deals with equivalently incentive-heavy arrangements are typically reserved for one-year veterans coming off of sub-par or injury-riddled campaigns. This makes for an intriguing bargain on both sides. Whether or not we see other uncertain but potentially high-level performers agree to this sort of pact remains to be seen, but the deal will be a fascinating one to track as it unfolds.
Overview
The L.A. front office continues to eschew typical big-budget spending patterns, loading up on depth while prioritizing flexibility and young talent over major investments in proven commodities. Pitching injury risk was unquestionably accounted for, but the team's roster construction theories will be put to the test early and often in 2016. Whether or not this somewhat experimental approach will work promises to be one of the game's most-watched storylines.
How would you grade the Dodgers' offseason? (Link for mobile app users.)
Photos courtesy of USA Today Sports Images.