During the month of May, we saw a pair of key players decide to forgo free agency.  Nationals starter Stephen Strasburg, by far the best projected free agent from the 2016-17 class, signed a seven-year, $175MM extension that includes heavy deferrals and two opt-out clauses.  I believe Strasburg left at least $50MM on the table in making the surprising decision to sign.  With Strasburg off the market, we're unlikely to see any $100MM pitchers this winter after four hurlers reached that mark last offseason.
Francisco Cervelli, projected to be the best catcher on the 2016-17 free agent market, signed a three-year, $31MM extension with the Pirates.  Cervelli may have left $20MM or more on the table in signing his new deal.
So, we've lost the #1 and #10 free agents on last month's power rankings.  Below, I've ranked the remaining projected free agents by earning power.  You can view the full list of 2016-17 MLB free agents here.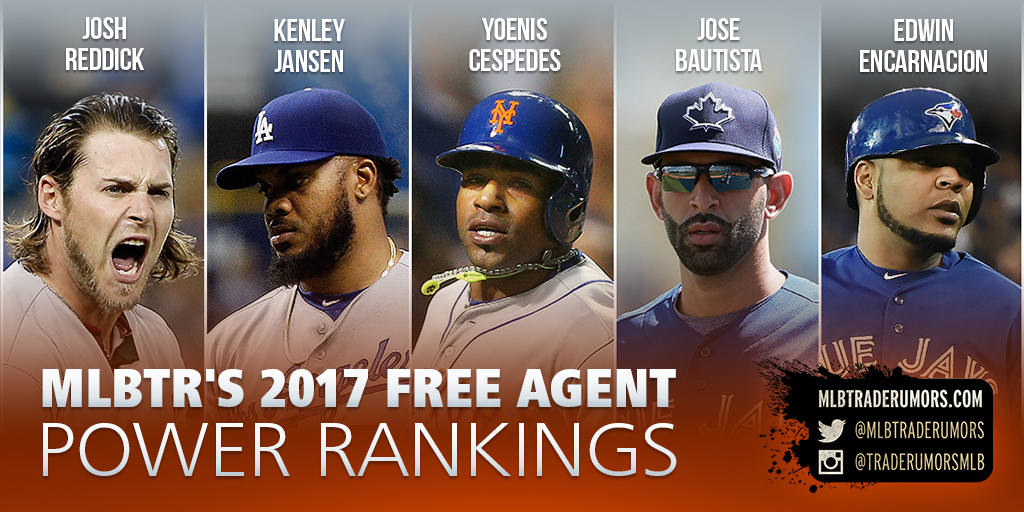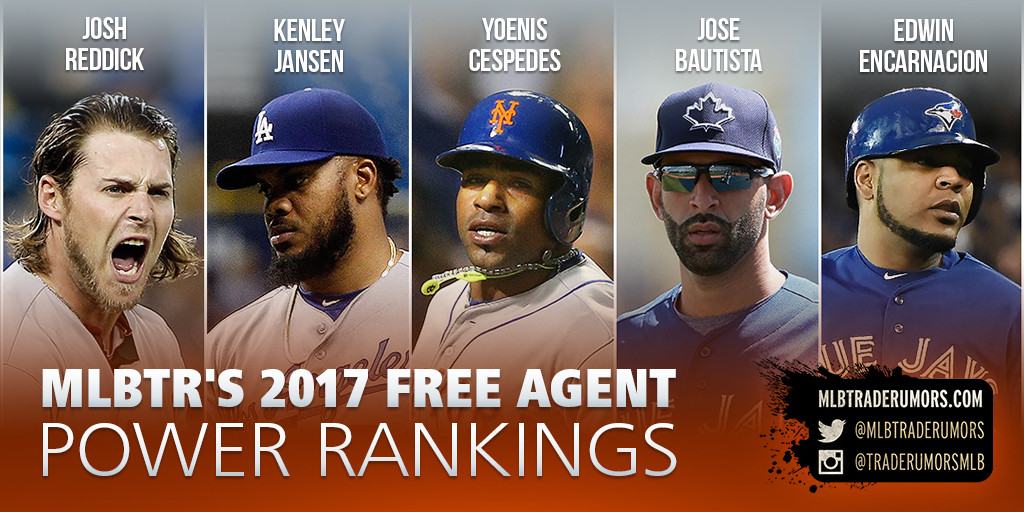 1.  Yoenis Cespedes.  With 15 home runs in his first 193 plate appearances, Cespedes has a good chance to reach 40 for the first time.  He's increasingly likely to opt out of the remaining two years and $47.5MM on his contract with the Mets.  The 30-year-old slugger could be the only free agent to reach $100MM this offseason, underlining the lack of relatively young high-end players on the market.
2.  Jose Bautista.  The most noteworthy part of Bautista's May was his run-in with Rougned Odor's fist.  Bautista served a one-game suspension for his role in the ensuing brawl.  At the moment, I'm projecting a four-year deal in the $100MM range for Bautista, who turns 36 in October.
3.  Josh Reddick.  Reddick fractured his left thumb during a headfirst slide on May 19th.  While the injury will not require surgery, he's expected to be out until late June.  Reddick was swinging a hot bat leading up to the injury.  Assuming he continues to produce upon his return, I don't see the injury affecting his earning power.  I can see a five-year deal approaching $100MM.
4.  Kenley Jansen.  Not much has changed with Jansen, who has a shot at a five-year deal.  It seems likely that a reliever will end up with the largest pitching contract of the offseason.
5.  Edwin Encarnacion.  Encarnacion recovered from an ugly April to post a solid May.  He could wind up with a three-year deal with a salary in excess of $20MM.
6.  Dexter Fowler.  Fowler continued to rake in the month of May, hitting .295/.403/.476.  He currently ranks third among position players with 3.2 wins above replacement, after Mike Trout and Manny Machado.  I'm projecting a four-year deal in excess of $60MM for Fowler, after he was left with a disappointing one-year deal last winter.
7.  Aroldis Chapman.  Chapman made his Yankees debut on May 9th after serving a 30-day suspension for a domestic violence incident.  He's looked as dominant as ever, and a large free agent payday is in the offing.  The question is whether Chapman can get a five-year deal, in light of that October incident.
8.  Neil Walker.  Walker posted another solid month for the Mets.  In a thin market, perhaps he could land a Chase Headley contract (four years, $52MM) if he keeps going strong.
9.  Rich Hill.  Hill now has 11 starts under his belt this year with a 2.25 ERA and 10.4 K/9.  The southpaw, who turns 37 next March, has come a long way in the last year.  He appears to have a good chance at a four-win season, which generally seemed impossible for most of the last decade.  Despite Hill's age, I think a three-year deal in excess of $40MM is within reach.
10.  Mark Trumbo.  After another big power month, Trumbo is now tied for third in the AL with 15 home runs.  If he winds up near 40 home runs this year, a strong three-year deal becomes possible.  However, his value is hurt by his defensive limitations.
Carlos Gomez, who was ranked fifth on this list last month, has dropped out of the top ten.  The hope is that he'll finally start hitting after serving a May DL stint for bruised ribs.  However, at this point he's a candidate to take a one-year deal to rebuild value.
Four players were very close to making the list: catchers Matt Wieters and Wilson Ramos, and outfielders Michael Saunders and Ian Desmond.  Each of them appears to be setting up for a three-year deal at this point.  If four years starts to seem likely for any of these players, they'll have a spot in the top ten.