The Padres' two-year push to contend in the National League West hasn't panned out as the new ownership and front office groups had hoped, and the Friars have already begun to sell off pieces (James Shields) with plenty of rumors swirling around virtually every other player on the roster. While Tyson Ross and Andrew Cashner were thought to be the team's top two trade chips in the rotation heading into the season, though, it's been left-hander Drew Pomeranz that has had generated the most trade buzz as of late. The former No. 5 overall pick is in the midst of a breakout season, having pitched to a 3.00 ERA with 10.7 K/9, 4.2 BB/9 and a 45.6 percent ground-ball rate. His 3.44 FIP and 3.64 xFIP are both within the Top 25 among all MLB starters, and SIERA rates him 31st — just ahead of Zack Greinke and just behind the likes of Masahiro Tanaka, Kenta Maeda and Taijuan Walker.
Suffice it to say, Pomeranz has been one of the better starters in all of baseball this season, and as such the Padres should be able to fetch a much stronger return than the package they parted with to acquire him (Yonder Alonso, Marc Rzepczynski). Still, it's not entirely clear that the Padres should be open to moving him at all. Let's look at the issue from both angles.
The Case For Trading Drew Pomeranz
Simply put, the Padres aren't a good team in 2016. Moreover, they don't have an especially strong farm system. The Padres added some talent to their ranks with last season's Craig Kimbrel trade, and they had one of the largest pools in this year's amateur draft as well. Beyond that, they're rumored to be gearing up for a hyper-aggressive run on the international prospect scene when the 2016-17 signing period kicks off on July 2. General manager A.J. Preller and his staff are in talent acquisition mode, and marketing Pomeranz — a former top draft pick and top prospect with two years of team control beyond 2016 — could further bolster their minor league system.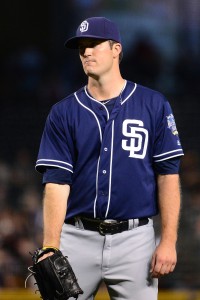 Pomeranz, after all, is earning just $1.35MM after his first trip through the arbitration process due to the fact that his pre-arb seasons consisted of struggles with the Rockies at Coors Field and success in a limited role in Oakland, where he served as a swingman. That price means that any team can afford to add him to its books, and it also figures to suppress his earning power for his second and third trips through the arbitration process. Pomeranz's pedigree, low salary and remaining control should all make him appealing to clubs in search of pitching, and we've already seen the Orioles and Marlins linked to him this week alone.
Advocates of a Pomeranz trade for the Padres could consider this to be selling high. He's already nearly matched his innings total from 2015, he's spent time on the disabled list in the past with shoulder and biceps problems, and as the team has learned with Ross this season, waiting to move a pitcher with injury concerns can have a disastrous outcome. Ross has still only pitched in one game with the Padres this season. A healthy Ross would be among the most in-demand chips on the summer market, but the Padres would be selling him for pennies on the dollar right now. Cashing in while Pomeranz is healthy and performing well has its merits, to be sure.
The Case Against Trading Drew Pomeranz
Those same concerns surrounding Pomeranz's injuries and workload could limit other teams' willingness to part with top-tier talent to acquire him, however. Dennis Lin of the San Diego Union-Tribune recently spoke to a few scouts about Pomeranz and one NL scout suggested that the lefty would fetch a "limited return" due to skepticism surrounding his lack of a track record. While that's just one scout's opinion, of course, it speaks to the fact that there are those in the game that aren't necessarily sold on Pomeranz as a concrete option to fortify the top half of a rotation.
The fact that he's controllable through 2018, too, means that the Padres don't need to be in a rush to trade him. Even if Pomeranz gets hurt in August, he'd have plenty of time to reestablish value in the first half of the 2017 season. And, if he's able to remain healthy and productive, his value will only grow. There's a complete dearth of quality arms available in free agency this winter, and it's certainly not a stretch to say that the Padres could get a greater return if they're marketing a full season of strong work from Pomeranz in a barren pitching market than they could by marketing half a season of strong innings. Trading him next summer could create even greater value if Pomeranz can sustain his breakout pace, as he'd still come with one and a half years of control at a reasonable salary.
Additionally, the Padres simply need quality arms for the foreseeable future in their rotation. San Diego isn't teeming with quality rotation options. Ross is a question mark at this point, and lefty Robbie Erlin was lost to Tommy John surgery earlier this year, making him an unknown in 2017 as well. Cashner is a free agent in three months' time and may or may not return. Beyond Pomeranz and Ross, the Padres' rotation options in 2017 include Colin Rea, Erik Johnson, Christian Friedrich, Cesar Vargas, Rule 5 pick Luis Perdomo and perhaps Brandon Maurer if San Diego again wants to experiment with him as a starter. There are some additional options at Triple-A (e.g. Michael Kelly, Bryan Rodriguez), as shown on the Padres' depth chart, but all of the starters ranked among the Padres' Top 30 prospects at MLB.com come with an ETA of at least 2018 — and many aren't projected to factor into the Majors until 2019.