This is the latest entry in MLBTR's Offseason In Review series.

You can't really call it a "quiet" offseason when you swing perhaps the winter's biggest blockbuster, though the Red Sox seem to be counting on internal pieces just as much as their few new faces in order to defend their AL East title.
Major League Signings
Trades And Claims
Notable Minor League Signings
Extensions
Notable Losses
Red Sox roster; Red Sox payroll information
Needs Addressed
After signing David Price last winter and trading for Rick Porcello in December 2014, the Red Sox made yet another offseason splash to upgrade their rotation, and arguably the biggest one yet in Chris Sale.  The southpaw has been nothing less than one of baseball's best pitchers over the last five seasons, posting a 3.04 ERA, 5.08 K/BB rate, 10.0 K/9 and 27.6 bWAR over 1015 2/3 innings.  Not only is Sale still apparently at the top of his game heading into his age-28 season, he also offers ace production at a relative bargain price, as he is owed $12MM this year and then $12.5MM in 2018 and $13.5MM in 2019 (assuming the Sox exercise club options on those last two seasons).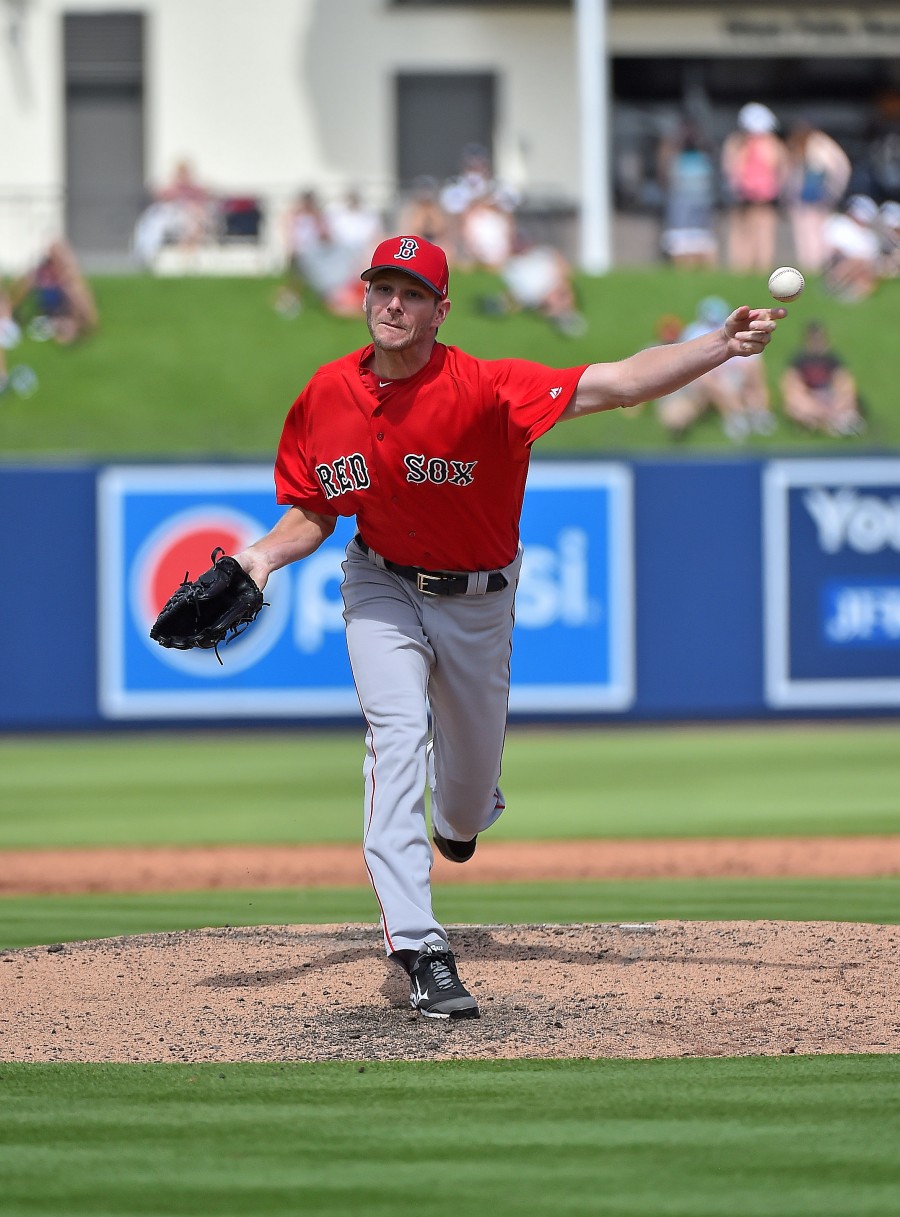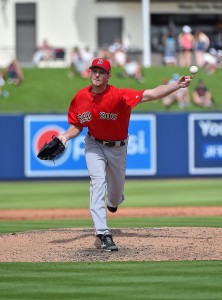 Sale came at a heavy prospect cost, though Boston has enjoyed such incredible minor league depth in recent years that the club could justify trading blue chippers like Yoan Moncada and Michael Kopech.  An established ace like Sale is naturally more help for a win-now team like the Sox than Kopech would be in the rotation, while Moncada was blocked at his natural position (second base) by Dustin Pedroia and blocked in the outfield by Mookie Betts, Jackie Bradley and rookie Andrew Benintendi (the consensus top prospect in baseball).  Even with the uncertainty at the hot corner, Moncada was still somewhat expendable given that prospect Rafael Devers may be a year or two away from becoming the third baseman of the future.
Speaking of third base, the Sox dealt starter Travis Shaw to Milwaukee as part of another multi-player deal that saw righty reliever Tyler Thornburg come to Fenway Park.  Thornburg enjoyed a big year out of the Brewers pen in 2016, and he is both considerably younger and harder-throwing than veterans Koji Uehara and Brad Ziegler, who left in free agency.  Thornburg projects to be Craig Kimbrel's top setup option, though Spring Training may decide if Joe Kelly has a share of that role or if the Sox could simply use both men in the eighth inning on a situational basis. (Carson Smith could factor in the late innings, too, when he finally returns from Tommy John surgery.)
Adding Sale to an already somewhat crowded rotation picture allowed the Sox to trade Clay Buchholz to the Phillies.  Injuries and inconsistency kept Buchholz from ever truly living up to expectations, though the righty certainly had his share of impressive moments over his decade in Boston.  The Red Sox chose to exercise their $13.5MM option on Buchholz last fall rather than simply let him walk, a decision that allowed the club to net some return for him when Philadelphia took on all of Buchholz's salary and still gave up an interesting infield prospect in Josh Tobias.
The Red Sox were linked to several notable first base/DH-type sluggers to fill David Ortiz's big shoes, but decided against pursuit of a star name. Boston instead inked Mitch Moreland to a one-year deal.  The move allows Hanley Ramirez to take most of the DH duties, as Ramirez will likely only play first when the Sox face a lefty pitcher, with Chris Young spelling Moreland in the lineup as the designated hitter.  Signing Moreland also doesn't create a long-term roadblock at the position since the Sox think very highly of minor league first baseman Sam Travis, who missed much of last season due to a torn ACL but could reach the majors by late 2017 if he continues hitting.
Questions Remaining
It isn't a coincidence that the Red Sox saved the bulk of their offseason business until after the new collective bargaining agreement was finalized in late November.  The new luxury tax rules were of particular importance to the team. Since the tax threshold was raised to $195MM this season, the Sox were able to emerge from the offseason a few million dollars beneath the the limit. If they can stay there through year's end, the club can "reset its clock" in the calculation of overage penalties (which penalize repeat offenders at a higher rate, and are also more costly under the new CBA).
As a result, the offseason saw the Red Sox show some financial restraint, which annoyed some fans who felt bigger moves were necessary in the wake of Ortiz's departure and the team's abrupt postseason exit.  Moreland ended up being the answer at first base instead of Edwin Encarnacion, Jose Bautista, Carlos Beltran or Mike Napoli; while the Sox at least checked in on these and other notable 1B/DH names, the club chose future financial flexibility over making an "all-in" move to win in 2017.
Given the amount of core talent on the Sox roster, it can be argued that Boston didn't really need to make such a big splash now when they're well-positioned to contend for the next several years.  (Plus, getting under the tax threshold now will save millions, and potentially set the Red Sox up to be larger players in the star-studded 2018-19 free agent market.)  The Sox also have enough potential at their so-called question mark positions that these spots might not end up being problems at all, though there's definitely some uncertainty in a few areas.
With Moncada, Shaw and veteran Aaron Hill all no longer third base options, the Red Sox are putting a lot of faith in Pablo Sandoval's ability to resurrect his career after a miserable 2015 and an injury-writeoff of a 2016 campaign.  Sandoval has gotten himself in much better shape, though it's hard to know what to expect from the Panda in the wake of two lost seasons.  If Sandoval can't produce, the Sox could turn to Brock Holt, Marco Hernandez and/or Josh Rutledge to handle third until the trade deadline, when you'd expect Boston to be in play for such potential trade candidates as Todd Frazier of the White Sox, the Royals' Mike Moustakas or others.
The Sox stood pat at catcher, hoping that Sandy Leon can find an acceptable balance between his scorching-hot summer performance and his ice-cold September or that Christian Vazquez can develop some hitting to go with his outstanding defense.  Former top prospect Blake Swihart is still a bit of a wild card due to his lack of a position; while he has the most value to the Sox if he can get a foothold as a catcher, Swihart developed a problem throwing balls back to the mound during spring camp.  Needless to say, Swihart's future as a catcher is still a work in progress, and he might end up spending much of 2017 at Triple-A working on his defense and making sure he's fully recovered from his season-shortening ankle injury.
Price and the Red Sox received a big scare early in Spring Training when Price was shelved with elbow soreness, though fears of Tommy John surgery were allayed when the lefty was diagnosed with bone spurs and a mild flexor strain.  Still, Price won't throw for a couple of weeks and will almost certainly begin the season on the DL, which underscores a potential lack of depth in the Sox rotation.
Even with Price healthy, the three-pitcher battle between Drew Pomeranz, Steven Wright and Eduardo Rodriguez over the final two rotation spots carried its share of question marks.  All three of those starters had injury issues in 2016, with Pomeranz and Wright perhaps the most concerning of the trio — Wright pitched just ten innings after August 9 due to a shoulder injury and Pomeranz received a stem cell injection in his throwing elbow after the season to battle some recurring soreness in the joint.  It's also worth noting that Wright and Pomeranz didn't have much of a track record of success as starters prior to 2016 and Rodriguez has only shown flashes of his vast potential during his brief MLB career.
It's probably unlikely that all three will struggle (be it from injuries or just poor performance) this season, though there's suddenly much less room for error if Price ends up with a significant DL stint.  Looking at the farm, the Red Sox could turn to Roenis Elias, Brian Johnson or Henry Owens, plus veteran Kyle Kendrick was signed to a minor league deal.  While none of these names offer much in the way of stability, the fact that Boston has so many arms in the upper minors made it difficult for the club to attract much in the way of reliable veteran depth this winter.
Deal Of Note
While obviously no one expects Moreland to replicate Ortiz's stunning production, Moreland has some dependability issues even as a platoon bat.  The left-handed hitting Moreland has only been a solid (.258/.321/.457) rather than a standout performer against right-handed pitching over his career, and he managed just a .700 OPS against righty pitching last season.  He enjoyed a big 2015 season that saw him hit .278/.330/.482 with 23 homers and a 117 wRC+ over 515 PA for the Rangers, but apart from that career year, Moreland has generated just 2.7 bWAR over his 641 career games played outside of the 2015 season.
As noted, however, there was sound financial logic behind Boston's decision to sign Moreland instead of a pricier first base bat.  On the field as well, Moreland makes sense as both a big defensive upgrade and a doorway to lineup flexibility.  Moreland won a Gold Glove last year, posting a 9.2 UZR/150 and +7 Defensive Runs Saved that were far beyond Ramirez's below-average grades in both metrics.  By improving their first base defense, the Red Sox are guarding their infield against a probable defensive dropoff at third, as Shaw exhibited some very good glovework at the hot corner.
While more and more teams have preferred to rotate players through their DH spot in recent years in order to keep everyone fresh, the Sox didn't really have that luxury due to Ortiz (though his bat more than made up for such drawbacks).  While Ramirez will be the DH most days, the Red Sox can also give veterans like Pedroia or Sandoval a break while still keeping them in the lineup.
Even if Moreland has another blah year at the plate, the Red Sox will be satisfied if he can continue wielding a strong first base glove.  While Sox fans may cringe whenever, say, Encarnacion or Beltran go yard for the Indians or Astros, they may also appreciate that Ortiz's "replacement" (from an overall value standpoint, not hitting-wise) is actually in left field.  Boston received a combined -0.1 bWAR out of the left field position in 2016, and everyone in baseball expects far more than that from the highly-touted Benintendi.
Overview
President of baseball operations Dave Dombrowski has historically been pretty bold about using young talent as trade chips, and the Sale deal goes near the top of the list of Dombrowski's trades of prospects for established talent.  As much as Sale, Thornburg or Moreland could be the final pieces of the puzzle, however, this season could be defined by how some players can solidify any weak spots on the roster.  Scenarios like Benintendi living up to the hype, Price returning from injury with no ill effects, at least two of the three rotation candidates firmly earning the fourth and fifth starters' jobs or Sandoval recapturing some of his old Giants form would go a long way towards a deeper postseason run for the Sox.
What's your take on the Red Sox' winter? (Link for app users.)
Photos courtesy of USA Today Sports Images.