Here are five key stories from the past week on MLBTR…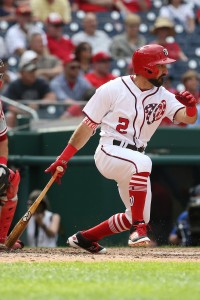 Adam Eaton to miss rest of the season.  The Nationals will be without their biggest offseason acquisition in the wake of the news that Eaton suffered a torn left ACL, torn meniscus and high ankle sprain taking an awkward step on first base while beating out an infield single.  Eaton was off to a fantastic start in his first season in D.C., hitting .297/.393/.462 with 24 runs scored in 107 plate appearances.  Michael Taylor will take Eaton's place in center field, though don't be surprised to see the Nats mentioned in outfielder trade rumors as we approach the deadline.
Noah Syndergaard to the DL with partially torn lat muscle.  The unusual case of Syndergaard refusing an MRI last week reached its breaking point after the Mets ace struggled through an abbreviated start on Sunday and then hit the disabled list on Monday.  Early estimates have "Thor" out of action for at least three months, though Syndergaard is receiving a second opinion.  This is the largest blow yet to an injury-riddled Mets rotation that is already without Steven Matz and Seth Lugo, not to mention the multiple currently-healthy starters who nonetheless have checkered injury histories.
Cole Hamels to miss eight weeks due to oblique strain.  Already dealing with a rotation that seems primed for some regression, the Rangers will now be without one of their two aces for much of the first half.  Hamels was off to something of a slow start by his high standards, with a 3.03 ERA in 32 2/3 innings but some ominous peripheral numbers.
Steven Wright to undergo season-ending knee surgery.  The Red Sox knuckleballer struggled through just 24 innings of 8.25 ERA ball before going under the knife for a cartilage restoration procedure.  Wright had already been dealing with shoulder problems dating back to the latter part of the 2016 season, an overall strong campaign that saw Wright break out with a 3.33 ERA over 156 2/3 innings for the Sox.
Injuries, injuries and more injuries.  These are just four of the most notable DL situations among many in baseball, as teams continue to be plagued by significant roster losses.  Adrian Gonzalez, Brandon Crawford, Tyler Skaggs, Wei-Yin Chen, Sean Doolittle, and C.J. Cron all hit the disabled list during the past week.
Photo courtesy of USA Today Sports Images