With next Monday's 4 p.m. ET trade deadline looming, there's a chance right-hander Yu Darvish's start on Wednesday will go down as his last in a Rangers uniform. If that 3 2/3-inning, 10-earned run disaster against Miami does represent the impending free agent's swan song in Texas, it'll be a shame for both parties. Darvish has generally been masterful since signing a six-year, $56MM contract in 2012 to emigrate from Japan. The 30-year-old has pitched to a 3.42 ERA and totaled upward of 18 wins above replacement across nearly 800 innings, making his deal well worth the investment for Texas, even when including the $51.7MM posting fee.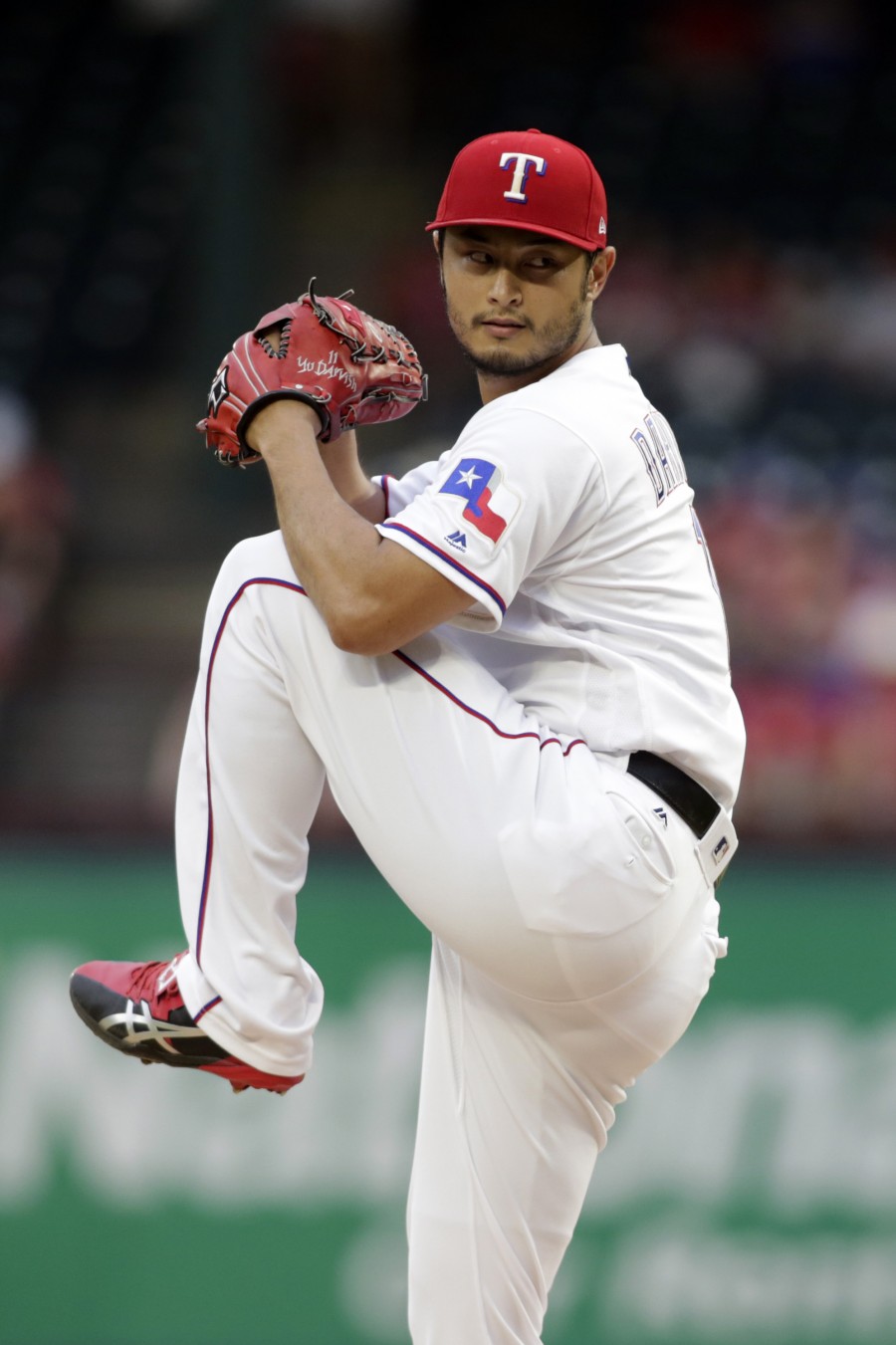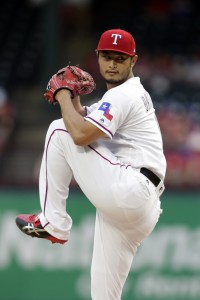 Darvish's pact is now on the verge of expiring, while the Rangers are the owners of a 49-52 record after their 22-10 drubbing at the Marlins' hands. That uninspiring mark has helped make the Rangers irrelevant in the American League West, which the 67-34 Astros ran away with long ago, but they're still a manageable 4.5 games out in a parity-laden wild-card race.
With his team tenuously clutching to postseason hopes, Texas general manager Jon Daniels isn't a lock to sell by Monday. Even if he does, Darvish might not go anywhere. Multiple reports this week have indicated that it would take a godfather offer for Daniels to part with Darvish, whom the Rangers would like to re-sign. And if the team keeps the four-time All-Star through season's end but isn't able to prevent him from testing free agency, it would surely make him a qualifying offer in order to receive compensation – a pick after the second round of next year's draft – for his departure. That wouldn't be much immediate consolation for the Rangers, but it's among several factors that could influence them to retain Darvish past the deadline.
Although the Rangers may be content to ride it out with Darvish, pitcher-needy contenders have inquired about the Arlington ace in recent weeks and figure to continue doing so leading up to Monday. As such, there will be opportunities for clubs to pry Darvish away from the Rangers. The Cubs, Dodgers, Astros and Yankees come to the fore as potential landing spots, having already shown interest in Darvish.
In Chicago, Darvish would join Jon Lester, Jake Arrieta, Kyle Hendricks and the just-acquired Jose Quintana to comprise one of the Majors' most proven rotations. That quintet would more than likely do enough to help the reigning World Series champions fend off the Brewers, Cardinals and Pirates in the National League Central. The Cubs aren't exactly a flawless fit, though, given that they're on Darvish's limited no-trade list and also seem more inclined to chase a controllable starter (such as the Athletics' Sonny Gray) than give up a prospect bounty for a rental.
As MLBTR's Mark Polishuk pointed out last week, the Cubs are only a year removed from paying a heavy price for a free agent-to-be, closer Aroldis Chapman, whom they acquired from the Yankees in a deal that included standout infield prospect Gleyber Torres. Picking up Chapman helped the Cubs win their first championship in 108 years, but that doesn't mean they should continue to deplete their farm system to acquire stopgaps. Further, should the Cubs reach the playoffs with their current rotation, they'd be in more-than-adequate shape, thereby lessening any need for Darvish. While all of Lester, Arrieta, Hendricks and Quintana have failed to replicate their 2016 numbers, that doesn't make them weak links. The only significant disappointment has been John Lackey, who's not going to factor into the Cubs' rotation plans in the postseason.
Meanwhile, the Dodgers and Astros, who possess the two best records in baseball, aren't hard up for starting help. Nevertheless, the Dodgers' interest in Darvish was reportedly "serious" even before ace Clayton Kershaw suffered a back injury last Sunday that will keep him out until late August or early September. At an astounding 71-31, the Dodgers can cruise to the NL's top seed even with Kershaw and Brandon McCarthy on the disabled list, and they still boast four decent to excellent healthy starters in Alex Wood, Rich Hill, Kenta Maeda and Hyun-Jin Ryu.
It's true that there are durability concerns scattered throughout the Dodgers' staff, yet Darvish still remains much more of a luxury than a need. Therefore, even with a World Series in their sights, it's tough to imagine the Dodgers meeting the Rangers' asking price for Darvish. Los Angeles would probably have to part with one of its most extolled prospects, whether it's outfielder Alex Verdugo or a young righty in Walker Buehler or Yadier Alvarez, which doesn't seem like something president Andrew Friedman and GM Farhan Zaidi would do in this instance.
The same applies to Astros GM Jeff Luhnow, who refused for months to budge in a standoff with the White Sox over Quintana. Unlike Darvish, Quintana is under team control at eminently affordable rates through 2020. Nevertheless, Luhnow wouldn't deal a package including outfielder Kyle Tucker and righty Francis Martes for the southpaw over the winter. Keeping his team's prospect pool together has worked out nicely for Luhnow, who has seen Houston establish itself as the premier unit in the AL this year.
The Astros have gotten ace-caliber performances along the way from Dallas Keuchel and Lance McCullers (the former has missed notable time with neck issues, though), while Charlie Morton, Brad Peacock and Mike Fiers have provided quality complementary work. The club also just welcomed back bona fide mid-rotation starter Collin McHugh from an elbow issue that kept him out for nearly the entire first four months of the season. All of that is to say there's enough starting talent on hand to confidently rely on in a playoff series. Consequently, the Astros don't seem like serious suitors for a couple months of Darvish, and Luhnow has indicated that he's comfortable with his bevy of current options.
As for the Yankees, with Masahiro Tanaka in the midst of a mediocre to poor year and Michael Pineda having undergone season-ending Tommy John surgery this month, they do have obvious rotation issues. The problem for the Rangers, if you want to call it that, is New York's eyes have been on Gray far more than Darvish. The only current Yankees starters who are surefire bets to be in their rotation next season are Luis Severino and Jordan Montgomery, as Tanaka could opt out of his deal (which looks improbable, granted) and CC Sabathia is set to become a free agent. Even though Darvish is arguably superior to Gray, then, the latter would perhaps be the more sensible acquisition for a Yankees team that needs to better their starting staff for both this year and the coming seasons.
Beyond those four squads, a match for Darvish is even more difficult to find. Most clubs either occupying wild-card spots or at least hanging around the league's playoff races – the Royals, Rays, Mariners, Twins, Angels, Orioles, Diamondbacks, Rockies, Brewers, Cardinals and Pirates – don't look like proper fits for various reasons (mainly weak farm systems and/or low playoff odds).
The Royals have been red hot and are in their last hurrah of contention with the core that helped deliver a championship in 2015, but their farm is lacking enough to impede a Darvish pursuit. Kansas City, which isn't on Darvish's no-trade list and has a flaw or two in its rotation, would otherwise be a logical destination.
The Rockies, who have a four-game lead on the NL's second wild-card position, possess a middle-of-the-pack rotation that would certainly benefit from Darvish's addition. However, even if Colorado were to make a serious run at Darvish, there's a large roadblock in that it's among the teams on his no-trade list. Whether he'd waive that right just to spend the stretch run of his contract year at Coors Field is questionable to say the least.
As first-place teams, the Red Sox, Nationals and Indians look like strong bets to earn playoff berths. They're hardly clear-cut bedfellows for Darvish, though. Red Sox president Dave Dombrowski is never shy to make a daring move, but the club's rotation is in fine shape as it is with Chris Sale, David Price, Rick Porcello, Drew Pomeranz and Eduardo Rodriguez in the equation.
Speculatively, the Nationals may have been been a big factor in the Darvish sweepstakes had Stephen Strasburg's nerve injury been serious. Strasburg's OK, according to the club, which isn't in on Darvish. It's interesting to imagine Darvish teaming with Strasburg and the great Max Scherzer as the Nats' top three starters come October, but there's nothing to suggest it's going to happen.
Cleveland, another place on Darvish's no-trade list, has come up as a potential suitor for Gray. The Indians have been the beneficiaries of Mike Clevinger's breakout, but their rotation could still use a surer thing to complement Corey Kluber and Carlos Carrasco. Darvish would provide that, but again, it would mean waving goodbye to acclaimed farm talent for a Band-Aid. That's something the Indians might not want to do 12 months after sending touted prospects Clint Frazier and Justus Sheffield to the Yankees for Andrew Miller.
Darvish's next scheduled start is Aug. 1, the day after the deadline, and there's a legitimate possibility that outing will come in a Rangers uniform. Barring an intrepid move from one of the imperfect fits highlighted above, it seems Darvish and the Rangers will continue their union for at least another two months. Regardless of whether that proves to be the case, the impending free agent will spend the rest of the year making an argument for a mega-deal. With a 4.01 ERA that looks pedestrian in comparison to his marvelous career production, it appears he has work to do on that front. Darvish remains a flamethrowing strikeout maven, though, which means some playoff-bound team could talk itself into paying a ransom for him in the coming days.
Photo courtesy of USA Today Sports Images.