At some point in the near future, the major league offseason is going to stop moving at the speed of Albert Pujols and become a compelling parade of transactions. When that happens, there's a team that's going to commit a lot of money to free agent first baseman Eric Hosmer, who turned in a well-timed career year in 2017. But the 28-year-old Hosmer's major league tenure has also come with some unspectacular seasons, leading to plenty of wariness about what he'll provide on a big-money deal. With the up-and-down Hosmer having racked up a litany of supporters and detractors since debuting with the Royals in 2011, the pact he secures in the coming weeks is sure to polarize.
Strengths/Pros
As mentioned, last season was one to remember for Hosmer, who slashed a personal-best .318/.385/.498 in 671 plate appearances, totaled exactly 25 home runs for the second straight year and posted career-high walk (9.8 percent) and isolated slugging (.179) marks. Only 24 players bettered Hosmer's wRC+ (135), which placed him among the likes of Cody Bellinger (138), Justin Upton (137) and Anthony Rizzo (133). Hosmer's hard-to-strike out ways contributed to his success, as he posted a K rate of just 15.5 percent that was right in line with his quality lifetime rate of 16.3. He also logged a swinging-strike rate below 10 percent (9.3) for the sixth time in seven seasons.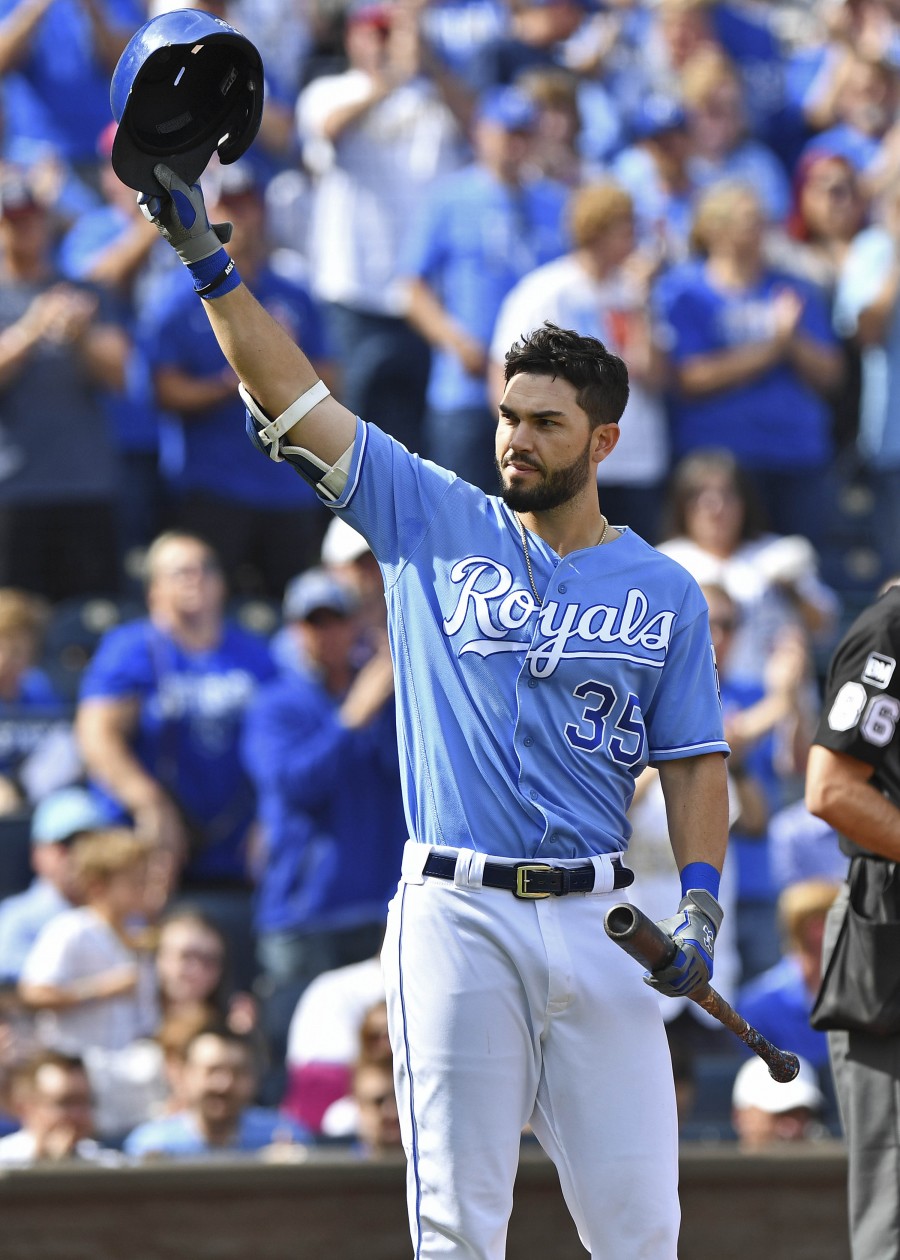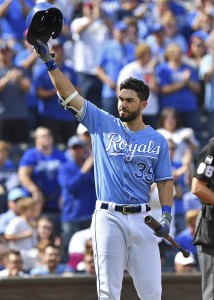 The most recent campaign wasn't exactly an outlier for Hosmer, who was similarly effective in 2013 and during the Royals' World Series-winning 2015 campaign. Hosmer accumulated between 3.2 and 4.1 fWAR in all three of those seasons, and that type of output over the next several years would make him well worth a significant payday. At his zenith, Hosmer has been a high-end offensive producer who makes an above-average amount of contact, a skill that's all the more valuable in today's strikeout-heavy game.
Not to be overlooked, durability has been a staple of Hosmer's career. He was one of five players who didn't miss a game in 2017, and with the exception of his abbreviated rookie year and a 131-game showing in 2014, he has appeared in at least 152 contests in every season.
Weaknesses/Cons
Hosmer's famed agent, Scott Boras, is trying to sell his client as a $200MM-caliber player who has been ''Playoffville Federal Express." And yet, he's only a two-time playoff participant – one who has batted a so-so .276/.333/.398 in 138 postseason PAs. Now, it's not Hosmer's fault the Royals haven't been consistently good, nor is his playoff production worth judging him over. The point is that Boras is likely to have trouble getting anyone to buy that Hosmer is the ultimate winner whose intangibles are worth just as much as his regular-season numbers.
And while Hosmer has been terrific in three full seasons, he has also turned in three clunkers. In those years – 2012, '14 and '16 – he was a league-average or worse hitter who notched fWARs ranging from zero to minus-1.7. The left-hander's offensive inconsistency has come thanks in part to struggles versus southpaws, against whom he has batted .265/.310/.382, and a groundball-heavy batted-ball profile.
Hosmer has finished with one of the majors' 25 highest grounder rates in all of his seasons, including top five in each of the previous two years, and has typically sat toward the bottom of the launch angle leaderboard, as FanGraphs' Travis Sawchik wrote earlier this month. The method hardly led to disaster in 2017, evidenced by Hosmer's production, but a .351 batting average on balls in play had something to do with his excellence. Hosmer's career BABIP entering the season was .310 – which is about what you'd expect from someone who's not a burner (nor is he slow, granted) – and his lifetime wRC+ prior to last year's outburst was an underwhelming 107.
Hosmer was also heavily reliant on BABIP fortune in his other two best seasons, while his production cratered in the years when the number was closer to the league-average mark. The bottom line is that Hosmer neither walks enough nor hits for enough power to make him ultra-valuable when he's not registering a high average. Both his lifetime walk rate (8.2 percent) and ISO (.155) are mediocre.
The fWAR metric also factors in defense, which is yet another divisive aspect of Hosmer's game. He's got plenty of defensive hardware, having won four Gold Gloves (including in 2017), but fielding metrics haven't always looked kindly on his work. Overall, Hosmer has combined for minus-21 Defensive Runs Saved and a minus-29 Ultimate Zone Rating. Still, it's unclear how much those numbers will weigh on teams that are interested in signing Hosmer, who's mostly known for his offense.
Personal
As he told Tim Kurkjian of ESPN in March, the Florida-born Hosmer attributes much of his success to his parents – a father, Mike, who was a longtime firefighter and a mother, Ileana, who escaped Fidel Castro-led Cuba as a 9-year-old and became a nurse. With their support, Hosmer developed into a star prospect whom the Royals selected third overall in the 2008 draft. To secure Hosmer, the Royals handed him a $6MM signing bonus. He has since earned nearly $31MM as a major leaguer, per Baseball-Reference.
Off the field, Hosmer has been very active in the Kansas City community, including with Big Brothers Big Sisters and the Greater Kansas City Firefighters Local 42 Community Assistance organization. He's a two-time nominee for the Roberto Clemente Award, which is given yearly to the major leaguer who best combines community involvement with sportsmanship and contributions to his team. 
Market
Unfortunately for Hosmer, he's not the only free agent first baseman coming off a nice 2017. Carlos Santana (who has a more consistent track record than Hosmer), Logan Morrison, Yonder Alonso and Lucas Duda are also available in the wake of impressive seasons, while Jose Abreu will emerge as a sought-after target if the White Sox shop him. The amount of decent options available, not to mention the draft pick compensation attached to Hosmer, won't positively affect his market. It also doesn't help that the Mariners just acquired Ryon Healy, which seemingly took them out of the running for a first base upgrade, and the Yankees appear content with Greg Bird manning the position. But Boras has shown time and again that he's capable of wizardry when it comes to selling his clients, and he'll try to effectively pitch Hosmer to teams like the Red Sox, Cardinals, Angels and Rockies. If no one from that group ends up as Hosmer's next employer, he could remain with the Royals, who haven't given up on re-signing the franchise icon, or join a dark horse. The Padres would fall under the  "dark horse" category, and they have discussed a Hosmer pursuit.
Expected contract
Last winter was not an ideal one for free agent first basemen – the high-profile duo of Edwin Encarnacion and Mark Trumbo settled for lesser contracts than expected, as did lower-tier types (Chris Carter and Mike Napoli, to name a couple). A repeat of that would mean a disappointing offseason for Hosmer, though he still has youth and Boras on his side. The general feeling, then, is that he'll reel in a nine-figure contract in the coming months. MLBTR, which projects a six-year, $132MM guarantee, is on the bandwagon.
Photo courtesy of USA Today Sports Images.