The Moose is loose on the free agent market, as Mike Moustakas looks to convert his big power year into a pricey multi-year contract.
Strengths/Pros
After playing in only 27 games in 2016 due to a torn right ACL, Moustakas rebounded to earn AL Comeback Player Of The Year honors after batting .272/.314/.521 with 38 homers over 598 plate appearances.  He outhomered every full-time third baseman in baseball last season, and only seven players overall hit more than Moustakas' 38 dingers.  Between this performance, his breakout 2015 campaign, and even his abbreviated 2016 numbers, Moustakas has been a solidly above-average hitter over his last 1325 PA, creating 18% more (hypothetical) runs than the average hitter since the start of the 2015 season.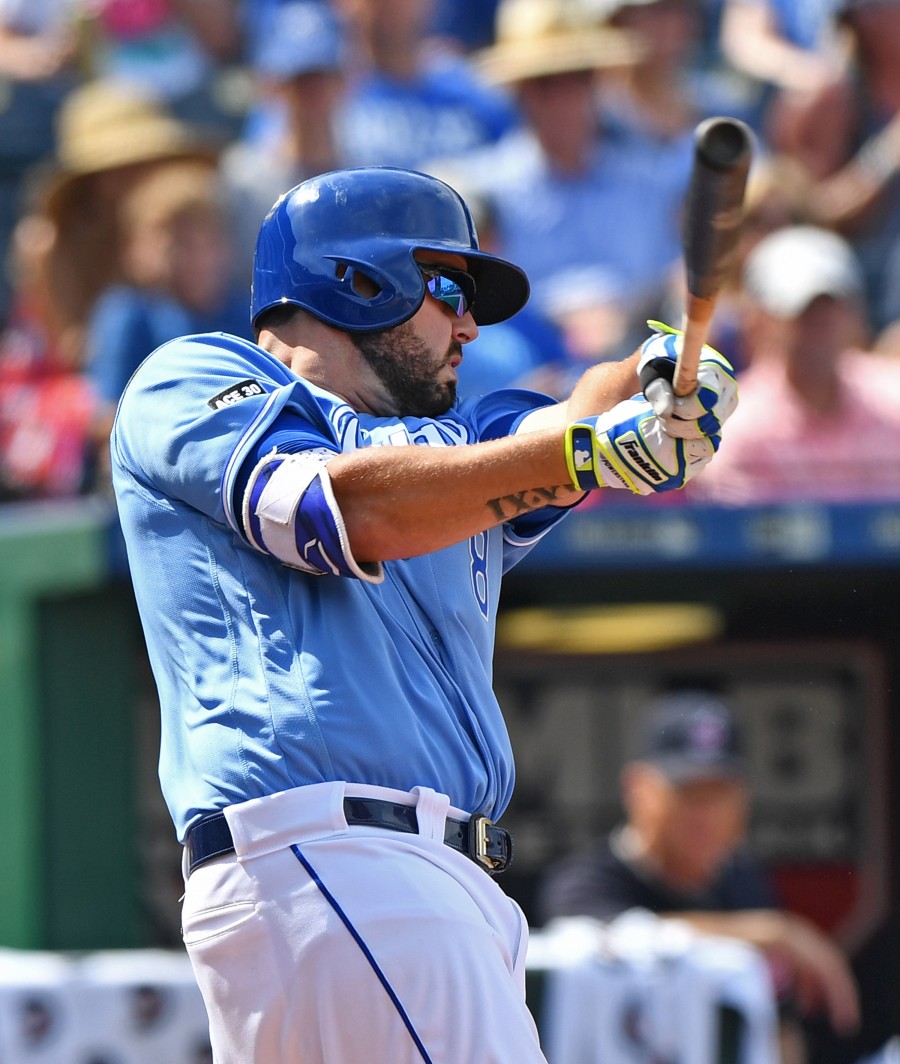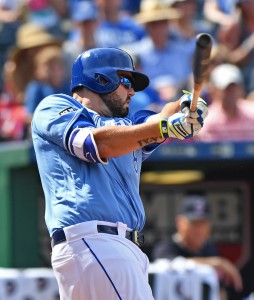 Moustakas' 38 homers set a new Royals single-season record, breaking the surprisingly long-lasting old mark of 36 set by Steve Balboni back in 1985.  Needless to say, Kauffman Stadium isn't friendly to home run hitters, making Moustakas' feat all the more impressive.  Since much of his damage came away from Kansas City last year (.284/.326/.582 with 24 homers in 310 away-game plate appearances), it could be argued that Moustakas would be even more dangerous playing his home games in a less-spacious ballpark.
Prior to 2017, Moustakas had been a solid defender at third base, with the UZR/150 metric providing more consistently positive reviews about his glovework than the Defensive Runs Saved metric.
Moustakas just turned 29 in September, making him younger than most of the other top free agent batters.  Going by the last few seasons, he's reaching the open market right in the midst of his hitting prime, making him a safer bet for a long-term deal than older players who may have more overt question marks about possible decline.
Weaknesses/Cons
Moustakas' 55.6% swing rate was topped by only six qualified hitters last season, and Moustakas' free-swinging ways resulted in both a career-low 5.7% walk rate and his highest strikeout rate (15.7%) since 2013.  To be fair, that strikeout rate is actually more than respectable given how often Moustakas was swinging away, though it doesn't seem sustainable given his only-okay career contact rates.  While Moustakas was a good hitter in both 2015 and 2017, these are also his only two full seasons of above-average production, so any weak points (like an inflated swing rate) tend to stand out as red flags.
With just a .305 career OBP and a track record as a subpar baserunner, Moustakas is reliant on his power to prop up his offensive value.  That's not a bad skill to have in the recent era of big homer totals and a seemingly livelier baseball, though it does make Moustakas potentially susceptible to a drop in production should MLB explore a re-design of the balls.
As mentioned earlier, Moustakas had been a good defender for much of his career, though he was below-average in both DRS (minus-8) and UZR/150 (-3.6) in 2017.  This is certainly a worry for teams wondering if Moustakas might not be the same after his ACL surgery, though it also isn't uncommon for players to simply need some time to shake off the rust in the wake of such injuries.  It's worth noting that the Royals used Moustakas as a designated hitter in 17 games last season in an effort to keep him fresh.
Because Moustakas rejected the Royals' qualifying offer, a new team would have to give up at least one draft pick and potentially some international bonus pool money in order to sign the third baseman.  (You can find a full overview of the new QO signing rules here.)
Personal
Moustakas was born in Los Angeles and played his high school ball at local Chatsworth HS before the Royals selected him with the second overall pick of the 2007 draft.  A highly-regarded prospect throughout his minor league career, Moustakas was a key member of the homegrown core of talent that came up together though Kansas City's farm system and helped deliver the Royals a World Series title in 2015.
After over a decade with the franchise, Moustakas has naturally created strong bonds with the organization and within the Kansas City community, and is well-regarded as a teammate and clubhouse leader.  Moustakas and wife Stephanie married in 2014 and they welcomed their first daughter in August 2016.
Market
MLBTR's Connor Byrne recently made the argument that Todd Frazier, not Moustakas, may be the best third baseman on the market this winter, though since Moustakas is over two and a half years younger, he stands out as the more logical choice for a team looking for a long-term answer at the hot corner.
Moustakas' relative youth might also make him attractive to a team that may not be planning to contend in 2018, but wants to lock down third base in preparation for a run in 2019 and beyond.  Teams like the Phillies or Braves could fit this description if they respectively decide against going with Maikel Franco or waiting for prospect Austin Riley, though both teams seem like longshot candidates for Moustakas' services.  You can similarly squint and see how Moustakas could fit with the Red Sox, Indians, or Mets, though the latter two teams probably won't have the payroll room and Boston likely wants to give Rafael Devers a longer look at third base before considering him as a first baseman.
The Giants and Cardinals are both currently tied up pursuing Giancarlo Stanton, though both teams could certainly use Moustakas' power, with San Francisco in particular having a glaring hole at third base.  A surprise team like the Orioles (if Manny Machado is moved to shortstop) or Twins (if Miguel Sano can't handle regular third base duties after leg surgery) could also emerge.  The Angels are currently focused on second basemen and plan to use Luis Valbuena in a third base platoon, so a return to his hometown doesn't seem likely for Moustakas — unless the Halos miss out on Shohei Ohtani and thus change their DH/first base plans.
A return to Kansas City also can't be entirely ruled out, as the Royals have some interest in re-signing at least one of Moustakas or Eric Hosmer.  Conversely, the Royals also seem on the brink of a rebuild, so they could be better served in letting that duo (and Lorenzo Cain) leave in free agency and then collecting the draft picks due to them since Moustakas, Hosmer, and Cain all rejected qualifying offers.
Expected Contract
MLBTR ranked Moustakas sixth on our list of the offseason's Top 50 Free Agents, with a predicted contract of five years and $85MM.  That still seems like a reasonable prediction, even if the Stanton/Ohtani chases have been holding up the market for big-ticket free agents and an increased number of front offices are willing to play the waiting game.  Moustakas is represented by Scott Boras, who is no stranger himself to keeping his clients available until an acceptably large contract can be found.  Moustakas looks to be one of the prime beneficiaries once the Stanton and Ohtani markets are resolved, particularly given this winter's thin third base market.
Photo courtesy of USA Today Sports Images